Teens Can't Get Enough of the Indie Pop Band Beach Bunny
The Chicago-based band fronted by Lili Trifilio just released their sophomore album 'Emotional Creature.'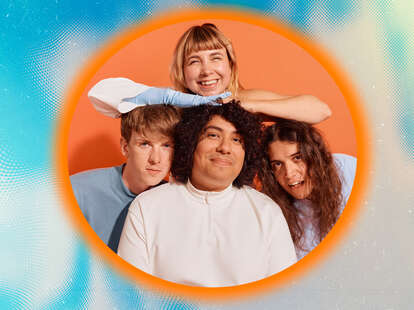 Matt Henkels, Lili Trifilio, Jon Alvarado, and Anthony Vaccaro

| Design by Mallory Rosten for Thrillist / Photo by Zachary Hertzman
Matt Henkels, Lili Trifilio, Jon Alvarado, and Anthony Vaccaro

| Design by Mallory Rosten for Thrillist / Photo by Zachary Hertzman
Like a lot of aspiring singers in the early 2010s, Lili Trifilio of the Chicago-based indie band Beach Bunny had a YouTube cover channel. You can't find it anywhere now, but according to Trifilio, it was really more of a Marina and the Diamonds cover channel than anything else—with her even replicating the pop singer's signature heart drawn on her cheek.
If you were an indie-alt girl on Tumblr at that time, the British artist, who now performs as MARINA, was everything. Her 2012 album Electra Heart was like a key to a heart-shaped locket that unlocked a world of nostalgic, feminine aesthetics and an accessible satire of gender dynamics. One can then imagine that it was a Tumblr girl's dream come true last year when Trifilio got to appear as a feature on MARINA's song "I Love You but I Love Me More."
"I never expected to collaborate with my favorite artist," says Trifilio. "I was like there's no way this wasn't meant to be. It solidified in my head like okay, music's going to be a long term thing—that was the moment."
Collaborating with your favorite artist would be surreal for anybody, let alone someone who was making music out of their bedroom just five years ago. But since the 25-year-old's project became a full band in 2018 that found grounding in Chicago's DIY scene, the indie pop group has caught the attention of both emo music fans and Gen Zers, touring with genre faves like PUP and Field Medic, and having songs blow up on TikTok. While some TikTokkers ended up warping the meaning of the vulnerable word play of Trifilio's lyrics, she's amassed a fairly large fandom of young fans who've come across her online, see her as a pop star of sorts, and latch onto her ultra-relatable, catchy songs of love and heartbreak. In many ways, she's on her way to being the kind of formative artist MARINA was to her, to another generation, and her sophomore album Emotional Creature (out now via Mom+Pop) should provide them with even more catharsis.
"Even to this day, it never really feels normal," says Trifilio of teenage girls who come up to her after concerts to tell her it was their first-ever show or that Beach Bunny is their favorite band. "Over time, I've had to remember that I am a role model for some of these younger girls and want to be aware of that. If I'm ever putting out any kind of message [in my lyrics or online], I want to have their best interest at heart."
It makes sense that so many adore Trifilio's songwriting. Emotional Creature, for example, unravels a spool of every feeling in a relationship—from the most beautiful moments, no matter how granular ("Karaoke"), to when it feels like everything is coming undone ("Scream"). Her songs show the evolution of a young woman who's learning to love herself and feel empowered on her own, having released an EP about being over dating toxic men and her new record focusing on healthier mindsets or recognizing her own cyclical behaviors ("Weeds").
"If you feel an elevated emotion, songwriting is such a beautiful way to get that out of your system. I think when you're in the head space, too, the words usually flow more easily," she says. "If I'm like, oh man, this thing just happened, I'll almost be like, let me try to get some lyrics out of this—and then I'm going to go tell all my friends and we're going to talk shit!"
"Weeds" is her favorite song on the record, which is "from the perspective of being your own best friend and giving yourself an intervention" regarding your own toxic cycles. "At the time of writing it, I feel like I was almost affirming that to myself," she says. "Now that it's actually out, I do genuinely resonate with what I was thinking about." It's easy to imagine listeners relating to it and singing along to its uplifting chorus ("You can't blossom if you keep growing gardens out of weeds").
Something that also feels very much a part of Beach Bunny is a sort of unabashed femininity. It's in Trifilio's empathetic songwriting, the band's melodic, '00s-pop-rock-inspired sound, and their visuals, which pulls from fantasy escapism and kitschy, Barbarella-like sci-fi imagery on Emotional Creature. While it might not be a conscious effort, Trifilio says she's "tried to maintain" a femininity about Beach Bunny. She says, "I want to stay true to what I like—which happens to be a lot of girlier things—and not step back because it's uncool or because I have guys in the band." Beach Bunny then couldn't be a more perfect band to fill the playlists of Gen Z indie lovers who perhaps also browse #fairycore on TikTok and Instagram.
As wild as it feels to Trifilio that Beach Bunny has such a devout fanbase, it often feels just as overwhelming that this project she started with little to no expectations has grown so much and so rapidly. Just a few years ago, for example, she was going to shows where 100 people were packed into her friends' parents' house, which they called The Kitchen Beatdown—and now Beach Bunny is playing to thousands at Coachella. She similarly has to take a step back reflecting on her friendship with fellow Midwestern indie favorites Hippo Campus, who she once waited for after a concert to give a CD of her first EP, hoping they would check it out.
"With any passion project, things are usually evolving in some way. I don't really cope well with change and [earlier this year] I was getting almost nostalgic in a way of like I was so happy when I was doing small gigs and working towards the come up was so fun, but I've also had to remind myself that I was super broke and that was not sustainable," she says. "Now I'm on the other side of that and trying to get back into the creative side of what really inspired me [with Beach Bunny] in the first place."
While Trifilio experiences that feeling again with the release of Emotional Creature, she can also relish in how much her universal pop-rock is inspirational for her listeners—from seeing fans in a crowd to comments online. No matter how surreal, her songs soundtracking their TikToks and on their Spotify playlists is not all that different from the reblogs she gave MARINA or the influence Electra Heart had on her when she was their age.