We Asked Lisa Vanderpump If the 'Rules' Cast Actually Works at SUR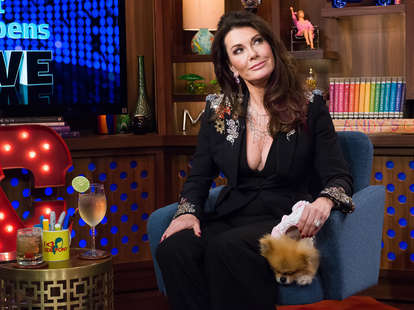 NBC
NBC
Plenty of the Real Housewives go on Bravo hoping to start an empire, but Lisa Vanderpump actually has. The Real Housewives of Beverly Hills star drew even bigger crowds to her hot spots Villa Blanca, SUR, and Pump, inspiring the network to launch Vanderpump Rules, the scrappy reality show about the beautiful and trashy (and beautifully trashy) employees at SUR.
With the new season of Pump Rules kicking off tonight, and the next season of RHOBH slated for December 7 (both on Bravo, duh), Lisa is quite the busy woman. She took some time out to talk about her charitable endeavors, the new cast member on RHOBH, and just how delusional Stassi Schroeder really is.
Thrillist: I heard you had your first Vanderpump Dog Foundation Gala last week. How did it go?
Lisa Vanderpump: It went fantastically. We had a great turnout. We raised a lot of money, and we drew attention to Yulin [Dog Meat Festival]. Leona Lewis sang, and Eric Benét also sang. The Dancing with the Stars cast was there, and some of the kids dressed up as dogs, which was very cute.
I was on the Vanderpump Rules bar crawl the night before with the cast, and Stassi Schroeder said she was just going to stay drunk until the event and that you probably wouldn't notice. Did you notice?
Vanderpump: I know Stassi thinks she's front and center in my mind, but when I'm hosting an event with 450 people and I'm trying to raise money for tortured puppies, she didn't even get a thought. But I will say the whole cast came to support. They all love dogs, and they were happy to be there. It was a beautiful night and an emotional night.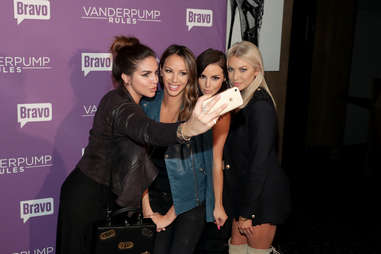 Now that Stassi is back on the show full time and Kristen is still around, is it weird when you have to interact with your former employees?
Vanderpump: Yes, it is. Clearly, I can't rein them in like I used to, and I wouldn't want to. You want to show the reality of their lives on the show. But technically they work for me, because I'm an executive producer on Vanderpump Rules. We show what they're doing in their lives, and they were integral parts of the show at the beginning. The group really is authentic. You see how many Real Housewives shows have casts that change, but this cast really hasn't changed.
As for the current employees, how many of them still work there?
Vanderpump: Part of the deal is if they're working at the restaurant on the show, they have to work there legitimately. Of course, when we're filming, they have to comply with what production is doing and what they need them for. They work about three days a week while we're filming, and that's five months of the year. They get a month or two off to do press and appearances promoting the show while it's airing, because they do a lot of promotion.
Are they really working, or is it for show?
Vanderpump: I don't think that's any different. If they're behind the bar, they have to really work.
Have you seen an increase in business since the show started?
Vanderpump: I think Pump and SUR were in the top 100 across America on Open Table last year. They're both very successful. Even though we don't promote Pump, it has its own identity -- it does so well and it's such a unique location. The food is consistent and the ambience is really great.
Real Housewives of Beverly Hills is about to start up again soon, too. Any hot news or gossip you can give us there?
Vanderpump: I think you're going to be interested in meeting the new girls. Dorit Kemsley, she's my friend. She has a rough season for a first season. You're going to like her. I like her.
Why did she have such a rough season?
Vanderpump: I think she's opinionated, and I think there was a misunderstanding about a couple of things, but she would hold her ground. How can I say this? I'll say she's very loquacious.
Last season a lot of the women were against you. Does that continue this year?
Vanderpump: What you mean, Brian, is all of the women. They were all against me. The audience always supports me, so with the strength of them, I could muddle through. I didn't know that I was going to go back this season, so I didn't start filming until later in the season.
Why did you decide to go back?
Vanderpump: It's the same production company as Vanderpump Rules, and the same network. When I could step away from it emotionally, time heals all wounds. When I think of all the lights they've shone on my charitable endeavors, all of those things were important to me. I love Kyle on the show. There were endless discussions, but at the end of the day, I decided I'll do it.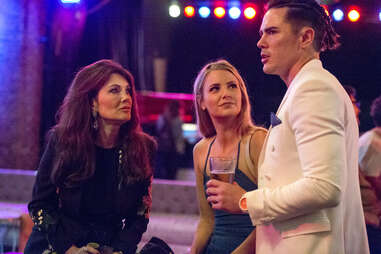 Are there any only women you'd like to see back? Are there any who would be deal-breakers for you if they returned?
Vanderpump: Unfortunately, we don't have that power, or else I'd love to see a couple of them booted off, especially one person in particular. I think Joyce Giraud never got a fair crack at the whip, and I've remained close to her ever since she was on the show. Usually they switch it up for a reason.
I saw you were deposed in Joanna Krupa's defamation lawsuit against Brandi Glanville. [Ed. note: Krupa is suing Glanville for defamation of character for saying that Krupa has a "smelly vagina."]
Vanderpump: That's true. I was. Being deposed is never a fun thing, and I didn't want to get dragged into it. I think there are enough problems in the court system, and this should have just gone away, and by calling attention to it you just extend it. If I was Joanna, I would have dropped it. But once it was said, Brandi kept going and sending her fish at restaurants, calling her out on talk shows, and saying she smelled like sushi. Joanna thought it was wrong, and the only way to make it stop was to pursue a legal solution.
So, what is new and exciting about this season of Vanderpump Rules?
Vanderpump: Every episode there is something different. Though the through line is Katie and Tom's wedding. It's going to be a fast and bumpy ride, that's for sure.
Vanderpump Rules airs on Monday nights at 9/8C on Bravo
Sign up here for our daily Thrillist email, and get your fix of the best in food/drink/fun.
Brian Moylan is a freelance writer and
Real Housewives
anthropologist who lives in New York.