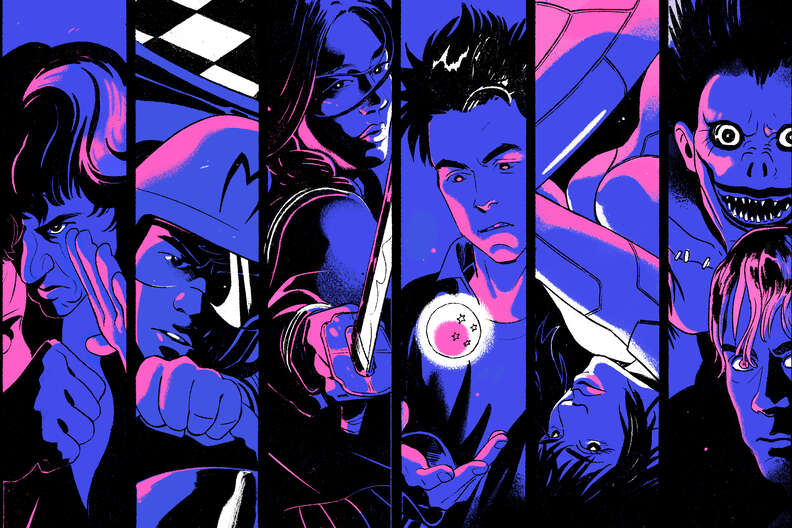 Now That Anime Is Cool, Hollywood Wants to Ruin It With Live-Action Remakes
Anime is suddenly worth real money.
Do you remember when anime used to be uncool? I remember when anime was a veritable byword for uncool. The first time I visited my friend Nick's house, before we were friends, was after a Boy Scouts meeting. When I walked into his room and saw a giant poster of Spike Spiegel from Cowboy Bebop hanging over a pile of Dungeons & Dragons handbooks and well-worn fantasy novels, I thought: Good. We can be friends. He's also uncool.
That was 2004. This is 2019, and anime is cool now. Michael B. Jordan loves Naruto. Kim Kardashian West is "obsessed with anime," and Kanye stans Akira. Lil Uzi Vert shouts out Avatar: The Last Airbender in a Juice WRLD feature. NBA players will warm up with some anime before games. Jaden Smith, Desus and The Kid Mero, and Tavi Gevinson are in a Netflix show made by Vampire Weekend's Ezra Koenig that's supposed to be an anime. Even Soulja Boy has a track called, simply, "Anime," which nods to Dragon Ball Z, Inuyasha, and Death Note. Ask all your local VIPs and they'll tell it to you straight: It's cool to like anime now.
This means, of course, that in the US, anime is suddenly worth real money, and select rights to all your favorite shows and their IPs are being thirstily acquired by networks and streaming services looking for reboots, spinoffs, sequels, live-action reboots and spinoffs and sequels, and, above all, franchises.
It's not that particular anime didn't rake in the big bucks from American audiences in decades before this one: In the '90s and '00s, there was Dragon Ball and Sailor Moon and Pokémon franchises (and Yu-Gi-Oh! and Digimon and every other runaway hit replete with marketable merchandise that aired on the WB or its ilk on weekday afternoons). But loving Pokémon was never societally cool, at least for adults. That stuff was all geared towards kids as after school blocs. But making Cowboy Bebop memes on Twitter is cool and funny now, 20 years after nerds like me slobbered over its seminal cyberpunk genius. No wonder Netflix is rebooting it as a live-action show, with John Cho as Spike. It's rebooting Avatar: The Last Airbender as live-action, too. And, of course, Netflix acquired the streaming rights to Neon Genesis Evangelion, one of the weirdest and most influential giant robot anime of all time.
None of this is really a surprise. Netflix announced years ago that it would be going in hard on anime under the watchful eyes of John Derderian, the company's director of content (Japan). The company has entered new partnerships with Japanese anime production houses Anima, Sublimation, and David Production after deals with two of anime's heaviest hitters, Production I.G. (home of Evangelion and Ghost in the Shell) and Studio Bones (which boasts Fullmetal Alchemist and My Hero Academia, among others) in 2018. But that's just Netflix! Hulu has, arguably, an even better selection of backlist anime titles, specifically from the mid-'90s to the mid-2000s -- think Yu-Yu Hakusho and Samurai Champloo -- and has simulcast deals with Funimation for big shows like Attack on Titan. Amazon Prime quietly has a solid selection as well, including foundational 1980s shows like Robotech. Though it's not a streamer, Adult Swim has been an anime hotbed for years thanks to Jason DeMarco, the Cartoon Network programming block's senior vice president and creative director (and co-creator of Toonami). Not to mention that the complicatedly interrelated anime-centric streaming services Crunchyroll, Funimation, HiDive, and VRV are all vying for bigger shares of dedicated viewerships, and are even starting to bring the longstanding tradition of fansubbing into the fold in official capacities.
It's clear that companies bringing these shows to Americans have found anime fans wanting more anime, and they're giving it to them in more ways than can be counted. In fact, ask these folks if anime is cool in the US and they'll tell you just how old that news is.
"Decades ago, anime may have been considered 'niche,' but now anime is at the forefront of so many important cultural events and conversations," Brady McCollum, head of business operations at Crunchyroll, said. McCollum pointed to a Crunchyroll-sponsored report on the state of anime as evidence. "The kids who watched anime in the 1980s and 1990s are still consuming the product and are passing their own viewing habits to their own children," the paper's author, Robert Vonder Haar, asserts, and the popularity of newer anime like My Hero Academia (watch it on Crunchyroll!) and anime-influenced shows like Steven Universe proves as much.
Interestingly enough, Derderian doesn't think of anime as "cool," despite a lifelong fandom. He sees it as finally becoming a mainstay, as it deserves. "Cool, to me, implies some level of impermanence or momentariness," said Derderian. "Maybe it is cool, like for the moment, and there are people that are into it and want to tweet about it, but then they're not going to be long-term fans. But I do think we've seen this shift, right? There's a challenge, I think, for some people to understand what it is. And I think this comes from the historic distribution challenges or inefficiencies. But there was a latent consumer interest for people who just didn't know how to get it."
Back then -- in the treacherous '80s and '90s -- people who wanted to watch anime had to create their own black market, exchanging VHS tapes on the sly and, for the most ambitious, fansubbing untranslated releases. Now, anime is everywhere. And as such, its audience is too, and it's no longer relegated to a tiny pocket of nerddom: It's global, and it's diverse, and it isn't going anywhere. "The biggest single catalyst has been the internet," said Gen Fukunaga, founder and outgoing president and CEO of Funimation, who noted that international markets "often now generate more than half of all revenues" for anime. "The greater distribution and exposure expanded the audience size and demographics from a predominantly male market to a now diverse market -- across age, gender and ethnicity."
Rebecca Mock/thrillist
American animated television, for a long time, was divided into two principal types: crass sitcom for mature audiences, or adventure-oriented kids' shows that were designed to sell toys. That changed in the 1990s, when Nickelodeon debuted Rugrats, Doug, and Ren & Stimpy, while over at a fledgling Cartoon Network, Fred Seibert and studio Hanna-Barbera revolutionized American children's animation by launching What a Cartoon!, a showcase that brought the 7-minute format of the much older Looney Tunes -- which were short films, mind you, not TV shows -- to bear that eventually launched series, including Dexter's Laboratory and The Powerpuff Girls.
And yet, "the American perception of animation is still largely oriented around comedic animation for adults (e.g., The Simpsons, Rick and Morty) or content geared towards children," Lisa Holme, vice president of content acquisition at Hulu, said. "But anime is a leading example of what the animation medium can accomplish and is challenging these conventions. Anime is now transcending the 'geek' culture, as helped by crossover hits like One Punch Man, My Hero Academia, and Attack on Titan."
That transcendence of geek culture comes at a time at which geek culture is pop culture: Star Wars is no longer a nerdy interest that will keep you a Cheeto-munching basement dweller forever, but dominates the box office whenever the latest Marvel or DC superhero movie (usually Marvel, let's be real) doesn't beat it to it. Hence the obvious shift from the idiot box to the silver screen, where the money has traditionally always been.
Early adapters like the abysmally rated Dragonball Evolution, the horribly whitewashed The Last Airbender, and the Wachowskis' Speed Racer were panned by critics, as was the live-action Ghost in the Shell, whose producers decided, in their infinite wisdom, to cast Scarlett Johansen as the fundamentally Japanese cyborg protagonist of one of the most iconic anime movies of all time -- one that just so happens to very deliberately unpack cultural circumstances unique to post-WWII Japan. This year's Alita: Battle Angel, a reworking of the 1993 original video animation Battle Angel, is the 18th highest-grossing film of the year to date. And Netflix, in conjunction with its Japanese partners, brought live-action film adaptations of teen-boy-with-stupidly-big-sword show Bleach, Fullmetal Alchemist, and Death Note, all of which suffered some critical barbs.
But wait, there's more: The aforementioned My Hero Academia and Makoto Shinkai's tear-jerking surprise blockbuster from 2017 Your Name. are both getting the live-action treatment. And now there are rumors of a live-action version of One Piece, the absurdly long-running (20 years!) magic pirate show, coming to Netflix at some point.
Like their sacrificial forebears, they will probably all get panned, at least to some extent. As Holme puts it, the live-action anime adaptation is "a tough nut to crack." A successful adaptation "needs to be attractive in cast and story to a Western audience who has no idea about the original IP or anime culture." Simultaneously, Fukunaka noted, "to be successful, future live-action adaptations will need to balance both the spirit of the original anime and respect for the Japanese culture behind it with the amount of adaptation necessary for mass market appeal. I believe," he added, "the major studios will discover that balance."
They're certainly trying. Until consumer interest -- even skeptical interest -- wanes in the Western market, these adaptations won't stop coming. Why would they? There's money to be made. But will any adaptation ever please everybody? It's hard to tell, at least as long as Hollywood and the major television studios and streaming services continue to struggle to stick the landing.
That said, as McCollum pointed out, all this adapting goes both ways. Adult Swim and Crunchyroll are co-producing, with Alcon Entertainment, original Cowboy Bebop director Shinichirō Watanabe's new anime, Blade Runner — Black Lotus, a spinoff of Ridley Scott's 1982 cyberpunk noir that has since spawned sequels, including a previous animated one by Watanabe himself. And DeMarco insists that, unlike live-action remakes of anime up to this point, he intends to get the reverse just right.
"Blade Runner is the literal blueprint for cyberpunk anime, which is an entire genre that really defined anime in the late '80s and early '90s, particularly," DeMarco said, pointing to its distinct influence on films like Akira -- which is being rebooted as a live-action film by Thor: Ragnarok director Taika Waititi and as a new animated series based on the manga -- and Ghost in the Shell. "I think that it's a lot easier with Blade Runner, because you're turning it into an anime when anime has already done versions of Blade Runner by absorbing the look and feel and atmosphere and recontextualizing it in a Japanese way for years and years and years. The language is already something that Watanabe, in particular, already speaks. That's the other thing: Everyone involved on the show is a lifelong Blade Runner fan. Literally everyone."
This means, DeMarco insists, that the anime will be true to the vision of the original film. Discussing anime's greatest strengths, Fukunaga pointed to its "relatively modest" production budgets -- at least, he said, when compared with live-action or CGI films -- which allows creators "to be true to their vision without the pressure to service a mainstream audience." This is good news for networks and streaming services, because the interest in those creators and their vision doesn't seem to be going anywhere. (It is bad news, however, for animators and studio staffers, who notoriously struggle with being significantly overworked and vastly underpaid.)
That's partly why Netflix, clearly the streaming giant despite a healthy amount of competition in the anime space, isn't just adapting anime. It's licensing and generating a bonkers amount of content in the format. Sanrio-fodder Aggretsuko, wackadoo demonic fantasy Devilman Crybaby, elegant post-war PTSD exploration Violet Evergarden, telekinetic slice-of-life comedy The Disastrous Life of Saiki K., aliens-vs-giant-mechas space opera Knights of Sidonia, and plenty of others, have all found audiences or favorable critical responses. Another Watanabe series airing in Japan right now, Carole & Tuesday, will eventually be distributed in the US by Netflix as well.
"We're nowhere near capacity," Derderian said. "There's a huge appetite on Netflix for anime programming. A show like Devilman Crybaby is universally lauded, but it's also one of our biggest shows." Which, it should be noted, is a fascinating characterization to make, considering that Devilman Crybaby is insanely fucked up, what with its hypersexualized psychedelia, endless capacity for violence, and an ending that rivals Neon Genesis Evangelion in its bleakness. In other words: It's not safe for work, let alone kids. "On the business side of investing in anime, we have huge tailwinds and support from the top of the company to really invest in this category because it's so global and it's such a unique art form and has such a deep fandom around the world."
Rebecca Mock/Thrillist
With anime proper, it's hard to disagree, with audiences worldwide gobbling it up series by series. With live-action anime adaptations, though, this all gets tricky -- and at least for the short term, folks like DeMarco are somewhat skeptical that they'll ever honor the original visions of the properties they are rebooting.
"It's going to take Hollywood getting out of its own way, which always takes a while," he said. "Let's remember: With superhero movies, it took them a long time before they finally cracked it. Everyone says it was the rise of CG, and that's certainly part of what allowed superhero movies to happen. But the other part is that studios figured out that they can't just pave over everything they don't like. These properties have fans and fandom attached to them, and Hollywood has to serve them, to make sure they are happy and that they're representing the core of who the characters are supposed to be. And so far, Hollywood has not been able to do that with video games" -- despite trying real hard, with Resident Evil and Assassin's Creed and Warcraft and Mortal Kombat and Detective Pikachu and Tomb Raider and the Tomb Raider sequels and... -- "and they have not been able to do it with anime. It took them 20 to 30 years to figure out how to do it with comic books, and it's going to be the same thing with anime."
To DeMarco, there is no perfect solution. But M. Night Shyamalan and Rupert Sanders' poorly adapted The Last Airbender and Ghost in the Shell aren't going to cut it, nor are low-budget Japanese-language adaptations like the 2012 take on Rurouni Kenshin -- and DeMarco's not so sure about Netflix's gambit on adapting shows like Cowboy Bebop, either. "If someone said to me, 'you can make a sequel to Cowboy Bebop,' I don't know that I would," DeMarco said. "It's perfect." But as long as there's money to be made, anime masterpieces -- and others like it -- will be adapted anyway.
DeMarco is cautious, but he's holding out hope. For him, it's about honoring an original property without rebooting it or slapping on a lazy sequel -- honoring the spirit, not the letter. He cites FLCL, the beloved and bizarre 2000-2001 six-episode sci-fi action comedy series he was a producer on, and which he helped Adult Swim reboot last year as the dual FLCL: Progressive and FLCL: Alternative, as an example. That reboot, DeMarco insists, is an example of how you do it right.
"You get a team of people who loved the original, understood it deeply," he says. "It had to mean a lot to them, and they have to know what it stood for. You consult the original creators and have them on board to the degree they want to be on board. And then you get a new team of people and let them reinterpret that thing in a way that synthesizes what they love about the original but says something new, ideally. To me, if you leave room for improvisation and for a creative team to come in and do a new thing, even if it's within an old thing's framework, I think you kinda can get the best of both worlds. But that's a really tricky dance that not a lot of Hollywood producers and money men are going to be willing to have you do."
In other words: Good luck, space cowboys.
John Maher has written for
New York
magazine's
Vulture
vertical,
Esquire.com
,
Pacific Standard
,
Thrillist
,
Polygon
,
Paste
,
The Daily Dot
,
Electric Literature
,
The Rumpus
,
The Millions
, and
Hyperallergic
, among others. He is an editor at
Publishers Weekly
and cofounder of
The Dot and Line
, a web publication covering cartoons and animation.