Netflix
Netflix
Netflix's 'Locke & Key' Is a Lot Less Bloody Than the Original Horror Comics
But it's still pretty good!
After a long journey from the paneled page to the screen -- 12 years, to be exact -- Locke & Key has officially touched down on Netflix. The original comic book tale, which was penned by Joe Hill and illustrated by Gabriel Rodriguez, follows the Locke siblings Tyler (Connor Jessup), Kinsey (Emilia Jones), and Bode (Jackson Robert Scott) as they escape their hometown with their mother Nina (Darby Stanchfield) after witnessing their father Rendell's (Bill Heck) violent murder.
The original story finds the Lockes packing up and moving across the country to a town called Lovecraft, obviously an homage to genre lit icon, H.P. Lovecraft. The name of the seaside town in Netflix's iteration is Matheson -- a nod to author Richard Matheson, who wrote a whole assortment of fantasy and horror classics including I Am Legend, A Stir of Echoes, and What Dreams May Come. That alteration makes sense, given the adaptation's heavy fantasy element. It's also just the tip of a proverbial iceberg that is chock-full of changes to the source material. As showrunner Carlton Cuse learned when Hulu passed on the project in 2018, change absolutely had to come to Keyhouse for the project to move forward at Netflix.
Once the streamer was on board, Cuse was paired up with Haunting of Hill House executive producer Meredith Averill. Much like their recent projects Bates Motel and Hill House, Locke & Key centers on Keyhouse, the Locke family's large, mysterious ancestral home with a trove of secrets waiting to be discovered. Aside from the house's innate generational history, there is a bevy of magical keys hidden throughout the home -- mystical Harry Potter-style keys that reveal an assortment of supernatural, reality-bending, powers to the Locke kids. Add in some sinister threats and a fair share of high school drama, and you've got the makings of some promising entertainment.
It all sounds a bit Amblin-esque, really, and that's probably what the streamer glommed onto when they rescued the project in the summer of 2019. Up until that point, Locke & Key -- which began as a horror series pilot at Fox, then turned into a movie screenplay at Universal, only to be ditched by Hulu in March of 2018 -- was still a project leaning heavily on the darker, violent delights that originated in Joe Hill's mind. Because, let's be clear here, the story in the Locke & Key comics is a straight-up horror show. There was a reason the town was called "Lovecraft."
Locke & Key as it exists now is completely devoid of its Lovecraftian roots and leans heavily on the familial vibes of Haunting of Hill House, minus all the grief ghosts lurking in the shadows. It's like a YA version of Hill House, where the house's magical keys don't break the kids' brains but open up some wonderful new realities for them to explore.
The prolonged impact of loss, trauma, grief, and redemption is still there, though. Let's remember, the entire family witnessed their father's murder. But instead of having the series jump right into Rendell's murder -- the man gets shot right in the face in the opening of Hill's book (which, thanks to Rodriguez's artistry, is quite grotesque) -- his killing is revealed in flashbacks throughout the 10-episode season, adding to the overall themes of lingering trauma and mystery.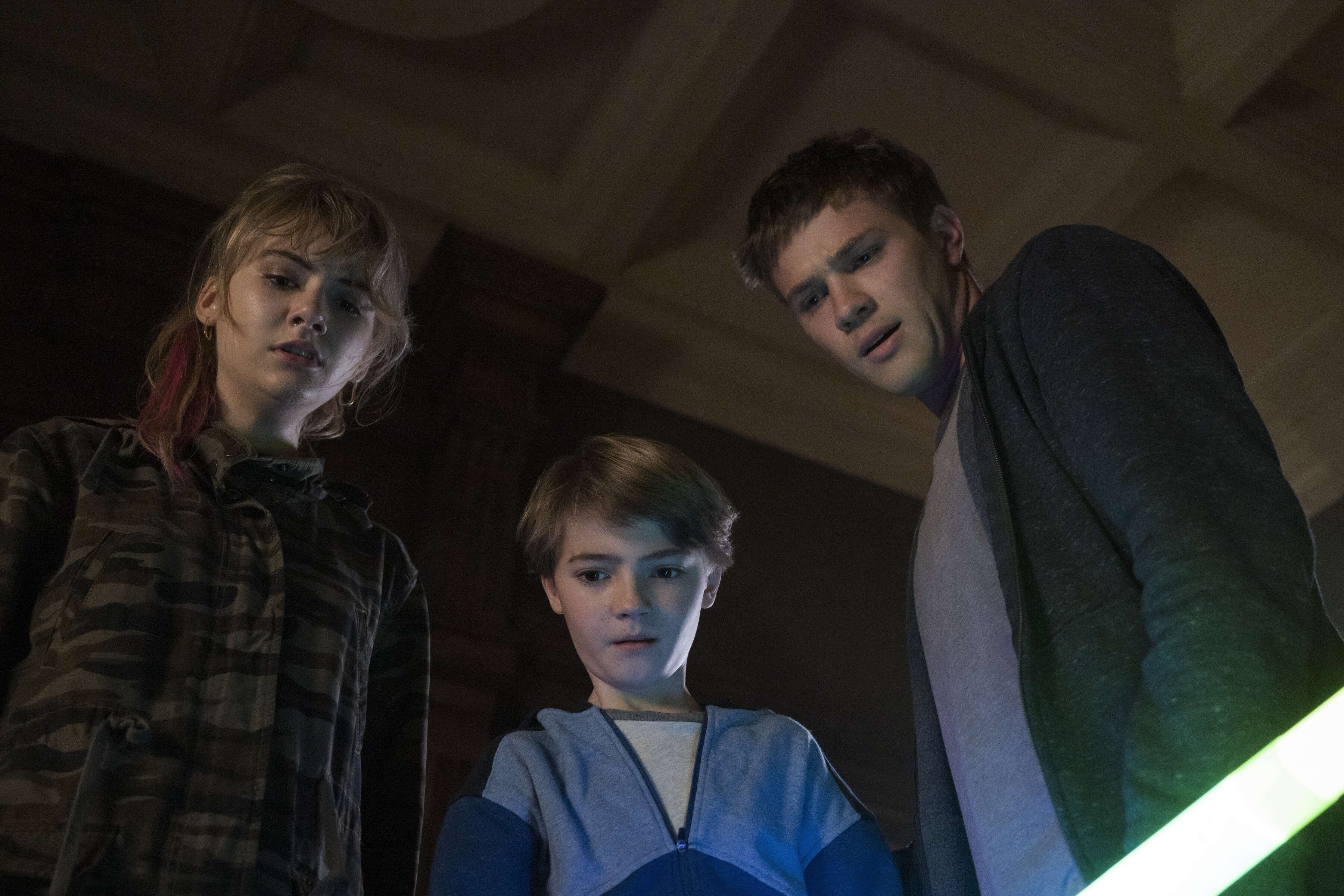 "[We're] leading with the mystery -- letting the audience lean in and wonder what's happened to this family," Averill told Variety, further explaining this storytelling choice. "We love the idea of teasing out that these characters in these scenes that we might not necessarily know what they are."
Mystery is the key word here, and the show really threads this yarn, slowly unveiling certain answers for each member of the Locke family. But even the Lockes are different here than in the books. Bode, in the comic, was too young to really understand heavy-hitting issues like death, loss, and grief. His discovery of certain keys, as well as a supernatural enemy lurking in the Well House, was met with regular foreboding terror. But on Netflix, Bode is way more open to every obstacle and oddball tidbit he runs across. He unabashedly follows his intuition and faces new discoveries with a bravado that feels as if his parents never quite taught him appropriate boundaries.
Tyler and Kinsey's stories frequently play out in a high school environment, expanding the show into familiar territory where popular teen dramas like 13 Reasons Why, Riverdale, and Chilling Adventures of Sabrina reign supreme. For the most part, the stories for both the brother and sister are mellowed greatly here, although, the show's exploration of Kinsey's personal battle with her fear demon does provide some intriguing moments toward the middle of the season.
Then there's their mother, Nina. It's eventually revealed that she is a recovering alcoholic who wrestles with her sobriety in the face of her husband's death. But in the show, it feels as if her own issues are an afterthought. One reason for that may be the fact that, in the comics, Nina is deep in her alcoholism and nowhere near enrolling in a 12-step program to get better. Faced with the death of their father, the kids' trauma was maybe one step too dark for the series to explore while their mother is constantly on a drunken bender.
That's not a bad thing, necessarily. One scene early on finds Nina trapped in a mirror after using one of the house's magical keys -- the Mirror Key, which finds its victim trapped in a fractured prison of the self. Yet, once rescued by her kids, the mother immediately has no recollection of it ever happening. The magic in Locke & Key is only for the kids to experience.
Conceptually, the abilities of certain keys should be viewed as downright terrifying. From getting stuck in a shard-filled mirror prison, to literally having a body fall lifeless to the floor in order to become a spirit -- yes, there's a Ghost Key that makes people, well, ghosts -- you'd think the reaction to each new key would frighten the Locke kids. But as bonkers as it'd be in real life to insert a key into the back of one's neck to venture inside their own minds, or to turn your heart off and then on again in order to live out some Casper-esque dreams, these kids, for the most part, take each new discovery with ease. Like we said: Amblin-esque.
The horror from the comics may be mostly gone in Netflix's new series, but there's a knowledge of the genre that remains within this world. Case in point: the Savini Squad, a group of high school friends who are also horror fanatics, who are specifically drawn to the works of real-life horror maestro Tom Savini, famous for his special effects work on movies like Dawn of the Dead and Friday the 13th. Heck, Savini even has a little cameo in the show.
"It's not horror, but sort of talks about horror, a little bit," Joe Hill told Thrillist, along with a small group of journalists during Netflix's official press day. "So there's the Savini Squad, which is a gang of horror fans. They talk a lot about final girls, and it's part meta. It's not as meta as something like Scream or Cabin in the Woods, but there's definitely a thread of conversation about fantasy, horror, and using what people have learned from pop culture to adapt to the situation they find themselves in at Keyhouse, which, to me, makes sense."
Yes, that makes sense. But talking about horror and experiencing it are two completely different things. That's not to say that there isn't any danger present in the series. The fear demon Kinsey faces in the book may have been scaled up to look like an angsty goth kid with rage issues -- in the comics, Kinsey keeps her little fear demon as a pet, trapped in a jar -- but Dodge, the Well Lady (Laysla De Oliveira) we mentioned earlier, helps maintain a certain sense of immediacy throughout the show's run.
It took some time for Dodge to escape the bottom of the well in the books, but she gets out rather quickly in the show. And while Dodge in the series is unable to acquire any of the keys without Bode straight-up giving them to her, she's still a worthy threat that keeps the emotional stakes of Locke & Key in check. Her scenes with Bode are some of the better sequences in the show.
Locke & Key is certainly fun, but for diehard fans of the comics, a "fun show" isn't exactly what they signed up for. Here's hoping that the next season will bring with it a solid narrative foundation, whether it's horror or fantasy. Because if it doesn't know exactly what it is, the future of the Locke family and the impact of Keyhouse's unfolding mystery will most certainly get lost in the shuffle.
Need help finding something to watch? Sign up here for our weekly Streamail newsletter to get streaming recommendations delivered straight to your inbox.