Everything We Know About 'Loki' on Disney+
Tom Hiddleston is back and ready to cause mischief.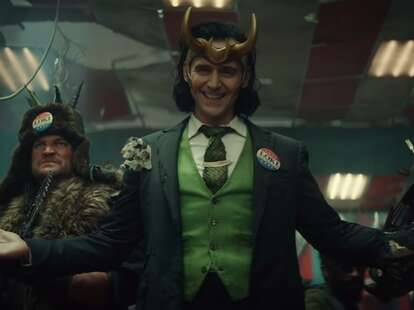 Is everyone ready for more Loki, back from the dead? Despite having bitten the dust in Avengers: Infinity War, trickster god Loki is returning for his own series on Disney+. Loki will find everyone's favorite raven-haired Asgardian getting involved in some mischief as he hops through time. So what can we expect and when can we expect it? Let's dive in.
When will Loki premiere?
Disney+ announced at the Television Critics Association Winter press tour in February 2021 that the first season of Loki would be dropping June 11, but then that trickster had something up his sleeve. Loki is actually premiering June 9 and will drop every Wednesday instead of every Friday. It's always something with this guy.

What's Loki about?
If you'll recall, when the Avengers were fighting with themselves in Endgame as part of their time traveling plan to stop Thanos, Loki grabbed the Tesseract, thus freeing him from the captivity he was facing at the end of 2012's The Avengers and giving him a second chance at life. (Yes, the timeline is confusing, just go with it.) The first look at Loki footage, released in December 2020, revealed that after he grabs that stone he's blasted to a sandy locale. He's eventually apprehended by the TVA, the Time Variance Agency, an organization that protects the proper flow of time, destroying dangerous multiverses. According to the new trailer, the TVA apparently believes that the God of Mischief will work with them to fix the multiple universes he's created, but obviously Loki has other plans.
What's the Time Variance Agency?
Disney+ seemingly loves introducing new organizations in their slate of Marvel shows. WandaVision brought us S.W.O.R.D., and now Loki will introduce the TVA, which has appeared in the comics before and is tasked with keeping all the timelines going on in the Multiverse under control, destroying those that become dangerous. When Loki took the Tesseract, he created yet another new universe that the TVA is hoping to erase. We're now fully in the Multiverse phase of the MCU, where literally anything is possible. Presumably, Loki will somehow tie directly into the upcoming Doctor Strange sequel, Doctor Strange in the Multiverse of Madness, which fans speculate will jump off the final moments of the WandaVision finale.

Who is in Loki?
Obviously, Tom Hiddleston is back as Thor's adoptive stepbrother, evil again, if you recall, but the rest of the cast is stacked as well. Owen Wilson, rocking a mustache and a grey hair cut, is playing Moebius M. Moebius, the mysterious head of the TVA; Wunmi Mosaku is Hunter B-15, one of the TVA's troops; and Gugu Mbatha-Raw is playing Judge Renslayer, who many believe is a version of Ravenna Renslayer, a character that has a very complex history with Avengers antagonist Kang the Conqueror, who we know will be appearing played by Jonathan Majors in Ant-Man and the Wasp: Quantumania (2022). Also, actress Erika Coleman is playing Florence Schaffner, the flight attendant who was on the plane that D.B. Cooper hijacked in 1971—which is no doubt why Loki is dressed in those very D.B. Cooper-esque sunglasses in the trailer. If this show is just Loki causing real-world urban legends and conspiracy theories, we wouldn't be mad.
Other cast members whose identities haven't been revealed yet include Sasha Lane, Sophia DiMartino, Erika Coleman, and Richard E. Grant. We're also expecting some cameos from some familiar frenemies.