The Lonely Island Celebrates Will Smith With a 'Fresh Prince' Tribute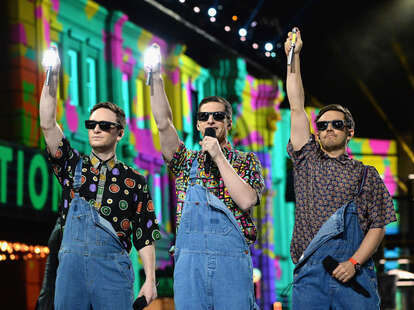 Kevin Mazur/WireImage/Getty Images
Awards shows need musical tributes, and last night's MTV Movie Awards were no exception. While hosts Kevin Hart and The Rock gave an amusing musical shout-out to Leonardo DiCaprio and his furry Revenant co-star, the hip-hop highlight of the night was when the Lonely Island performed a straight-faced tribute to Will Smith's early hits.
That's right: if you ever wanted to see Will Smith watch Andy Samberg, Akiva Schaffer, and Jorma Taccone run through "Parents Just Don't Understand" while sitting next to his son Jaden, here's your chance. The Men in Black actor was in attendance to accept his Generation Award, which he later joked was code for the "Old-Ass Dude Award."
But one thing's for sure: that old-ass dude has some killer songs. In addition to "Parents," the Lonely Island also performed snippets of "Summertime," "Men in Black," and "Gettin' Jiggy Wit It." The viral-video stars and SNL alumni even rocked some overalls that DJ Jazzy Jeff would approve of. Check out the full video below:

Of course, this wouldn't be an awards show on a cable network if both the Lonely Island and Will Smith weren't also promoting new projects. The parody rap trio has Popstar: Never Stop Never Stopping, their first feature-length movie as a group, coming out June 3, while Big Willie has a major role in this summer's highly anticipated superhero flick Suicide Squad, which debuted an extended trailer during the show last night.
Sadly, it looks like Carlton will not be in the movie. But don't give up hope -- he could have one of those post-credits cameos.
Sign up here for our daily Thrillist email, and get your fix of the best in food/drink/fun.
Dan Jackson is a staff writer at Thrillist Entertainment, and he hopes the Willennium never ends. He's on Twitter: @danielvjackson.