This article contains major spoilers for Looking for Alaska.
"102 days before," "43 days before," "seven days before"… Hulu's adaptation of the John Green novel Looking for Alaska doesn't disguise the fact that something tragic is bound to happen. This narrative device comes from the source material, but the miniseries more explicitly sets up the impending disaster by opening with scenes of a car accident. After the first minute, you know this will be another teen show that deals with Big Feelings and Serious Themes.  
Since it was published in 2005, Green's debut YA novel has inspired thousands of Tumblr posts for being the kind of story that shines in its sensitivity and treatment of real teenaged emotions. Paramount has owned the rights to the book for almost all of the 14 years since it first appeared, and it eventually fell into the hands of showrunner Josh Schwartz (The O.C., Gossip Girl) for an eight-episode Hulu miniseries, which was released in full on October 18. Not only does the adaptation capture the nostalgic feeling of reading the novel for the first time (say at 15, awkward and lovelorn), it handles tragedy much more delicately and naturally than other teen series in recent years. 
Recommended Video
Ghost Kitchen: How This NYC Restaurant Is Responding to Coronavirus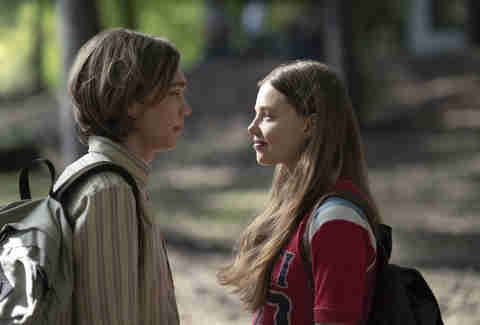 The miniseries follows a teenaged boy named Miles "Pudge" Halter (Charlie Plummer) who's set on finding the answer to his own "great perhaps," a reference to Rabelais' last words, because Miles is obsessed with last words. Miles thinks he can find his great perhaps at an Alabama boarding school, where he meets a unique group of friends and becomes particularly beguiled by an outgoing girl named Alaska Young (Kristine Froseth). While much of the show follows Miles' outcast friend crew, and especially his relationship with Alaska, at the crux of the show is the young woman's addiction and depression that her friends fail to notice before it's too late. 
Ultimately, the tragedy teased at the beginning of the show is Alaska's death, which seems to be a suicide by way of a drunk-driving crash, though her intentions are left ambiguous. Froseth's nuanced portrayal of Alaska gives the character a depth that leaves room for interpretation, and it becomes clear early on she needs help that her peers can't offer. She's almost never shown without a bottle in hand; she makes it very clear that she doesn't have a safe home to go back to; and she's forever wondering, "How do you get out of the labyrinth of suffering?" It's a reference to South American freedom fighter Simón Bolívar's last words, which sums up the difficulty Alaska has navigating her way through her struggles.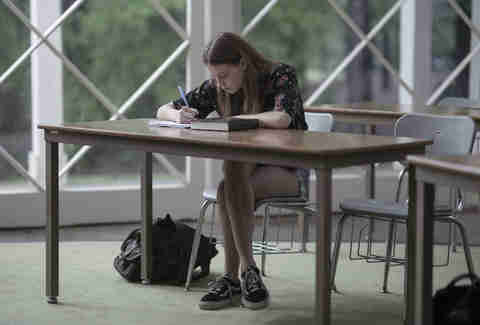 Eventually, Alaska reveals she's still grieving her mother's death, which she believes is her fault. When the series reaches its climax and Alaska realizes she forgot to honor the anniversary of her death, she impulsively leaves in the middle of the night to visit her grave, which is when the accident/suicide occurs. Froseth's understanding of Alaska makes her more than a cipher of a teen girl; she's erratic yet steady as a friend, apparently self-confident but secretly hurting. She's human. 
So too are her classmates, and in their grief Miles and his friends look to assign blame for letting Alaska drive that night. But eventually that impulse changes to guilt, as they condemn themselves for not intervening sooner. In true teenage fashion, they're unraveling not just because they lost someone, but because they didn't know how to save her, and their own impotence confronts them for the first time. What could they have done differently? 
This question, along with the other existential concerns of young adulthood, drive Looking for Alaska. Purpose, religion, suffering are all, of course, the kinds of subjects that underpin many teen shows. But Looking for Alaska is quite unlike another popular teen series of the moment, Netflix's 13 Reasons Why, which seeks, as its name suggests, "reasons" for a suicide rather than exploring the complexity of depression. Hulu's series, on the other hand, is far more careful in its treatment of tough issues, and probably won't have to backtrack to correct mistakes like 13 Reasons Why has had to do in the past. It offers mental health resources at the end of each episode, and at its core is more thoughtful in its reflection on how we can all be better to each other. 
The only answer the series ends up giving is that the labyrinth shouldn't be about finding a way out, but rather a way through. It's an answer young people deserve in their media, and as Looking for Alaska shows, it's one that's possible.