Everything We Know About Amazon's 'Lord of the Rings' TV Series
There are already five seasons slated for Amazon's $1 billion post-'Game of Thrones' challenger.
If you haven't been obsessively following the news swirling about the Amazon's Lord of the Rings TV series, you're probably feeling a bit out of the loop. Information about the series has been coming at a painstakingly slow trickle, with plot details notably amorphous until earlier this year when the show's official account tweeted out a map (more on that later) that made hardcore fans almost literally implode from speculative excitement. Since then, we've gotten more information about the series, its creative team, cast, and plot.
Set during the "Second Age" of Tolkien's universe, the series won't dig into any of the Lord of the Rings trilogy, meaning that our pals Frodo Baggins and Samwise Gamgee will have nothing to do with it. Rather, the series will act as a prequel of sorts, diving into Middle Earth's rich history and mythology. The show, which Amazon is clearly hoping will be the next Game of Thrones style mega-hit, will reportedly cost the company $1 billion over the course of its five—yeah, five—total seasons. That being said, the series' target premiere date is closer than ever. To fill the wait, you might as well read up on everything we know about Amazon Prime's Lord of the Rings series.
When will the Lord of the Rings series premiere on Amazon?
We have a date!!! Woooo!! Nearly five years after the series was first announced, Amazon has confirmed the first season will premiere on September 2, 2022. And they gave us the first official image from the show (see above), to reward us for our patience.
The show suffered major production delays at the start of the international COVID-19 quarantine, but in early July the government of New Zealand—one of the few countries to announce itself completely or nearly COVID-free—granted border exemptions to a number of the Lord of the Rings crew (along with seven other productions, including the Avatar sequels and the live-action Cowboy Bebop series), meaning that they were allowed to fly in and quarantine themselves for two weeks before restarting production on the show. In September 2020, Deadline announced that filming had officially resumed in NZ. The show had planned to go on hiatus anyway following the completion of the first two episodes (which were nearly done before quarantine began) to wait out the New Zealand winter—so it might actually be the only paused production to still be pretty much on track now.
The first season will reportedly have 20 episodes, said Tolkien scholar and series consultant Tom Shippey in an interview with Deutsche Tolkien Gesellschaft. Amazon, however, has not yet made an official announcement regarding the episode count.

Who's joining the cast?
So far, the series' casting news has been a little weird. Will Poulter was attached to play a character named "Beldor" (Baldor the Hapless, son of Brego, who passed along the Paths of the Dead?), but that fell through due to scheduling conflicts. Other rumored cast include Australian actress Markella Kavenaugh (Romper Stomper, Picnic at Hanging Rock), who was in talks in July to play "Tyra," which is either a code name for a more important character or someone invented for the show.
Collider reported the semi-secret casting of Years and Years' Maxim Baldry, and a few weeks later Deadline reported that Game of Thrones veteran Joseph Mawle (Uncle Benjen) will play "Oren," the series' lead villain, also not a name that appears in anything written by Tolkien—unless this is a weird reference to Orendil, Isildur's father whose sword his son used to cut the Ring from Sauron's hand.
It was also reported that Morfydd Clark (His Dark Materials, Dracula, the fantastic upcoming Saint Maud) will be playing the only character you might recognize—a younger version of Galadriel, the powerful Elf queen played by Cate Blanchett in Peter Jackson's movies.
At the January Winter 2020 TCA Press Tour, Amazon announced a nearly complete cast list, including newcomers Robert Aramayo (Game of Thrones' young Ned Stark), Owain Arthur, Nazanin Boniadi (Homeland, Counterpart), Tom Budge, Ismael Cruz Córdova (Berlin Station), Ema Horvath, Tyroe Muhafidin, Sophia Nomvete, Megan Richards (Wanderlust), Dylan Smith, Charlie Vickers, and Daniel Weyman. It's pretty clear just looking at this list that this show is taking pains to be extra inclusive, which is great news considering how LOTR adaptations have been criticized (rightly!) in the past for being very, very white.
In July 2020, a precariously-worded casting call went out for "funky looking" individuals to play an unspecified part—the Facebook post from an Auckland casting agency mentioned "facial burns, 'long skinny' limbs, acne scars, deep cheekbones, facial lines, missing bones, large eyes, and skinny faces" as unique features that could land someone a coveted role.
In December 2020, another round of cast announcements went out, adding Cynthia Addai-Robinson (Spartacus, Arrow), Ian Blackburn, Kip Chapman (Top of the Lake), Anthony Crum, Maxine Cunliffe, Trystan Gravelle (Quiz, The Terror), Sir Lenny Henry (Broadchurch), Thusitha Jayasundera (Humans), Fabian McCallum, Simon Merrells (Good Omens),​ Geoff Morrell, Peter Mullan (Westworld), Lloyd Owen, Augustus Prew (The Morning Show), Peter Tait (The Lord of the Rings: The Return of the King), Alex Tarrant, Leon Wadham, Benjamin Walker (Jessica Jones), and Sara Zwangobani, and confirming the previously reported Maxim Baldry.
Who's working on the project?
Amazon announced the series' own production "fellowship" in July 2018. John D. Payne and Patrick McKay are the series' showrunners and are joined by executive producers Lindsey Weber (10 Cloverfield Lane), Bruce Richmond (Game of Thrones), Gene Kelly (Boardwalk Empire), and Amazon's former head of genre programming, Sharon Tal Yguado. Gennifer Hutchinson (Breaking Bad), Jason Cahill (The Sopranos), and Justin Doble (Stranger Things) hold both writing and executive production credits. Bryan Cogman (Game of Thrones) and Stephany Folsom (Toy Story 4) serve as consulting producers; Ron Ames (The Aviator) produces alongside writer and co-producer Helen Shang (Hannibal). Glenise Mullins serves as the show's writing consultant. And the big news is that Amazon has brought on Jurassic World: Fallen Kingdom director Juan Antonio (J.A.) Bayona to direct the first two episodes. Wayne Che Yip (Hunters, Doctor Who, The Wheel of Time) will direct following episodes of the series, having come on board as director and co-executive producer in March 2021.
The series' fantasy bent necessitates a strong creative team as well. Joining the crew are costume designer Kate Hawley (Suicide Squad), Academy-Award winning production designer Rick Heinrichs (Star Wars: The Last Jedi), Academy-Award winning visual effects supervisor Jason Smith (The Revenant), the aforementioned Tolkien scholar Tom Shippey, and illustrator/concept artist John Howe.
Despite early rumors, Lord of the Rings trilogy director Peter Jackson is not involved with the project, a fact that DigitalSpy confirmed in June 2018.
In July 2021, Amazon refuted claims that the set environment was "unsafe," after three stunt actors reportedly suffered injuries while working and certain injuries weren't reported to New Zealand's workplace safety regulatory body WorkSafe. "Amazon Studios takes the health, physical and emotional welfare of our cast and crew extremely seriously," a spokesperson for Amazon Studios said, per IGN. "As a top priority, the production team continues to be in full compliance with the mandated WorkSafe New Zealand Safety and Security government regulations. Any allegation or report that activities on set are unsafe or outside of regulations are completely inaccurate."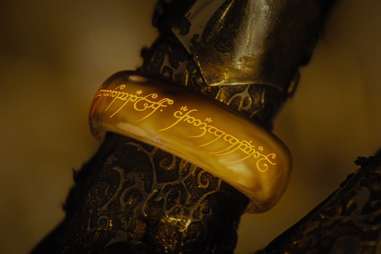 What's the series about?
Nearly everything we know about the plot comes from a single map.
Previously, there was a rumor going around that Amazon was pulling a Solo and creating a prequel series around a young version of Dúnedain ranger Aragorn, the heir to the kingdom of Men in The Lord of the Rings. But some new info has been trickling out that confirms that this show is going way further back in time.
On February 15, 2019, the show's official Twitter account posted a label-less map of what we can all pretty much guess is Middle Earth. Once a week since then, the map has been expanded with place names everyone knows, like Mordor and Moria, and places you likely only know if you're big into LOTR lore.
In March 2019, the account posted what looks to be a final version of the map with a few extremely important places labeled followed by a tweet that says "Welcome to the Second Age." Both the map and follow-up confirm what many had previously suspected: the series is a prequel set long before Frodo's time.
Two of these labeled locations—Minas Anor and Minas Ithil—are places we've been before. Minas Anor is an older name for the white city of Minas Tirith, which had a front-row seat to the Battle of the Pelennor Fields in The Return of the King. And Minas Ithil is the original name of Minas Morgul, that creepy green-lit fortress that Frodo, Sam, and Gollum sneak past when the Witch King of Angmar flies out on his fellbeast to join the battle.
What's important about these two names is they were what these cities were called before the 2,000th year of the Third Age, which is when Minas Ithil was taken over by the Nazgûl and renamed. The maps have been offering up clues about this for a few weeks: the region of Rohan is labeled as Calenardhon, which is the name that land had before the horse lords came down from the north and settled it. The elf citadel of Lothlórien is labeled as Laurelindórenan—again, its old name. The watchtower of Amon Sûl, which we know as Weathertop from The Fellowship of the Ring, is also labeled with its old name, which is the name it had when it was part of the ancient kingdom of Arthedain. What this all means is that this show likely takes place before the first "defeat" of Sauron and the dawn of the Third Age.
The biggest thing this map includes is the island of Númenor, which housed a fabulous lost civilization of Men that was destroyed after they refused to worship the one god Eru Ilúvatar and rebelled against the angelic Valar. It's a long story. Think the Doom of Valyria from Game of Thrones. Or Atlantis, which is what J.R.R. Tolkien actually based Númenor on. If the official Twitter account making a zoomed-in photo of Númenor their header is anything to go off of, we're smack-dab in the middle of every incredibly cool thing that happened three or four thousand years before the events of The Lord of the Rings. Sauron begins corrupting the Númenorians, who are busy settling Middle Earth and persecuting the Elves and being dicks to the Valar; Isildur, the King of Men who cuts off Sauron's finger in battle, is born; and a certain Ring of Power is forged.
Amazon confirmed all of this with a synopsis reveal in January 2020, which, while vague, does mention that we'll be going to places on the map that we haven't yet seen brought to life on any sort of screen:
"Amazon Studios' forthcoming series brings to screens for the very first time the heroic legends of the fabled Second Age of Middle-earth's history. This epic drama is set thousands of years before the events of J.R.R. Tolkien's The Hobbit and The Lord of the Rings, and will take viewers back to an era in which great powers were forged, kingdoms rose to glory and fell to ruin, unlikely heroes were tested, hope hung by the finest of threads, and the greatest villain that ever flowed from Tolkien's pen threatened to cover all the world in darkness. Beginning in a time of relative peace, the series follows an ensemble cast of characters, both familiar and new, as they confront the long-feared re-emergence of evil to Middle-earth. From the darkest depths of the Misty Mountains, to the majestic forests of the elf-capital of Lindon, to the breathtaking island kingdom of Númenor, to the furthest reaches of the map, these kingdoms and characters will carve out legacies that live on long after they are gone."
All of that history is critical, and as Tolkien scholar Tom Shippey told Deutsche Tolkien Gesellschaft, it's something to which Amazon will be bound. "The Tolkien Estate will insist that the main shape of the Second Age is not altered. Sauron invades Eriador, is forced back by a Númenorean expedition, is [sic] returns to Númenor," Shippey said. "All this, the course of history, must remain the same. But you can add new characters and ask a lot of questions … Theoretically, Amazon can answer these questions by inventing the answers, since Tolkien did not describe it. But it must not contradict anything which Tolkien did say."
While it's necessary for Amazon to adhere to the established canon, the company essentially has creative freedom in everything left unsaid (although, according to Shippey, the Tolkien Estate does have veto power). Even for hardcore LOTR fans, there's sure to be something new.
Will it be filmed in New Zealand?