'The Incredibles' and Ralph Bakshi: Loren Bouchard's Inspiration for 'The Bob's Burgers Movie'
The creator of 'Bob's Burgers' discusses his inspirations for the movie version.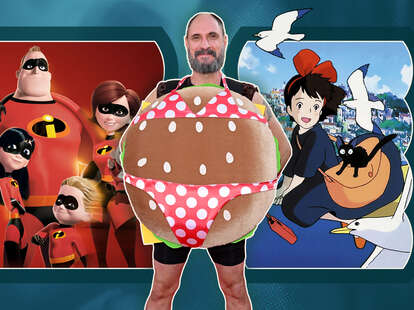 Design by Maggie Rossetti for Thrillist
This weekend, the Belcher family hit the big screen with the release of The Bob's Burgers Movie, a joyous adventure for the burger-slinging clan that contains musical numbers and murder. The film, directed by series creator Loren Bouchard and producer Bernard Derriman, finds the Belcher kids on the hunt to solve the killing of a carny after a sinkhole opens in front of the eponymous restaurant. Meanwhile, Bob and Linda are just trying to keep the business afloat given that the aforementioned hole has made it impossible for customers to get in the door and they have a loan to pay off.
Bouchard and his team of writers and animators have kept the world of Bob's Burgers familiar to anyone who has watched the Fox animated series, but they've relished the opportunity to go deeper with the characters and the art. (They can have shadows now, he explains, which are too expensive to do regularly on television.) Thrillist hopped on the phone with Bouchard to dig into the movies and creatives that inspired him.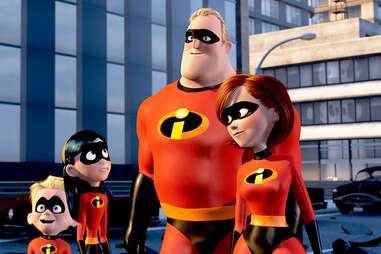 The Incredibles
Bouchard wanted to make a movie that devoted equal time to the development of each Belcher family member: struggling restaurateurs Bob and Linda, horny Tina, ambitious Louise, and musically inclined Gene. He sought out other movies that alsofocused on an entire brood. One of those? The Incredibles, Pixar's classic superhero farce directed by Brad Bird.
We were really quite sure that we had to service all of our characters, that we needed to pull a story through for each of the main characters in the family—and [Bob's friend] Teddy, to a big degree, too. We really needed to have this emotional arc that you could feel and track pretty easily. That made the number of movies that we could look at feel very small. That's a tall order.
We felt honor bound and sort of like guardians of these characters. We couldn't just make Louise the star and make everyone else a supporting role. I was interested in The Incredibles. It was animated, of course, but it was also not just Mr. Incredible's story. Elastigirl's story is told very, very clearly. That extends to the kids too. I want to give that movie a shout-out, because we did really look at it. I even went online and looked at people who had broke down the story and looked at how the acts played out. I wanted to see the bones of the thing, because I knew, not that we wanted to make The Incredibles, but because they had done this seemingly impossible thing of pulling through a story for each family member, really telling a story about a family.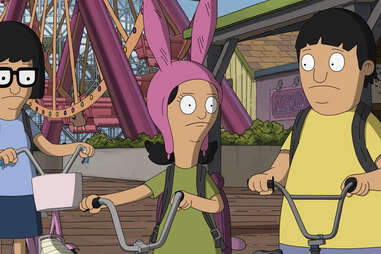 Sherlock Holmes
At the center of The Bob's Burgers Movie is the mystery of who killed the carny known as Cotton Candy Dan. Was it the Belchers' landlord Calvin Fischoeder? Or someone else? The kids—led by Louise, who is also out to prove that her beloved bunny ears don't make her a baby—set off to solve the case (and save their family's business).
We generally are mystery fans and crime fans. I'm talking about, in particular, [writer] Nora Smith and myself, though I think I'm also speaking for a lot of the folks who worked on the movie. We all came to it with a pretty broad appreciation for both filmed crime stories and novels. I've read a lot of mystery novels in my day, especially back in the day. I had a little Raymond Chandler phase. I had a Sherlock Holmes phase. I know Nora Smith was reading a lot of Swedish mysteries, which I guess are very, very dark and I never got into. When we first started working together, she was burning through them, like one a week.
Sherlock Holmes was definitely a friend of mine, to some extent, in the early days of understanding Louise as a detective, not because of the stories as much as the character. That's a really, really interesting and well-defined character. Obviously I'm not the only one who thinks that, but it was so especially fun to borrow little bits and pieces of that way of thinking about detectives and applying them to this 9-year-old girl.
Despicable Me
For the movie, Bouchard and his team had to think bigger, specifically when it came to visual gags. He turned to those darn Minions for inspiration.
Well, I really like animated movies. I watch more animated movies than I watch animated TV shows, even though I work in television, partly because I have kids and movies are perhaps the thing that's easiest to sit down on a Saturday night and watch together. And I love taking my kids to the movies. I won't be exaggerating when I say I've seen most of the family animated movies that have come out in the last 10 years.
There's a gag in Despicable Me. They're very good at visual gags, these little set pieces. I did go back and watch that again. It's the sequence when Gru and the Minions are going to try and steal the moon from the other supervillain, who looks a little like Bill Gates. You've got a shark under the floor and that super-tank. But this Bill Gates character is oblivious. He does not know that they're hanging above him. That was very inspiring. I really wanted to be able to do something as clever and as well executed as that.
I very humbly took the role of co-director on this. I'm a passionate director in a lot of ways, but my role on the show is highly focused on voice performance, facial acting. I'll give voluminous notes about somebody's eyeballs, or their eyebrows, or whether they should smile or not—for the record, mostly not. Believe it or not, I think smiles can often hurt a joke. But calling yourself a director of a movie really means you have to step up and you have to pitch visual gags, set pieces, and you have to think visually.
Hayao Miyazaki
Even if jokes about butts and burgers don't seem all that connected to the work of Hayao Miyazaki and the Japan-based Studio Ghibli, Bouchard looks to the master of animation whenever possible.
Miyazaki is an incredible hero. He's the perfect hero, because he's so far out ahead of everyone else. He's an artist in every sense of the word and makes movies that affect you in ways you can't even fully understand while you're watching them. Forgive me for saying this, but you can sit there and be like, "This is weird. Is this story tracking? I can't even tell." Then two days later, you're still thinking about it. A week later, you're still thinking about it. Three years later, you're still thinking about Princess Mononoke and this sequence or a series of images, or you're still thinking about Spirited Away. I mean, I frequently have this feeling like I want to go back and look at them again. So here's the master, right? Here's the guy who has achieved what I think of as the greatest accomplishment in visual storytelling, in filmmaking, which is: These images are almost like dreams that we all had, those of us that have seen the movies. It goes beyond linear, narrative storytelling into this world of images that just affect you in your subconscious and you know you're being affected and you don't even know how. That's pretty impressive stuff. I don't claim to have any of those abilities, but I certainly am inspired by him.
I did go back and look at a bunch of his movies while we were working on the Bob's movie, just to see, again, how he handled things like clouds. At the beginning of Kiki's Delivery Service, were those clouds moving? I thought they were in my mind, but I couldn't remember. We talked about moving clouds in Bob's. Does it distract or does it add some visual interest for the clouds to be drifting ever so slightly behind a character while they're talking about something completely unrelated? Does it become related? The weather was important on Bob's. We have rain that comes and goes and has no significant storytelling value. But we always knew we wanted it. We always knew. From the very beginning, we were like, "This sequence will happen in the rain." We knew it was going to be a light rain. I think that comes from Miyazaki. We had the bravery to insist on that because we were watching his movies and he insists on atmosphere. It doesn't have to be story-related. It doesn't have to be this explicit plot device.
2D animation and the work of Ralph Bakshi
As a devotee of 2D animation, Bouchard waxes rhapsodic about the qualities of a line and the films in the medium that were formative.
I'm not trying to disparage CG films or 3D or whatever we want to call it, but I do love 2D, and I love it with a passion that I have to be careful because I do love it more than I love all other animated mediums. If you love drawings or if you just love the line, then it's for you in a way. We've got you there. No other medium has the line as its primary thing—the line as drawn by a human hand. I'm fine with computer tools that are helping us. I'm even fine if we have a 3D model that we've used to help us draw a car as it turns or a roller coaster. Those are very helpful tools. In the end, it's still a line and it still suggests that it came from a human hand, even if the computer helped us in many, many ways.
2D animation is the art of leaving some things out. I mean, all animation is, obviously. Everything is a decision. With live action, you stick a camera on a human being and you can't do too much editing of that human being. With animation, you don't have that luxury. But on the flip side, you have the luxury of making a decision about every single thing that's in the image. Every single thing that's there has been decided on by someone. So we have character design that we've decided on and we have things that we've left out of the human face. In Bob's, for example, they don't even have teeth. You're basically just deciding the face is going to be almost this icon, this set of icons, two circles and a dot to represent the eye.
I saw, in rapid succession, some startlingly adult animated 2D movies. Watership Down, very dark. Almost incomprehensible to me as a kid when I saw it, but I saw it in the theater. I think it made a big impression on me. Ralph Bakshi's Lord of the Rings—rotoscoped, also very dark, and incredibly effective imagery that stayed with me for years. Ralph Bakshi's American Pop, which I didn't see in the theater. I saw it on cable, but I saw it like a dozen times. And I would add the movie Heavy Metal, which is flawed in many ways but also is audacious and crazy and exciting. It was rated R. It's full of boobs and naked ladies. And my mom, God bless her, said, "I'll take you to that." I'm 11 years old. That's I guess, in contrast to some terrific Disney movies: The Jungle Book, the Disney Robin Hood—these movies were kind of my movies. I had the records of those movies. I didn't see them until I had already heard them a bunch of times. We used to listen to records to fall asleep, and so I was half-awake listening to the voices without even ever having seen the movie. All of that I guess goes into some bucket called the growing me, the young me.