Ron Livingston Embraces His Inner Jerk in 'Loudermilk'
Ron Livingston has always been one of Hollywood's "good guys." Sure, a handful of his characters have had jerk-like tendencies -- like embezzling from his employer in Office Space or breaking up with Carrie Bradshaw via Post-it Note on Sex and the City -- but since making his breakthrough more than 20 years ago in Swingers, Livingston has been a go-to name for roles that require an actor who can convincingly project bravery in the face of danger, whether that's as a WWII Army captain (Band of Brothers) or a devoted husband/ father squaring off against an evil spirit (The Conjuring).
As Sam Loudermilk, the titular former music critic/current substance abuse counselor/perpetual recovering alcoholic in Peter Farrelly and Bobby Mort's Loudermilk, Livingston is just an asshole. Though the addicts he counsels look up to him, Loudermilk is so consumed with his own nihilism that connecting with other people is not a high priority. As the series kicked off its second season on AT&T's Audience Network in early October, Thrillist chatted with Livingston about the freedom of being brutally honest, the importance of good hair, and how he's still waiting for his big superhero movie.
Thrillist: Sam Loudermilk is a different character for you. When you first read the script, was there one aspect of the character that became a deciding factor for you in saying, "Yes. I want to do this!"
Ron Livingston: First of all, I loved the character and I loved the world. It reminded me of some of the great characters that I grew up seeing people like Ed Asner and Walter Matthau play -- the miserable misanthrope who hates everything and takes it out on the people around him and has a heart in there somewhere, but we can never seem to find it. That's a great character to play. It's a lot of fun. I knew it was Pete Farrelly, whose got an amazing track record for making things a) funny and b) successful, so I was inclined to want to do it. I wasn't sure how it was going to work as far as me playing the character, but it was a lot easier than I thought it would be.
Walter Matthau certainly had an amazing ability to play a jerk you somehow end up rooting for. As an actor, you have to get that nuanced mix of unlikable and likeable just right, which must be a delicate balancing act.
Livingston: Loudermilk is definitely a guy who thinks he is always right. I'm familiar with that role… less so now at my age, because I have my daughters to tell me how wrong I am. But I think it's a kind of blessing as a young person; it breeds confidence. But the older you get, it just breeds arrogance, and Loudermilk is saddled with it. He feels it's his duty to share his opinion on everything with the people around him. He used to be a professional music critic and he was an extremely harsh critic, and now he's being denied that outlet. So he's an extremely harsh critic of anything and everything. But he's hardest on himself. He's his own worst critic, and that's something I'm familiar with.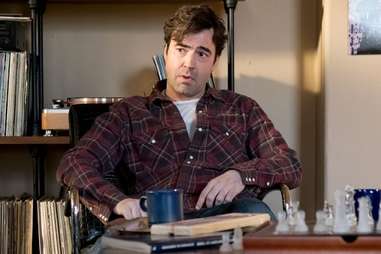 Audience
Personally or professionally? Or both?
Ron Livingston: A little bit of everything. It comes out in work. A lot of what I do, as I have done this for a while, has been to try to get out of that mindset where I'm constantly judging the stuff that I'm doing as I am doing it. It's hard because my dad was a very self-critical person and he taught me to be a self-critical person, which is both a gift and a curse. So it's definitely fun to turn it loose and turn the volume up to 11 with a guy like Loudermilk.
Are you someone who can watch your own performances?
Livingston: I'm much better at it than I used to be. It depends on if it's good. If it's good, then I generally enjoy it. If I don't enjoy it the first time watching it's because I am too busy picking it apart. My old line was: "The first time I watch it I am only looking at my hair. The second time I'm watching it I'm looking at my acting. And the third time I watch it I can actually enjoy it as an audience member." Now I can enjoy it on the second or even the first viewing sometimes.
Was that a case of deciding, "The hair looks good, let's move on"?
Livingston: I gave up on the hair. I just surrendered
Is there a freedom that comes with playing a character who's willing to say whatever thought enters his damn mind?
Livingston: It's a freedom. It's kind of a mandate. There's just a level of judgment and snarkiness, but for me the thing that really makes the show work is that, in the middle of all of this, he is a recovering alcoholic and he's the leader of a 12-step recovery group full of misfits and numbskulls who drive him crazy. He's a very unlikely shepherd for this motley crew, and we mine a lot of great comedy out of that. But when you're dealing with people who are dealing with substance abuse and addiction, the thing that makes him unlikeable -- that brutal honesty with no filter -- is exactly what someone in that situation needs. So every once in a while, he is actually perfectly placed.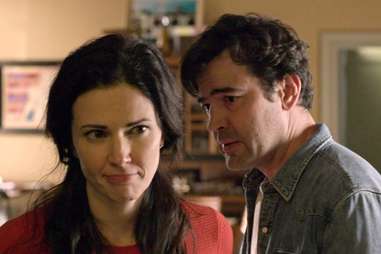 Audience
As someone who exists in Hollywood, do you ever have a burning desire to spend one day just becoming that character and being painfully honest?
Livingston: When we're shooting I feel like I get to do it for two months at work. Even if put it down when I come home and try not to take it out on my kids, it's still 12 hours a day I'm Loudermilk and maybe a couple of hours a day before I go to sleep I'm back to being Ron. So it's really freeing, and it is really, really fun.
In addition to Loudermilk, you've got A Million Little Things and The Romanoffs. How are you everywhere right now?
Livingston: Yeah, it's a little bit like a rogue wave. It's one of those things where a few things came together and happened at the same time. They just sort of erupted around September and October. There were two months where I was doing Loudermilk and A Million Little Things, then spending Sunday with my kids, and then right back at it again. But it was two months, and anyone can do anything for two months.
You've had great parts in some indelible projects over the years. Is there one role that people seem to always want to talk you about?
Livingston: It used to be that way, but I feel like enough time has gone by that a lot of the audiences have cross-pollinated and I think it's really more about, "Okay, which one was playing this week somewhere on cable?"
Given all the reboots and remakes of old properties making comebacks, is there one role you'd love to take another stab at?
Livingston: Well, always the bad ones. Any of the bad ones that I could have another crack at, those would probably be the ones that would come to mind but the ones...
No, no, no. You can't just say that and not give an example.
Livingston: No. I can't do that. Because somewhere out there, there is a director or a writer and it will break their heart.
Come on -- just one.
Livingston: I have an IMDb page. You can take a look at it. And a couple of them will jump out at you. Once I do something, especially if it goes well, I like to move on and try to do something that's completely different.
Is there one type of character that you've always wanted to play but have yet to make happen?
Livingston: I never got my superhero movie.
No one is saying that can't happen. We need a new Batman, a new Superman, a new Captain America.
Livingston: I feel like any year now they're just going to run out of everybody else, so they are going to have no choice but to send one my way.
Sign up here for our daily Thrillist email and subscribe here for our YouTube channel to get your fix of the best in food/drink/fun.
Jennifer M. Wood is a writer whose work has appeared in WIRED, Rolling Stone, Esquire, Condé Nast Traveler, Vulture, GQ, and Mental Floss, where she's also an editor. She celebrates Ron Livingston's entire catalog.