Netflix, HBO, FX Drop Louis C.K. As Comedian Confirms Sexual Misconduct Accusations
Debra L Rothenberg/FilmMagic via Getty Images
Ed. note: This piece contains graphic descriptions that may be upsetting to some readers.
On Thursday afternoon, the New York Times published an investigative piece in which five women came forward accusing comedian Louis C.K. of sexual misconduct. In the article, two fellow performers, Dana Min Goodman and Julia Wolov, recount an experience at the U.S. Comedy Arts Festival in Aspen, Colorado in 2002 when C.K. invited them to his hotel room, asked if he could take out his penis, removed his clothes, and masturbated in front of them. The Times story contains descriptions of similar behavior from other women dating back to the late 1990s.
Today, C.K. released a statement confirming these allegations.
"These stories are true," C.K. wrote in his statement, which was released by his publicist (who has since dropped his client). "At the time, I said to myself that what I did was okay because I never showed a woman my dick without asking first, which is also true. But what I learned later in life, too late, is that when you have power over another person, asking them to look at your dick isn't a question. It's a predicament for them. The power I had over these women is that they admired me. And I wielded that power irresponsibly."
In the statement, C.K. goes on to express remorse and regret for the pain he caused his family, friends, and creative collaborators. It ends on a note that suggests the comedian will not be heard from for a while after this. "I have spent my long and lucky career talking and saying anything I want," he wrote. "I will now step back and take a long time to listen."
Still from 'I Love You, Daddy'

| The Orchard
The revelations arrive in what was scheduled to be a busy week for the stand-up. I Love You, Daddy, a film he wrote, directed, and starred in, about a comedy writer who admires a Woody Allen-like artist played by John Malkovich, was acquired by distributor The Orchard for $5 million out of the Toronto Film Festival in September, and was set to have its New York premiere on Thursday night (before a November 17 release). The event was canceled hours before Times story was published. This morning, The Orchard released a brief statement saying they would "not be moving forward with the release of I Love You Daddy."
Similarly, the three companies that have supported C.K. the most in the past -- HBO, Netflix, and FX -- have all cut ties with the performer. Netflix, which released his latest stand-up special 2017 earlier this year, announced that it would not "produce a second stand up special, as has been planned." His previous specials will remain on the platform. That's not the case with HBO, which pulled his older material from their streaming service and also announced he would no longer appear on the network's Night of Too Many Stars: America Unites for Autism Programs.
FX, the home of C.K.'s autobiographical series Louie, as well Better Things and Baskets, which the actor produced, made a similar move following the release of his statement on Friday. "FX Networks and FX Productions are ending our association with Louis C.K.," the network wrote in a statement. "We are canceling the overall deal between FX Productions and his production company, Pig Newton. He will no longer serve as executive producer or receive compensation on any of the four shows we were producing with him – Better Things, Baskets, One Mississippi and The Cops."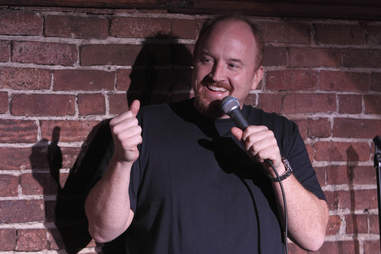 Louie

| FX
The story arrives after members of the comedy community and online outlets hinted at potential allegations for years. When Gawker published a blind item in 2012 that was widely speculated to be about C.K., and a follow-up post in 2015 raised further questions, it became a reoccurring talking point in the press. Comedians like Roseanne Barr and C.K.'s former collaborator Tig Notaro also spoke publicly about the allegations, which the comedian would often deny or avoid in interviews. "I don't care about that," he told Vulture when the subject was brought up last year. "That's nothing to me. That's not real."
Long known for his comedy routines that blended observations about family life, crude jokes, and social commentary, C.K. rose to a unique position in American comedy following the success of Louie, which debuted in 2010 and has been cited as an influence on a range of autobiographical shows like Master of None, Atlanta, Maron, and the C.K.-produced Better Things. (Better Things star Pamela Adlon, who also appeared occasionally on Louie, released a statement today saying the following: "My family and I are devastated and in shock after the admission of abhorrent behavior by my friend and partner, Louis C.K. I feel deep sorrow and empathy for the women who have come forward.") In addition to releasing stand-up specials and producing his own show, he also wrote and starred in the web series Horace and Pete, which was released last year. Before emerging as a popular stand-up in the '00s, he was a writer on influential comedy programs like Late Night with Conan O'Brien, The Chris Rock Show, and The Dana Carvey Show.
Some of CK's fellow stand-up comedians, like Rosie O'Donnell, Michael Ian Black, John Mulaney, and Jen Kirkman have made public statements about his behavior on Twitter. Parks and Recreation co-creator Mike Schur apologized for casting CK in his show despite having heard about the rumors. CK's longtime friend Marc Maron, who conducted multiple celebrated interviews with CK, also noted the situation on Twitter. "I've been friends with Louis CK for a long time," he wrote. "I read the article and none of it is good. I'll have more to say about it on my own show and not a shitty platform like Twitter."
The story arrives in the wake of the ongoing Harvey Weinstein scandal, which has led to many victims of sexual harassment, assault, and abuse to speak on the record about their experiences. As seen in the noted allegations against Kevin Spacey, James Toback, and Brett Ratner, these stories exist in different facets of the entertainment industry. Louis C.K. was not the first, and it's likely he won't be the last.
Sign up here for our daily Thrillist email and subscribe here for our YouTube channel to get your fix of the best in food/drink/fun.