'Love, Simon' Is an Unremarkable Gay Romance, Which Makes It Totally Remarkable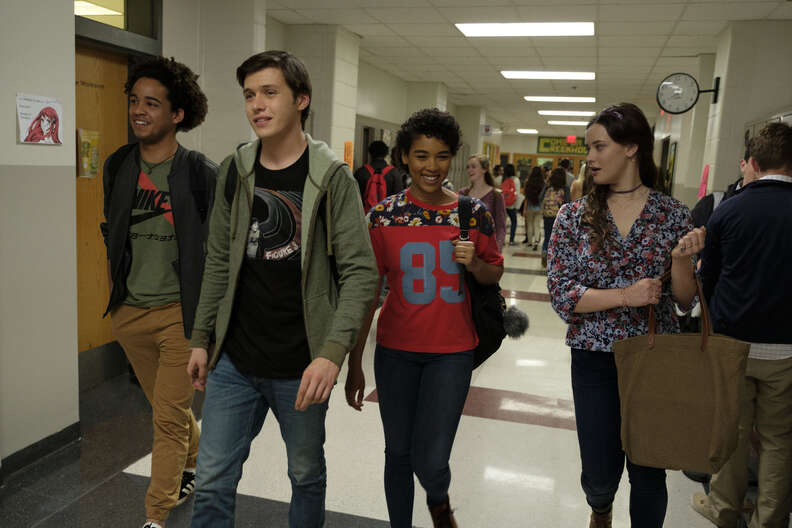 20th Century Fox
20th Century Fox
By inspiring, and perhaps empowering, legions of young girls and children of color, films like Wonder Woman and Black Panther seem as though they've been called to arms with the mission of tempering any doubt about the power of representation. But you'll have to stray a bit further from the spotlight if you want to observe the impact of queer cinema on its community. In fact, you generally have to stray pretty far from the spotlight to observe queer cinema whatsoever. Which makes Love, Simon a small miracle.
Tucked away in an enclave of the already remote province that is the given year's "prestige" releases, movies about gay, bisexual, and transgender characters can feel essentially distinct from the remainder of their big screen company. Confined by limited breathing room surrounding Hollywood's understanding of how queer stories are supposed to be told, not to mention marketed and distributed, they come around to painting similar pictures, attracting similar audiences, and commanding similar conversations.
In turn, the conversation around these movies ends up pitting them, almost exclusively -- or at least disproportionately -- against one other. What we're left with are comparisons of Moonlight to Carol, rivalries between Call Me by Your Name and BPM, and every new outing falling beneath the inescapable shadow of Brokeback Mountain. Love, Simon, out in theaters this week, breaks from the pack in an unremarkable way. The new gay, teen dramedy from 20th Century Fox did leave me steeped in a vat of familiar reference points, but not those of Pariah or Blue Is the Warmest Color. Instead, I left the theater with She's All That, 10 Things I Hate About You, and The New Guy on my mind.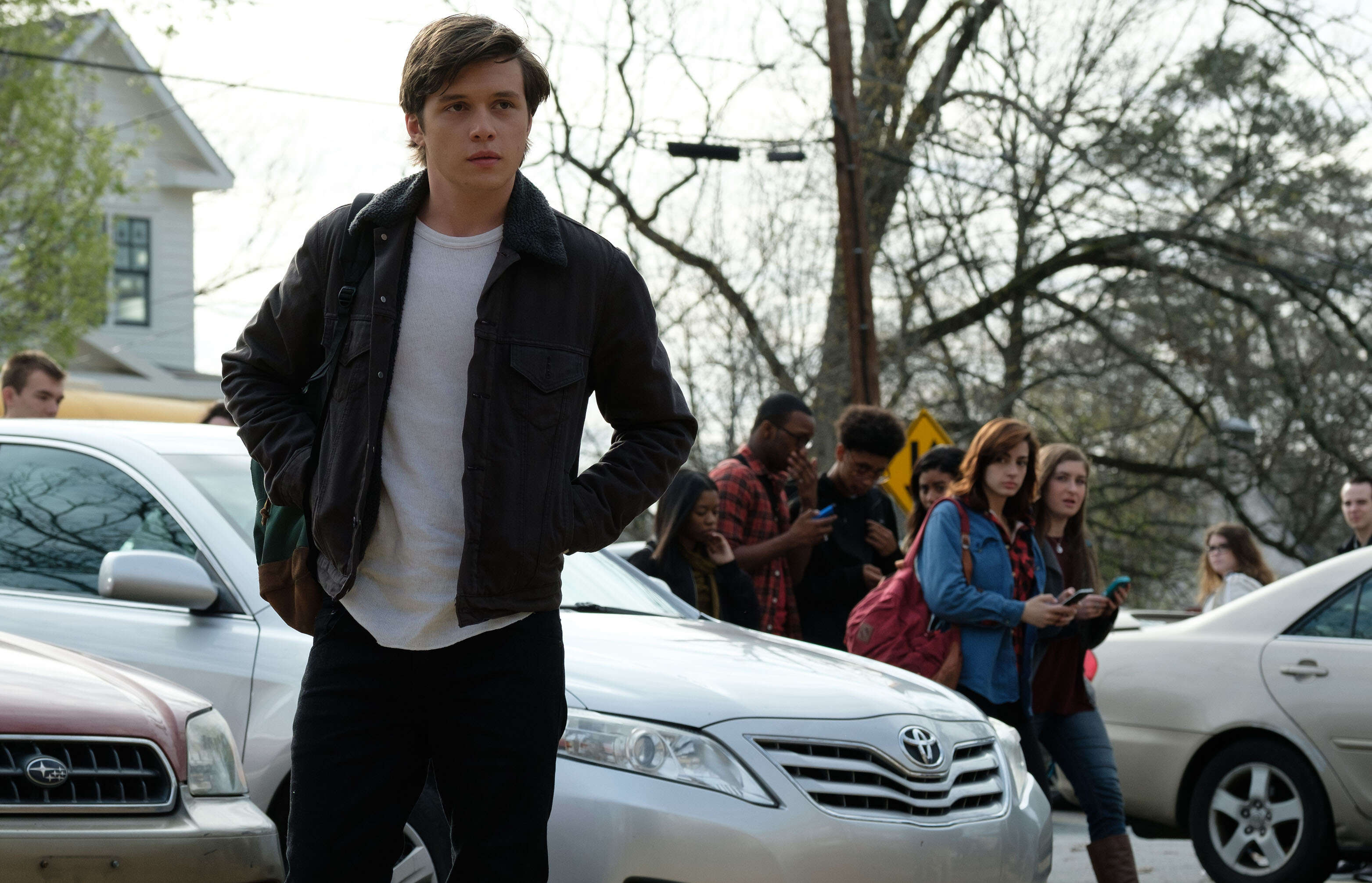 That may not sound like high praise. Surely the caliber of humanity and innovation common of the features constituting the slate of queer cinema would be preferable company to a film whose inciting incident involves teenage DJ Qualls having his exposed penis mangled by a senile librarian. And no, I don't mean to insinuate some long unheralded intellectual grandeur in the high-school farces of the turn of the millennium. Zero punches pulled: these movies aren't great. And neither is Love, Simon. That's what makes it so important.
Love, Simon is rather cute, though manages to squeeze some pulp from its emotional through-line. (In other words, it's better than The New Guy.) But the film's full-bodied lean into the high school rom-com genre gives way to a nosedive straight into all the cheesy, corny, and contrived trappings thereof.
It doesn't take long to hit these depths, either, energized no doubt by director Greg Berlanti's background working on high school dramas like Dawson's Creek and Everwood and romantic comedies films The Broken Hearts Club and Life as We Know It, ditto screenwriting pair Elizabeth Berger and Isaac Aptaker's tenure on the likes of This Is Us and the About a Boy TV series. The film kicks off with high school senior Simon Spier falling head over heels for an anonymous new pen pal who is likewise living in the closet. On the one hand, the storyline rings empathetic to anyone who's experienced the pangs of isolation that accompany the deprivation of a romantic outlet. On the other, the premise keeps in step with the genre's long history of effusive but flimsy love-at-first-sight stories, with Can't Hardly Wait and EuroTrip springing first to mind.
Resolved to safeguard his personal secret, Simon picks up a torch that's passed through the hands of Freddie Prinze Jr., Drew Barrymore, and Melissa Joan Hart before him, weaving an evermore entangled web of lies that ensnares one unsuspecting friend after the other. Along the way, we get the obligatory episodes of locker-side collusion, indulgent house partying, and, ultimately, minor chord-backed melodramatic speeches when Simon is crushed beneath the weight of his bad choices in a decidedly Hitch-like fashion. Don't worry: It's nothing that can't be fixed by a sweeping romantic display in the grand tradition of Heath Ledger on those bleachers -- the sort that is charming in context but, from a distance, just seems kind of nuts. But to call any and all of this a failing on the part of Love, Simon is to miss the mark by a mile.
It may not be outright damning that queer movies are so inclined to command reference to one another -- especially when you consider their propensity for rave reviews and awards attention -- but the insinuation that they should only command reference to one another is a different story. That queer movies can and should only attract a certain type of viewer, even if that viewer is painted as a high-minded film scholar, is just a new twist on a maxim to which the LGBTQ community is grievously accustomed: There are places you belong and places you don't.
For so long now, the latter category has ensconced the worlds we've seen in our high school dramedies, the sort whose cultural significance begins and ends with introducing America to Julia Stiles, "Kiss Me," and the thriving endemic of high-stakes wagers infecting teen circles across the Pacific coast. The kind that were permitted to be simple and silly, and deemed befitting of all audiences. The very same that Love, Simon manages, somehow both eagerly and effortlessly, to make its home.
A long walk from the homes occupied by the likes of Carol and Call Me by Your Name, Love, Simon's residence may not be founded on as rich a plot of soil nor built with walls quite as sturdy. To be sure, LGBTQ cinema's most celebrated outings have provided shelter time and again for those in dire need. But Love, Simon takes this mission to a new neighborhood, aiming to occupy a space so long understood, from both sides of the equation, to have no room for queer stories.
Sign up here for our daily Thrillist email and subscribe here for our YouTube channel to get your fix of the best in food/drink/fun.
M. Arbeiter is the East Coast editor of Nerdist. Follow him @micarbeiter.