How to Date When You're Poor: A Woman's Guide for Men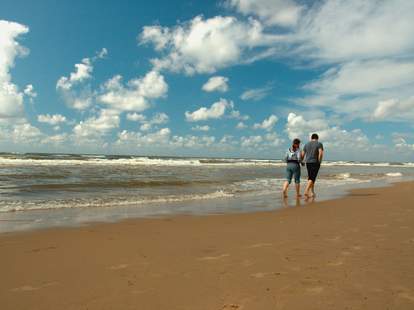 Despite what Marilyn Monroe said, diamonds are not a girl's best friend (it's actually wine). WHEW! You can RELAX! In fact, gentlemen, listen up. I'm about to drop some serious knowledge on you. In order to win our hearts, you do NOT need to be a Rockefeller (which is great news since you definitely are not). You really don't have to be spending much cash at all. Women aren't that complicated (except for in the bedroom, where we are freaking enigmas and kudos to the ones who have figured us out).
With dating, it just boils down to a few things: listening, thought, and effort (and wine), none of which have to have major dollar signs attached to them. So if you're like the rest of us, living paycheck to paycheck and thriving on leftovers, here's a go-to guide on how you can date on the cheap and still get the girl.
 
Stay in
Contrary to popular belief, "going out" doesn't have to actually mean out of the house. In fact, staying in is one of the best ways to date, so long as it involves more than Domino's and Die Hard (unless she's into that). There are great ways to make a night in just as romantic as a night out, and for a fraction of the cost. Offering to cook for her -- or cooking together -- is simple, easy, and shows a lot of effort. If neither of you has any ability in the kitchen, takeout is perfectly fine. You can class it up with cocktails or a nice bottle of wine. Light a few candles and you're done.
Never underestimate a dive bar
$13 cocktails are fine and good, especially in dimly lit bars with suspendered bartenders that use ingredients like "elderflower." We all love the charming "small batch" lifestyle as much as the next hipster, but don't underestimate the power of $2 PBRs and cheap bar games like darts or pinball. If I'm in jeans, chances are I'm instantly comfortable. You will be, too.
Food trucks are your friends
Since we live in an age where somehow everything seems to taste better from a truck, this has become an awesome date idea. If your city has a spot where food trucks assemble, go there. (Food stalls also count.) Each of you can hit a couple of trucks and then eat off each other's plates. Soooooo cute.
But if you NEED to dress up...
If they're actually legal where you are, find a quaint restaurant (or "bistro" if you want to be fancy about it) that is BYOB. The majority of restaurant bills get jacked up solely because you and your date wanted more than just one disappointedly poured $11 glass of wine. Fortunately, there are many restaurants that offer the ambiance and excellent food without the looming threat of an additional $50 for a gentle buzz.
Take to the great outdoors
Active day dates are great because they mix it up from the normal "dinner and drinks." Plus, the outdoors is relatively free. Taking a hike, renting bicycles, or hitting the rock or climbing gym are all great ways to get a little sweaty together and still enjoy some great conversation. Plus, showing a woman that you care about your well-being says a lot about you... unless you're the type of guy who has named his biceps, in which case we're done.
Figure out where the best sunsets in your city are
Go there. Bring wine.
 
Find somewhere with a spectacular view
Go there. Bring wine.
The dollar store date
Hit the local dollar store on a budget of $5 each with the task of picking out whimsical gifts for each other. Get creative. Make it dirty. Or don't. Either way, it's new and different and she'll find you adorable.
Plan a picnic
Maybe taking your date to a deli for sandwiches and sitting at a plastic table screams "bros," but if you take away the actual deli and add some trees and a blanket, you're still safely in amazing date land. Grab some sandwiches or a few cheap snacks and dine al fresco. Also, don't forget the wine.
 
Super-secret bonus tip: Gifts are HIGHLY overrated
Unless it's a birthday (or five things from the dollar store), gifts are a waste of your money and our time, since your gift is probably super impersonal like flowers or something from Kay Jewelers. A much better way to win us over is to pay attention. Really. That's it. Noticing I'm almost out of Cholula and picking some up for me, remembering that the reflection pool scene in Forrest Gump ALWAYS makes me cry (no, like always), or you know, asking how my day was are even more immediate and cost-friendly ways to show you care. Also, if you're going to buy a gift then make sure to get a card, which is WAY more important than the actual present. It doesn't even have to be one of the $7.99 cards that plays music, either. Especially if the gift is wine.
Meagan Drillinger is a freelance writer for Thrillist. She has been known to pair a fine Malbec with a McDonald's #2 meal. Follow her on Facebook, Twitter, and Instagram: @drillinjourneys.