What Happens When the President Puts a Struggling Band on His Spotify Playlist
"OBAMA. LOVES. LOW CUT CONNIE." That was the gist of dozens and dozens of tweets and texts awaiting Low Cut Connie frontman Adam Weiner when he woke up and checked his phone on a balmy Friday in August 2015. Lying on an air mattress in his furniture-less, A/C-less Philadelphia rental, the piano-playing rocker -- who at that time spent his nights dancing wildly on top of his piano bench like a modern Jerry Lee Lewis in the hopes of converting a handful of bar patrons into fans of his throwback, rockabilly rock band -- couldn't really process what he was reading.
"I thought it was a joke," Weiner says. "I went and I brushed my teeth and I thought, 'It's just our fans and people just making up some kind of a gag or something.' I was tired and just didn't look that much into it. Then I saw the press release from the White House."
Twitter confirmed it. It was real: Not only did Barack Obama, in one of many moments of cultural outreach during his presidency, publish a summer playlist on Spotify, but a photo from the official POTUS account captured the Leader of the Free World handwriting his song selections. And there, nestled between classics from the likes of Bob Dylan, Aretha Franklin, and Sly and the Family Stone, was Low Cut Connie's 2012 single, "Boozophilia," a seasonal ode to alcohol-fueled shenanigans.
This is what happens when the President of the United States endorses your rock band.
Just one day earlier, a journalist at the Philadelphia Folk Festival pointed out to Weiner that Low Cut Connie hadn't had much luck in their career so far. Now they were being counted among Obama's favorite artists.
"It really hit me," Weiner recalls. "I was just overwhelmed. You go into this frantic, 'Is this real? What does this mean? What's happening?'"
Low Cut Connie was soon overwhelmed by countless press requests, especially from an excited Philly media stoked to see a small, hometown band getting a moment in the spotlight. And with no real team, manager, or label -- the band started their own label (Contender Records) when they couldn't get signed -- it was up to Weiner himself to field each request.
"I thought, 'OK, I guess I'm going to get on the computer and just get to work.'"
"There is no place we'd rather be than this Holiday Inn!"
Unfortunately, there wasn't much time for work. Weiner's band had a show booked that night, opening for one of their favorite bands, '80s one-hit-wonder Dramarama… in the cocktail lounge of the Totowa, New Jersey Holiday Inn.
"A friend had asked if we wanted to open," Weiner explains. "We didn't announce online or anything, it was just a way to get $500. We go through this whole day of dealing with this thing with the White House, and get out of the daze of it all and drive up the Turnpike and go to this Holiday Inn. They put us in the closet room with some deli slices for us to eat. We go out on this little stage and there are like 80 people there. Most of them don't know who we are, and the guy who is running the show comes out and announces, 'Everybody shut up! I have to tell you, this band just today... ' and he tells the whole thing about Obama. And nobody responds. No change at all in the audience. And I go, 'There is no place we'd rather be than in this Holiday Inn in New Jersey!' Again, no reaction. I go and sell some merch after and literally not one person asked me anything about the Obama stuff. It was so unfathomable. People blinked and it was like they didn't even hear it.'"
It would be nice if that underwhelming reaction could be explained away by a disconnected, disinterested crowd at the Holiday Inn, a venue not exactly known for its rock shows. The harsh reality? In an oversaturated, overstimulated media landscape, even a shout-out from the most famous man on the planet only registered as a momentary blip on the pop-culture radar.
"There were some people [in the following months] who would come check us out [at shows] because of the Obama thing," Weiner concedes. "But I have to be honest, it was small compared to the deafening silence everywhere else."
Life for a fledgling rock band has always been fucking tough, but Low Cut Connie's brush with the White House highlights the unique challenges of trying to make it as a band in the Spotify Era.
A surge in streams does not beget riches.
President Obama's effect on streams of the band -- this was a Spotify promotion, after all -- was significant. "Boozophilia," the featured song, saw a 18,813% increase in listening compared to the week before the playlist dropped, according to the streaming service. The song is now at over 455,000 total streams, up from just 30,000 pre-playlist. The band has also seen a 683% increase in overall streaming on Spotify since August 2015.
But as Taylor Swift and many other A-listers have made clear in withholding their catalogs from the streaming giant (T-Swift just released her songs on the service, in what was widely perceived as a dig at Katy Perry), there are many question marks surrounding how much streaming actually benefits artists, especially when it comes to fair compensation for plays of their music.
Spotify operates on a pro rata system, which means Low Cut Connie and every other artist gets paid based on the streaming service's total revenue divided proportionally among all artists, factoring in an artist's number of streams within the pay period. Confusing, yes, especially when compared to physical album sales, or even an iTunes download, in which the artist is compensated per sale. In the heyday of iTunes, Low Cut Connie would have received a cut every time someone dropped $0.99 on "Boozophilia." Since Spotify and the musicians on the platform (including Weiner) are notoriously opaque about how much the artists are actually making (and every artist's deal is slightly different), it's near impossible to compare with any certainty the economic impacts of the different distribution methods.
But even after Spotify determines what proportion of its revenue a band like Low Cut Connie should receive, that revenue is further divided between the owners of the sound recording copyright (usually the owner of the recording and the performer on the track) and the musical composition copyright (usually the music publisher and the writer of the song). This can mean the majority of profits end up in the hands of record companies.
Spotify offers an ease of discovery that's catnip to up-and-coming artists.
And it's a lot of money. The subscription-based music-streaming industry should hit $46 billion in revenue by 2019, yet it remains a struggle for a band like Low Cut Connie to make a living. The money is there, but is the streaming model ever going to be good for the majority of artists?
Kevin Erickson, National Organizing Director at Future of Music, a Washington, DC-based advocacy group lobbying on behalf artists in the music industry, says the answer is a little complicated.
"Different kinds of artists have different needs at different times of their careers," Erickson says. "Are they at the stage of their career where they are just trying to get in front of as many people as possible? Or are they a mid-career artist who is just trying sustain from the same fanbase that's been following them for years."
Streaming services allow for an ease of discovery that's catnip to up-and-coming artists. Spotify helps cultivate this advantage by offering algorithm-curated playlists that serve up new artists and songs based on a user's listening history. But ultimately, the thing those services reward is, well, streams.
That's good news for pop artists with singles earning millions of plays, or popular albums with 30 songs (it's one theory that explains why blockbuster hip-hop albums have gotten so long). It's not so kind to bands like Low Cut Connie, which sustain themselves with cult fanbases and incessant live shows, because the pro rata compensation doesn't allow artists to predict the revenue they'll net from new music.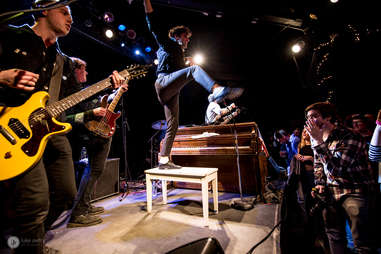 Pre-streaming, if you knew you had about 500,000 fans out in the world, and you knew that about 30% of them were going to buy your new album, then you'd have a pretty good idea what you could expect to earn from the release. But with streaming based on proportional compensation based on the total revenue of the streaming service, those calculations go out the window.
When you're a struggling band, that uncertainty could mean not getting the new amp you need, or foregoing a manager or PR rep who might be able to book better gigs and unearth new revenue sources.
The playlist was not well received by everyone...
One thing is certain: A surge in streams does not beget riches. And while Low Cut Connie became a somewhat hotter live ticket in the Obama aftermath, booking larger venues, the Spotify spike did not translate into a corresponding bump in tangible album sales -- the way artists actually turn a profit.
"I don't expect to make money off of my records," Weiner insists. "We barely make a living. We still haven't made it on TV."
In the fall of 2015, Low Cut Connie found themselves with very little to show for Obama's fandom. But a harsh comedown from a publicity honeymoon was nothing new for Weiner and his bandmates. They'd been there before.
"[It] was kind of an accident," Weiner says of Connie's formation. "It wasn't intentional. It was more like a side project that took over."
Weiner had bounced around from project to project for years, performing under the stage name Ladyfingers for a while. In 2010, he hooked up with British drummer/guitarist Dan Finnemore in Philadelphia. Jam sessions eventually turned into a band the pair built out to record Low Cut Connie's debut album, Get Out the Lotion, released in 2011.
Despite the band's incidental beginnings, they found success almost instantly. Write-ups in Rolling Stone and Guitar World followed a spotlight on NPR's "Fresh Air," riding only the apparent quality of the record.
Have you ever tried to start a band? That's not how it usually goes.
"All of this stuff happened right out of the gate and we hadn't even played five shows," Weiner admits. "There was real momentum. All of a sudden people in the industry take a look at you. But to be honest with you, by the end of 2011 the industry had checked us out and everyone had passed. We couldn't get an agent, we couldn't get a label. We were sort of back to being a band that plays to five people every night."
Hundreds of shows in the subsequent four years did little to change Low Cut Connie's fortunes. Sure, the band accrued a few more fans by tirelessly paying its dues on the road. But not until the lightning strike of Obama's surprise fandom had anything happened to significantly alter the band's trajectory.
Of course, the playlist was not well received by everyone. Some cable news pundits (ah, politics in the 21st century) seized the opportunity to revive "vacationer in chief" attacks against the President, and claimed that the promotional playlist had just been the arbitrary busy work of an aide. Eager to confirm that Obama was indeed a real, actual, human fan, Weiner reached out to the White House and got a contact: Pete Souza, White House photographer-turned-full time Donald Trump troll.
"I was too psyched to be in the West Wing, and I couldn't eat."
Souza showed up at a Low Cut Connie Show in Washington, DC a few months later with a message: "My boss says, 'Hi.'" By the end of a post-show hang, Souza was also convinced that Obama and Weiner would make for a great picture. So, in May 2016, Weiner found himself at the White House for a Souza-arranged rendezvous with the president.
Weiner and his wife, Adriana, took a tour, a peek at some private photographs, and had lunch -- chicken salad topped with fresh fruit. "I literally ate not more than two grapes off the salad," Weiner recalls. "I was too psyched to be in the West Wing, and I couldn't eat. At one point Adriana dropped a blueberry on the floor and it kinda rolled away. We both got very stressed out about this blueberry and what if they were watching us on camera dropping food on the ground or what if we start looking for the blueberry and the Secret Service thinks we're stealing something or doing something weird. It was tense for a minute."
Then, the president strolled down a hallway off the Rose Garden for a quick meet-and-greet with the awestruck rocker.
"I like your style," said the freaking president.
"I had a joke I planned to tell and I lost it," Weiner confesses. "I don't get starstruck much, but this was another level. I can't describe the feeling in the room. He was as charming as advertised."
At the end of the brief meeting, Obama asked how long he would have to wait for a new album.
"We're working on it," Weiner told him.
"All right, you gotta let me know! I like what you do. I like your style," said the freaking Presidentof the United States. "Keep it up."
A handshake from the president didn't make the road ahead smoother for Weiner or the band. Between the August playlist release and the May White House visit, founding member Dan Finnemore left Low Cut Connie to move back to the UK, and the band was still struggling to reach that next level of popularity.
"It's been a real test," says Weiner. "We've had growth in fits and starts."
But the in-person vote of confidence from Obama meant more to Weiner than any streaming bump or pro rata share could have. "His belief in what I do was real... I felt that like I feel it from people at our show," Weiner says. "Since then there has been this renewed sense of purpose, and that went right into the studio when we recorded the new album. I feel like the fans can feel it -- a unified purpose."
Riding that sense of purpose, Low Cut Connie, whose current lineup consists of Weiner (and his trusty piano "Shondra"), guitarist James Everhart, guitarist Will Donnelly, drummer Larry Scotton, and bassist Lucas Rinz, released their fourth album, Dirty Pictures, Part 1, in May (Part 2 is on the way soon). It charted at No. 41 on the Billboard Heatseekers charts in the first week of its release, has been a staple on college radio for the past few months, and Elton John, delighted to find a fellow piano-rocker, interviewed Weiner in July for his Beats 1 Apple Music radio show. The band, which had no one to help respond to the flurry of press requests from the Obama playlist, now has an actual, if modest, team in place to handle its PR. "We've learned that we're never going to have this mushroom cloud moment," Weiner says.
The band has doubled the amount of live shows they play, which is where they have always shined, Weiner still dancing all over his piano bench to win over the crowd. Streaming numbers have picked up, too; the album's first single, "Revolution Rock n Roll," has already passed 140,000 streams, significantly more than previous singles like "Boozophilia" had garnered before the Obama bump.
It's unlikely that the economic realities of being a working musician of modest fame will change anytime soon -- Weiner notes small artists have always had the short end of the stick in the music industry. But despite the handwringing over whether music can generate profits in the on-demand streaming era, the new guard of gatekeepers is doing pretty well: Spotify has a valuation of $8 billion, and its CEO, Daniel Ek, is worth $800 million.
The frequent justification from streaming giants that their platforms lead to exposure, which leads to ticket sales, may also be a cop-out. After all, live music has its own set of complications (see: Live Nation).
"What we really have is a lottery winner dynamic."
Even if Obama's playlist had, by chance, turned Low Cut Connie into bona fide rock stars, Erickson points out it wouldn't erase the problems artists in the industry face.
"If playlist windfall is the thing that makes the system works for artists, how many artists can that possibly work for and what kinds of artists can that work for?" Erickson asks, noting that the FCC does not have jurisdiction over streaming services to prevent payola (the practice of paying to have a song played or placed on a playlist) or other artificial forces shaping which artists are selected for promotional playlists. "These services are really good at giving the illusion of a democratized playing field where everybody has an opportunity to get picked, but what we really have is a lottery winner dynamic. And you wouldn't suggest the lottery as a way to address income inequality."
But Spotify does offer some unique advantages. Weiner says the band saw a massive surge in streams of its 2011 song "Rio" in 2016 thanks to the buzz of the Rio Olympics. Appearances on Olympics-themed playlists and random searches for "Rio" during the Games have helped the song clear over 1 million total streams, not the mention all the free publicity.
As he puts it, "How can I complain about that?"
Sign up here for our daily Thrillist email and subscribe here for our YouTube channel to get your fix of the best in food/drink/fun.
Alex Garofalo is the SEO manager at Thrillist and, much like Low Cut Connie, Spotify dictates the terms of his life. He is currently busy moving from Washington Heights to Brooklyn, but when he has free time he likes to write things, like screenplays and stories like this!