When Is 'Lucifer' Season 5B Coming to Netflix?
The fifth season of the show is arriving in two parts.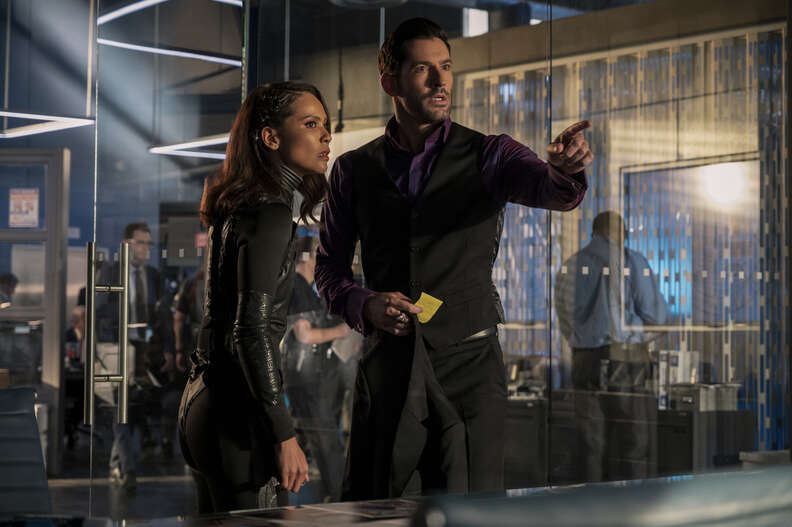 Everything's coming up Lucifer these days: After an abrupt cancellation a few years ago, Netflix rescued the show when fans took over social media with trending #SaveLucifer hashtags. A few months before the fifth season debuted last weekend, Netflix announced that Season 5 would not, in fact, be the show's last, as was the original plan, and that Season 6 is officially on the way. Netflix also opted to expand Season 5 to 16 episodes, the first eight of which are now available. Now that we've gotten a chance to blaze through the newest episodes of the show, fans are wondering when we can expect the next half.
Why is there only half of Season 5 available?
Lucifer Season 5 was split in half following the coronavirus lockdown that put all of Hollywood on pause for most of 2020. Luckily, enough of the episodes had finished filming and postproduction that the whole season didn't have to be delayed, and Netflix was able to debut Season 5A on August 21. More than a year had passed between Seasons 4 and 5, but fans won't have nearly as long to wait for Season 5B.
Is there a date for Season 5B yet?
Yes!! FINALLY, we know for a fact that more Lucifer is coming on May 28, thanks to a tweet from the official account.
According to Newsweek, Production Weekly reported that the show would be back on the lot sometime in October 2020, which is exactly what happened, and they've been hard at work ever since. They're currently filming Season 6 now—and just had their final table read ever, according to co-creator Joe Henderson.
The show's Twitter account has posted their own fancams of Chloe Decker and Lucifer, both containing seconds of new footage at the end. In Chloe's time restarts at the precinct after all the celestial beings presumably finish their big fight, and Chloe asks, "Have you seen Lucifer?" In Lucifer's, God places a hand on his shoulder and tells him, "I've come to ask you something." Oh boyyyyy.
In the meantime, the Netflix account for the show has been giving fans something to puzzle over while we all wait, posting show spoilers with key names and words omitted. In December, the account tweeted, "the word around hell's campfire is that in 5B, ******* will get his ********** from ***," prompting us all to play Mad Libs with this cryptic clue. "Lucifer will get his redemption from God?" "Michael will get his punishment from God?" We never realized before now just how many words and names share the same number of letters.
There is also a rumor going around that we could be in for a Lucifer Christmas episode, or even a whole special, this year, after it seemed like a number of set photos posted to social media featured some suspiciously Yule-flavored decor. This is a show about God and angels, after all.
Who is in the cast?
Obviously, Tom Ellis and Lauren German will be back as Lucifer and Chloe Decker, respectively, as will Rachael Harris (psychiatrist Linda Martin), Aimee Garcia (Ella Lopez), Kevin Alejandro (Dan Espinoza), Lesley-Ann Brandt (Mazikeen), Scarlett Estevez (Chloe and Dan's daughter Trixie, and D.B. Woodside (Amenadiel), who will also step behind the camera for one episode. Dennis Haysbert also made a very surprising appearance as God in 5A's midseason finale. One exciting addition (technically re-addition) is Inbar Lavi will be reprising her role as Eve this season.
What else do we know about it?
Without spoiling anything, Season 5A does end on a pretty massive cliffhanger, as if Netflix had been planning to split the season in two this whole time. We don't know exactly where they're going to go from here, but we do at least have the episode titles:
Episode 9: "Family Dinner"
Episode 10: "Bloody Celestial Karaoke Jam"
Episode 11: "Resting Devil Face"
Episode 12: "Daniel Espinoza: Naked and Afraid"
Episode 13: "A Little Harmless Stalking"
Episode 14: "Nothing Lasts Forever"
Episode 15: "Is This Really How It's Going to End?!"
Episode 16: "A Chance at a Happy Ending"
In case you were wondering, Episode 10, "Bloody Celestial Karaoke Jam," is indeed the long-awaited musical episode. At a DC Fandome panel for the show, Netflix played a scene from the episode in which Lucifer (Tom Ellis) and Ella Lopez (Aimee Garcia) duet "Another One Bites the Dust" on a football field, complete with dancing quarterbacks and a high school band. Showrunner Ildy Modrovich also said they'd been trying to fit in a musical episode since Season 3. Season 5B can't come soon enough!!
Emma Stefansky is a staff entertainment writer at Thrillist. Follow her on Twitter @stefabsky.