Channing Tatum's Heist Movie 'Logan Lucky' Deserves 'Ocean's Eleven'-Style Sequels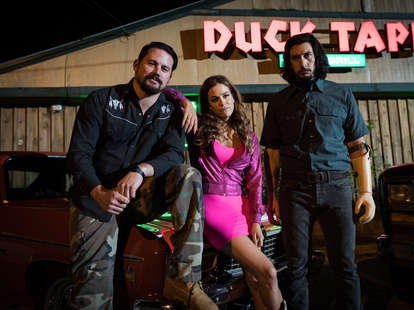 Bleecker Street
Bleecker Street
It's the perfect set-up: a team of criminals played by movie stars pull off a robbery. They trade wise-ass banter while planning elaborate schemes, dividing highly specialized tasks amongst themselves, and crafting ingenious ways to secure the loot, all while pissing off the bad guys. It's the big job. The last score. The con that will change everything for them.
You're in, right?
This isn't the latest entry in the long-running Ocean series -- the highly anticipated, all-female reboot/sequel Ocean's Eight doesn't hit theaters until next June -- but a movie that arrives this weekend with the scent of burned rubber and chewing tobacco: Logan Lucky, the latest comedy from director Steven Soderbergh, who helmed the 2001's Ocean's Eleven and also directed the '90s caper classic Out of Sight. Where both those movies were anchored by the slick, rapscallion charm of George Clooney, Logan Lucky is built around the lovable, big-brother charisma of Channing Tatum. While the Ocean series was flashy and perpetually Vegas-bound, Logan Lucky is hardscrabble and landlocked in North Carolina. Danny Ocean wore tailored suits; Tatum's Jimmy Logan wears American flag boxer shorts.
But the movies have more in common than you might think. And, in the same way Ocean's inspired a run of stylish sequels, there's a possibility that Logan Lucky, for as low-key and unassuming as it looks, just might be an attempt to jump-start another franchise.
Despite its NASCAR trappings, Logan Lucky is a movie that's never in a hurry to get anywhere. Jimmy Logan (Tatum) is a man with his back against the wall. His ex-wife (Katie Holmes) wants to move across state lines with her car-collecting jerk husband, and take Jimmy's beloved daughter with her. All this and Jimmy, a high-school athlete who never lived up to his potential, just lost his construction job because of a pre-existing medical condition. (Like Soderbergh and Tatum's previous collaboration, the brisk stripper-comedy Magic Mike, Logan Lucky is a movie that makes careful gestures towards America's economic future without offering a full-throated critique.)
From the description above, Logan Lucky sounds like a bleak Sundance indie about hard times, a hicksploitation flick for the Hillbilly Elegy era. But Soderbergh, who has recently spoken of his aversion to "serious" fare, is after something more fun and rambunctious here. That becomes apparent quickly when we meet characters like Logan's brother Clyde, a veteran with a prosthetic forearm and a job as a bartender. He's played by Adam Driver, effectively in the Brad Pitt role, who brings a wry physicality to the film. With Clyde's help, Logan hatches a plan to steal all the cash stowed away underground in a tube system during a big race at the Charlotte Motor Speedway. In this fun-house mirror version of Ocean's Eleven -- at one point in the movie, a newscaster refers to the robbery as "Ocean's 7-Eleven" -- the Bellagio is a car racing track. Somehow, it works.
Honestly, pretty much every part of Logan Lucky just plain works. American Honey's Riley Keough as Clyde and Logan's beautician sister? Hilarious. Daniel Craig as an explosives expert named Joe Bang who the brothers have to break out a prison? Delightful. Jack Quaid and Brian Gleeson as two dim-witted brothers, a la Casey Affleck and Scott Caan in the Ocean's movies? A riot. Even the typically loathsome Seth MacFarlane -- here cast as an obnoxious businessman investing in a race car -- is a hoot.
Like in the Ocean movies, Soderbergh dives into the detail-oriented process of pulling off a heist while keeping the tone nimble. Also, this time he's gambling with house money. For his comeback movie since "retiring" from filmmaking in 2011, which led to a brilliant stint directing Cinemax's grisly medical drama The Knick, he worked outside of the major studio system by selling off overseas distribution rights before a second of Logan Lucky was in the can.
"The question is this," he told the New York Times in a recent interview. "Can you do what the studios normally do from a wide distribution standpoint, only with a lot fewer resources — spending on marketing — and with a much better economic structure for the people who actually made the film?"
Even in the world outside the studio system, what's the most effective way to get a return on an investment? Launch a franchise. While we've yet to see the box office returns for Logan Lucky, which is budgeted around $29 million, and the film is hardly conventional sequel-fodder, there are certainly elements of the ending that leave the movie open for another crime in the Logan family's future.
(Warning: Spoilers for the ending of Logan Lucky follow.)
For all the big names featured in the cast, there's one performer who has not appeared in any of the film's promotional material: two-time Academy Award winner Hilary Swank. In a role that's somewhere between a supporting part and a cameo, the Million Dollar Baby star shows up in the final stretch of the film playing Special Agent Sarah Grayson, a hard-nosed investigator looking into the robbery of the Charlotte Motor Speedway. This part of the movie stretches out for a bit. It's not quite like Samuel L. Jackson dropping by for the very last scene of Out of Sight. Swank, along with her partner played by filmmaker Macon Blair, gets time to cook. Her scenes almost feels like the beginning of a different movie.
Though she doesn't crack the case -- instead, like in Ocean's Eleven, we learn Jimmy got away with the money through an elaborate flashback sequence -- she does make an appearance at Clyde's bar at the end of the movie. She orders a drink. She eyes the team of criminals across the way from her. It's not exactly a Marvel-esque cliffhanger, but it definitely ends the film on a fun open-ended note. Could she be a major character in Logan Lucky XXL? With Soderbergh and the Logan family, there's really no telling where things could go.
Sign up here for our daily Thrillist email and subscribe here for our YouTube channel to get your fix of the best in food/drink/fun.