About midway through watching Lucy in the Sky, the Natalie Portman drama from peak TV impresario Noah Hawley, I had a thought: I think this movie was written and made by an alien. It's ostensibly the "inspired by a true story" tale of a woman, Lucy (Portman), who returns home from space only to find the mundanity of life on Earth crushing, but it often feels like an extraterrestrial's attempt at explaining human malaise. Which is to say, just about every choice this movie makes is absolutely baffling, from Portman's bowl cut to the constantly changing aspect ratio.
The protagonist, Lucy Cola, is loosely based Lisa Nowak, an astronaut who was arrested in 2007 after attempting to kidnap the woman (an Air Force Captain) her ex-lover was currently seeing. The headlines on that story all focused on one detail: Nowak apparently wore adult diapers when driving from Houston to Orlando. Her lawyer ultimately disputed the story, but the legend of the diaper astronaut was too strong to be extricated from Nowak's legacy.
Lucy in the Sky does not feature a diaper. In fact, it tries so hard to be a serious exploration of -- I don't know -- something that it ignores all the intriguing tabloid elements of the story. I guess that's honorable in intention, but the movie ends up squandering any dignity it gives its character in lack of diapers by trapping her in a ponderous narrative that's too obsessed with its own stylishness to offer much in the way of insight. 
Recommended Video
Ghost Kitchen: How This NYC Restaurant Is Responding to Coronavirus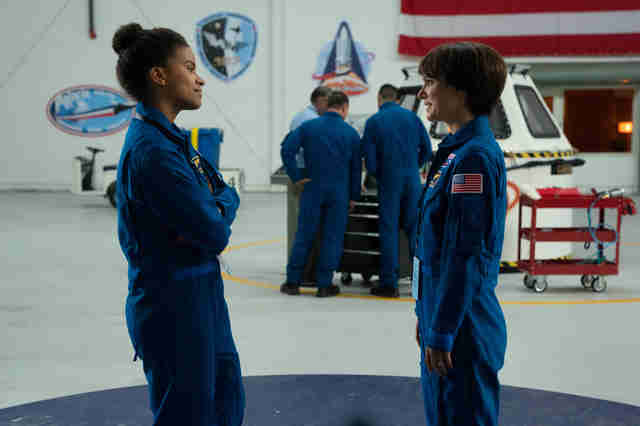 If the title didn't strike you as too on the nose already, let me tell you that the movie literally starts with Lucy, well, in the sky. (Whispers to date: "That's Lucy and she's in the sky.") But unlike, say, Ad Astra, this is not a "space weepie" because it doesn't really take place in space, nor does it succeed in making you weep at the mysteries of existence. Lucy's mission ends after those first few moments and she returns to her life in Texas with her dorky husband who works for NASA PR (Dan Stevens, playing Ned Flanders). Immediately, Lucy seems different. Space is her drug, and she just can't wait to get back there. She focuses entirely on the next chance to get in a rocket. Distraction comes in the form of a sexy fellow astronaut named Mark Goodwin, played by Jon Hamm, who was born to play "sexy fellow astronaut." She gets way too invested; he's a jerk, flirting with another colleague (Zazie Beetz); and she starts to spiral, which is where the whole kidnapping road trip comes in.
Here are some other things that happen in Lucy in the Sky: Hamm drunkenly watches footage of the Challenger exploding on repeat; Ellen Burstyn says the words "astronaut dick;" a cover of the Beatles' "Lucy in the Sky" plays while Lucy, not in the sky, glides through a hospital as she were Madonna in the "Ray of Light" video. Also, a couple of other film writers and I were chatting after the screening and realized we had no idea when any of this takes place.
Hawley executes this narrative with the fervor of a freshman in film school who wants to use every cool trick he knows in one assignment. In the early half of the film the aspect ratio shifts so much I thought I was getting seasick. I'd assume Hawley was trying to mimic Lucy's fractured state of mind and simulate how the world is closing in on her with this technique, but it's just nauseating.
Portman is truly the only interesting aspect of the movie. Armed with a horrible wig and an accent that sounds like it was siphoned through Matthew McConaughey's vocal chords, she makes a million fascinating choices as the determined but unmoored Lucy. It recalls her work last year as pop star in Vox Lux -- another insane, semi-misguided film. But even with Portman giving it her all and coating it in Southern-fried sass, the screenplay (written by Brian C. Brown, Elliott DiGuiseppi, and Noah Hawley) has no idea what to make of Lucy's descent into madness, possibly because three men are trying to decipher the female brain. At times it seems like it's attempting to tell a feminist yarn of a woman kept down by the patriarchy, but it undermines that aim when the men telling her she's acting too erratically to go into space have a pretty good point. Hey, maybe a lady who is lightly into stalking and vaguely considering killing her romantic rival shouldn't be entrusted with the lives of others traveling in a metal can through the galaxy! I don't know! Just a thought! 
Lucy in the Sky is half-boring-half-bonkers, and mostly just confusing. It never quit spins into the full-tilt insanity I was hoping for, but the flashes of that are tantalizing enough to keep me engaged. And yet: What is it trying to say? Confronting the mysteries of the universe makes crazy bitches of us all? Astronaut dick is magical? Men are bad? Mostly, it just feels like a character study from someone who has never met a human, specifically a human woman, before. 
Sign up here for our daily Thrillist email and subscribe here for our YouTube channel to get your fix of the best in food/drink/fun.