We Saw Netflix's 'Luke Cage' Early. Here's What We Know.
In 1972, Marvel answered a palpable excitement for Blaxploitation action movies with Luke Cage, Hero for Hire, a title about a Harlem crime fighter with impenetrable skin and superhuman strength. In 2016, Marvel and Netflix answer the sensory overload of a hundred swirling comic book franchises with Luke Cage, a cool-as-ice procedural that's your new replacement for Law & Order: SVU reruns.
OK, OK, nothing can replace your precious SVU reruns, but after taking an early peek at the first half of the 13-episode season, I can say Luke Cage will be a new entry in the comfort-viewing canon. Before it drops on September 30th and blows up the internet, here's what you need to know.
The show's inspired by stuff you love
Luke Cage has the step of Homicide: Life on the Streets and the soul of a Gang Starr playlist. In interviews, creator Cheo Hodari Coker (Southland, Ray Donovan) cites The Wire and the energetic Brazilian movie City of God as inspirations for the series. Luke Cage is less stringent than either of those, though the series successfully revives the Blaxploitation vibe without condescension or pastiche. To be blunt: it's fun.
Luke Cage is a legit superhero
The Marvel-Netflix team-up has thus far birthed two shows about antiheroes: Daredevil, a brainy, blind, goofball lawyer by day and a tortured, impulsive hero-in-training by night, and Jessica Jones, a hard-boozing private eye restrained by her past and abused by her present. Luke Cage (the person) is a different case: he's a Superman without the cape, a Batman without the gadgets or the angry CrossFit face.
There are moments in the premiere where Cage refuses the call, but he quickly assumes the position of Harlem bone-breaker, standing up to money-grubbing mobsters to protect his friends, his family, and his neighborhood. Virtue is his greatest weakness; if he's not faking injury to mask his powers, he's scrambling at a moral crossroads, wavering over whether to intervene. Saving the day in one part of town could set off the wrong villain, and possibly a bazooka, in another.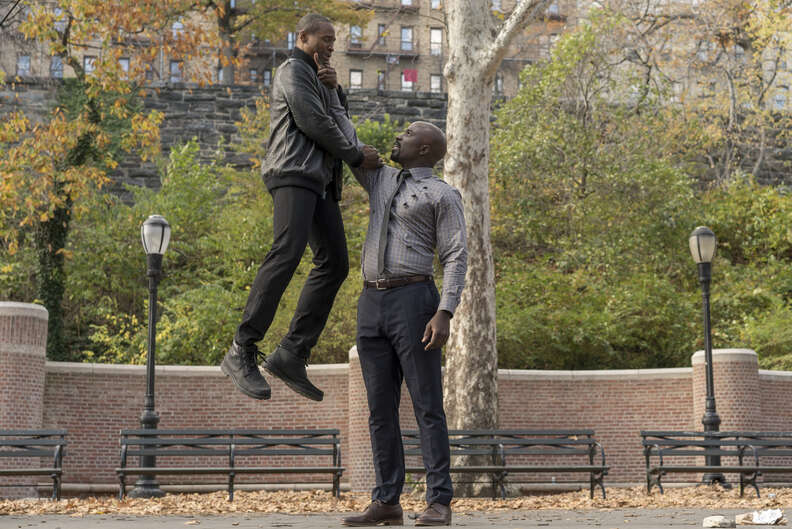 Actor Mike Colter might be an actual superhero, too
Paul McGuigan of Sherlock fame shot the earliest episodes of Luke Cage, and his style lives to serve Mike Colter (The Good Wife), the definition of gentle giant. Whenever Colter steps into frame, he towers over the camera. His natural physique -- seriously, the dude is big -- makes smaller-scale fight sequences all the more brutal. Colter unlocks Cage by humanizing the character, vividly adding complexity via flashbacks and soft-spoken shop talk. Race plays a huge role in the show's dynamics. Villains, black and white, prey on the vulnerabilities of the modern black community. Cage deals with squads of machine-gun-toting underlings and the fading identities of Harlem's kids. Colter's stone-faced presence challenges both at maximum power.
Luke Cage barely takes place in the Marvel universe
Cage played an important role in last fall's Jessica Jones, and will appear in The Defenders, the Avengers-like supergroup that's the subject of an upcoming Netflix series. But six episodes into Luke Cage, only trace elements of the Marvel "Cinematic Universe" can be found (though you may want to read Rosario Dawson's Daredevil wiki page). By relocating from Hell's Kitchen to Harlem, Luke Cage bows out of any overarching narrative and viewers avoid binge-watching homework (at least, so far).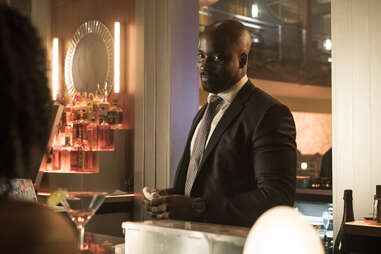 The show has swagger
Luke Cage is a solid show with an incredible soundtrack. Like Netflix's underrated The Get Down, the series siphons energy from every era of hip-hop. A smattering of blues riffs and Wu-Tang tracks backs Cage's moves. Tying it together are an original score from Ali Shaheed Muhammad of A Tribe Called Quest and a handful of musical numbers, organically staged at a Harlem nightclub that doubles as the hideout of the main bad guy, "Cottonmouth" Stokes (Mahershala Ali, from House of Cards and the Hunger Games movies).
Ali even lends his own musical skills to the show; when he's not beating misbehaving henchmen into bloody pulps, he can be found pontificating at a piano. He's the diabolical embodiment of Biggie's crown portrait (which he hangs in his office!) and, thanks to a bold musical atmosphere, one of the best TV villains in forever.
But it's not an action series like Daredevil
While the first Luke Cage episodes dip an unbreakable toe into Shaolin martial arts (true to the Wu-Tang way), there isn't a mano-a-mano fight to match the Marvel predecessors. Cage can break through walls or send his enemies through them, but showdowns are limited. The spurts of spectacle may leave action junkies wanting more.
The series never loses its cool
Like a rambling comic book arc, forced to start and restart every issue, Netflix's Marvel series could stand to condense their required 13 episodes into shorter runs. Without Jessica Jones' pressing social issues or Daredevil's bombast, Luke Cage can plod along (you'll scream "another conversation about tax money??" at least twice). But Colter kept me hooked. He is our Clint Eastwood, our Richard Roundtree, our Steve McQueen, our Pam Grier, our Arnold Schwarzenegger (with actual emotions), a level-headed badass for the Netflix generation. He's strong enough to tear a car door off an SUV, and he's strong enough to carry yet another superhero show.
Sign up here for our daily Thrillist email, and get your fix of the best in food/drink/fun.
Matt Patches is a Senior Editor at Thrillist. He previously wrote for Grantland, Esquire.com, and Vulture. Find him on Twitter @misterpatches.