Chadwick Boseman's Last Performance in 'Ma Rainey's Black Bottom' Is Towering
Netflix's adaptation of August Wilson's play is streaming now.
There's an undeniable pain in watching Chadwick Boseman give his final performance in Netflix's adaptation of the August Wilson play Ma Rainey's Black Bottom, which is now streaming. Boseman, who died from colon cancer in August, plays Levee, an ambitious yet volatile trumpeter, a talented, tragic figure who tempts fate and questions God. In the role, he's at turns charming, seductive, furious, and, ultimately, broken. There are multiple moments when you're compelled to break out into applause. And then, after it's all over, you're forced to remember that he's gone.
Seeing Boseman one last time will inevitably be the draw for many queuing up Netflix to watch Ma Rainey, which also stars Viola Davis as the blues singer around whom the narrative orbits, but it's also an immensely satisfying rendering of one of the best plays of the 20th Century, a reminder that Wilson's work should be as essential to American education as Shakespeare or Arthur Miller.
Ma Rainey's Black Bottom is the second of Wilson's works that has been brought to the screen with help from Denzel Washington, who has been designated by the Pulitzer Prize-winning playwright's estate as the shepherd of his legacy. Washington starred alongside Davis in 2015's Fences, which netted her an Oscar, and now he executive produces the latest, directed by George C. Wolfe.
Originally staged on Broadway in 1984, Ma Rainey's Black Bottom takes place over a single day at a recording studio in Chicago, where Ma Rainey is supposed to lay down some of her tracks. Wolfe and screenwriter Ruben Santiago-Hudson only slightly extend the scope, introducing Ma and her band by opening the movie with footage of them on tour. It's a little prelude that quickly establishes the dynamics of the characters. This is Ma's show, but Levee has designs to change it up.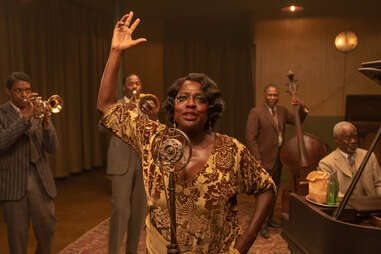 Initially, that seems to be the central conflict: The traditionalist Ma versus the innovator Levee. Ma's white manager Irvin (Jeremy Shamos) wants her to sing Levee's arrangements, which rankles Ma, who knows her loyal audience in the South. But that's just the surface of Wilson's work. Ma, at first glance, is a diva, but her demands are in fact her way of maintaining control in an environment where white people want to make money off her talent without any care for her humanity. Levee is cocky, selfsure, and assumes he knows the way around both Ma and the white gatekeepers. He's an Icarus figure, who taunts his fellow bandmates and flirts with Ma's girlfriend Dussie Mae (Taylour Paige).
In the rehearsal room, Levee and the other members of the band, Cutler (Colman Domingo), Toledo (Glynn Turman), and Slow Drag (Michael Potts), practice and bicker. Boseman dances around the room, his feet, wearing new shoes he bought on the way into the studio, constantly moving, needling his elders. His exuberance is infectious but also unnerving. He knows he's disrupting the status quo, and gets off on it. Wilson's dialogue moves from shop talk to poetry without the audience even noticing, as Levee's antics unearth existential questions about religion and race.
Almost all the other actors on screen are bound to be underrated next to Boseman. Turman and Domingo both have speeches that stagger in their power. Davis transforms into Ma, wearing heavy padding and heavy eyeliner. There's a weariness to her stride, but she's also undeniably sexy, especially when she sings in her throaty tones.
But, sure enough, you're left with Boseman on the mind, and both what he has and will never get the chance to accomplish. He'll be best remembered certainly as T'Challa, but that performance, as great as it is, doesn't come close to demonstrating the range of his talents. Here, he's a tornado on the screen, singing and storming, while also capturing an insecurity that all the bravado is trying to conceal. Seeing him in this way feels both a gift and a curse. It's magnificent, but there should have been so much more.
Need help finding something to watch? Sign up here for our weekly Streamail newsletter to get streaming recommendations delivered straight to your inbox.