How the Socially Distanced Macy's Thanksgiving Day Parade Will Go Down This Year
You'll still see the giant balloons floating down 34th Street, but behind the scenes, the parade will play out a lot differently.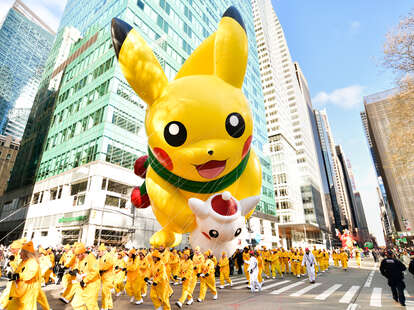 For years, I had the same Thanksgiving Day tradition. I would wake up early with my mom and we would head into Central Park to catch a glimpse of the floats lining up to start the Macy's Thanksgiving Day Parade. I have a real soft spot for the Parade, a thoroughly corporate event that somehow still signals the magic of the holiday season. I get a thrill out of digging into the sometimes messed up history of the event, while still gleefully watching the goofy balloons and C-list singers on top of elaborate moving contraptions.
Like anything to do with this year's Thanksgiving, the Macy's parade will not be the same as it usually is, due to the spread of COVID-19. But it will still be going forward in an albeit altered form. So what do you need to know? I've got you covered.
When will the Macy's Thanksgiving Day Parade air?
Same time as usual: 9am to 12pm on NBC in your local time zone.
Where is the Macy's Thanksgiving Day Parade taking place?
Here's where the plan starts to differ. Instead of the two and a half mile parade route that kicks off on the Upper West Side before reaching Macy's Herald Square location, this year's festivities will take place around the department store. The idea is that this is a "television-broadcast-only" event, so NBC and Macy's have cut out the part of the celebration that is for spectators on the streets of New York.
Will there be balloons?
Yes, but there won't be balloon handlers, those jolly folks who smile and wave while they make sure Pikachu doesn't crash into a skyscraper. Instead, according to the official FAQ, the balloons will be maneuvered by a "specially-rigged anchor vehicle framework of five specialty vehicles tested and approved by the NYCDOT and NYPD." Bye bye, handheld technology; hello, balloon-handling robot cars. As is fitting for this pandemic, the company is greatly reducing the number of people involved. They have said there will be 75% fewer participants—per the New York Times, only about 1,500 people—and the taping is spread out over two days.
Will there be Broadway performances?
For theater fans, the most exciting part of the parade will invariably be the brief return of Broadway. Even though theater has been shut down since March and will likely not be opening any time soon, the parade is reuniting some of the casts of the Broadway shows that would otherwise be running for special performances. The shows involved will be Hamilton, Alanis Morissette musical Jagged Little Pill, the adaptation of Mean Girls, and Ain't Too Proud: The Life and Times of the Temptations. In an interview with the Times, Ain't Too Proud's choreographer Sergio Trujillo explained that he planned their number with social distancing in mind.
How about other singers and stars?
Sure, other celebs are getting involved, appearing on floats and likely lip syncing one of their hits or a holiday classic. Among them: Dolly Parton, Keke Palmer, Leslie Odom Jr., Patti LaBelle, Bebe Rexha, and Pentatonix.
What about those high school marching bands from all over the country?
Alas, they'll have to wait until next year: Macy's is not shipping in bands or dance groups from around the United States. Presuming the city of New York can stage a full parade in 2021, every group that had to take a pass on 2020 will be invited back.
Need help finding something to watch? Sign up here for our weekly Streamail newsletter to get streaming recommendations delivered straight to your inbox.