The Full Macy's Thanksgiving Day Parade 2017 Line-Up Has Been Revealed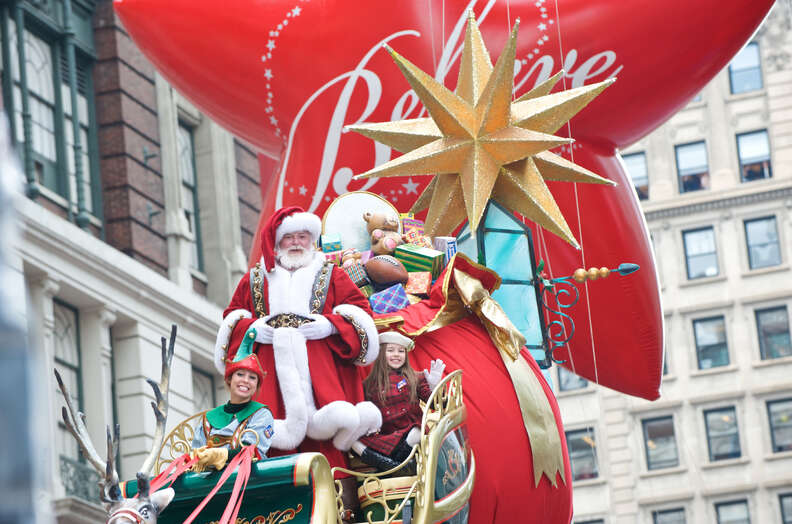 There's no rest for the celebrators. With Halloween officially behind us, Americans everywhere have officially descended into the miasma of "holiday season," which rolls Thanksgiving, Christmas, Bodhi Day, Hanukkah, Pancha Ganapati, Kwanzaa and any other significant days or weeks into a two-month stretch of good vibes. Of course, that means it's time for the announcements to come in, beginning with a commercial affair we can't look away from: the Macy's Thanksgiving Day Parade.
This year's march, beginning at 9AM on November 23, will once again attract 3.5 million spectators to the streets of Manhattan, New York for a string of floats, balloons, musical acts from somewhat recognizable names, and an appearance by Santa Claus himself. Who's involved? At the top of this November 1 morning, Macy's announced the full line-up.
Celebrities at the 2017 Thanksgiving Day parade
This year's line-up includes:
98 Degrees
Lauren Alaina
Cam
Sabrina Carpenter
Andra Day & Common
Sara Evans
Jimmy Fallon & The Roots
Flo Rida
Goo Goo Dolls
Kat Graham
Andy Grammer
Angelica Hale
Olivia Holt
Nicky Jam
Wyclef Jean
Padma Lakshmi & Tom Colicchio of Top Chef
Dustin Lynch
Miss America 2018 Cara Mund
Leslie Odom Jr. (performing with the cast of Sesame Street)
Bebe Rexha
Smokey Robinson
Jojo Siwa
Floats at the 2017 Thanksgiving Day parade
This year's float sees the return of "Harold the Baseball Player," the blow-up figure featured in the holiday classic, Miracle on 34th Street. In celebration of the film's 70th anniversary, 20th Century Fox has recreated the Harold heritage balloon with a throwback black-and-white look, mirroring how it looked on screen way back in 1947. The other floats include:
The Aflac Duck
Angry Birds' Red
Charlie Brown
Diary of A Wimpy Kid
Sinclair's Dino
The Elf on the Shelf
Hello Kitty
Ice Age's Scrat (and his acorn)
Pikachu
Pillsbury Doughboy
The red Mighty Morphin Power Ranger
Ronald McDonald
SpongeBob SquarePants
A Troll (from last year's Trolls)
The 2017 Thanksgiving floats
On top of a special float produced by Delta Air Lines, which will include 125 Macy's employees gathering to form "a one-of-a- kind cross-generational choir aboard the Macy's Singing Christmas Tree," this year's float additions include:
"Everyone's Favorite Bake Shop" by Entenmann's (Sara Evans)
"Harvest in the Valley" by Green Giant (Lauren Alaina)
"Parade Day Mischief" by SOUR PATCH KIDS Candy (Nicky Jam)
"Shimmer and Shine" by Nickelodeon (Jojo Siwa)
"Universal Playground by Sprout" (Angelica Hale).
Returning floats include:
"1-2-3 Sesame Street" by Sesame Street (Leslie Odom Jr. and the cast of Sesame Street)
"The Aloha Spirit" by King's Hawaiian (Goo Goo Dolls)
"Big Apple" by NY Daily News (Bebe Rexha)
"Big City Cheer!" by Spirit of America Productions (Miss America 2018 Cara Mund)
"Building A Better World" by Girl Scouts of the USA (Andra Day and Common)
"The Colonel's Road Trip to NYC" by Kentucky Fried Chicken (Dustin Lynch)
"The Cranberry Cooperative" by Ocean Spray
"Deck the Halls" by Balsam Hill (Olivia Holt)
"Discover Adventure!" by Build-A-Bear (Sabrina Carpenter)
"Frozen Fall Fun" by Discover/NHL (Wyclef Jean, NHL Hockey Hall of Famers Ray Bourque & Bryan Trot- tier)
"Fun House" by Krazy Glue (Flo Rida)
"Heartwarming Holiday Countdown" by Hallmark Channel (98 Degrees)
"It's All Rock & Roll" by Gibson Brands (Jimmy Fallon & The Roots)
"Mount Rushmore's American Pride" by South Dakota Department of Tourism (Smokey Robinson)
"On The Roll Again" by Home- wood Suites by Hilton® (Andy Grammer)
"Santa's Sleigh; Snoopy's Doghouse" by Peanuts Worldwide
"Stirrin' Up Sweet Sensations" by Domino Sugar (Cam)
"Teenage Mutant Ninja Turtles" by Nickelodeon (Kat Graham)
"Tom Turkey" featuring Bravo's Top Chef (Padma Lakshmi, Tom Colicchio)
2017 Thanksgiving Day parade marching bands
The line-up includes:
Colony High School (Palmer, Alaska)
Davis High School (Kaysville, Utah)
Rosemount High School (Rosemount, Minnesota)
West Harrison High School (Gulfport, Mississippi)
2 Rockford High School (Rockford, Michigan)
Ohio University (Athens, Ohio)
Nation Ford High School (Fort Mill, South Carolina)
Trumbull High School (Trumbull, Connecticut)
Prairie View A&M University (Prairie View, Texas)
The United States Air Force Band and Honor Guard, Macy's Great American Marching Band (United States)
NYPD Marching Band (New York, NY)
2017 Thanksgiving Day parade performances
Musical and dance casts include:
Dancers from 34th & Phunk
The cast of the musical Anastasia
Performers from Big Apple Circus
The cast of the musical Dear Evan Hansen
The cast of the musical Once On This Island
Performers from Red Hot Mamas
Dancers and cheerleaders of Spirit of America Dance Stars and Spirit of America Cheer
The cast of the musical SpongeBob SquarePants – The Broadway Musical
Sign up here for our daily Thrillist email and subscribe here for our YouTube channel to get your fix of the best in food/drink/fun.
Wes Rendar loves the parade.