Meriwether of Montana's handcrafted gear is now in Thrillist Shops
Meriwether of Montana is making some the greatest stuff to come out of the Treasure State since Evel Knievel. We spoke with Danny Brown, Meriwether's founder, to get the lowdown on the sweet new wood gear we've added to our Shops.
Merging a rustic Western Montana sensibility with culturally on-point designs, Meriwether's goods showcase unexpected details and unmatched utility that'll take years of use and abuse, and it's all crafted by hand in the USA.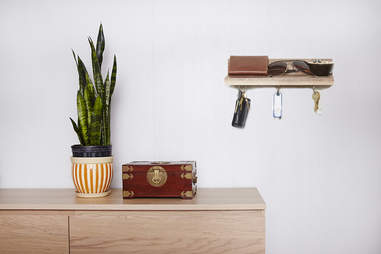 Headquartered in the small mountain city of Whitefish, Montana, Meriwether grew out of a series of side projects led by Danny Brown. First came hand-carved canoe paddles, then lunch boxes, beer carriers, and more. The company has grown, but remains family-owned and takes pride in its small town roots.
"Our mountain culture bleeds throughout our wood studio and our retail gallery. The people who work here are generally obsessed with the outdoors."
The company's awesome wood studio is at the base of a ski resort: "It is understood that we are closed on powder days," Danny says. "The bus stop is right in front of our studio so we can hitch a free ride up when it's dumping snow." (Snow days in real life? Um, jealous.)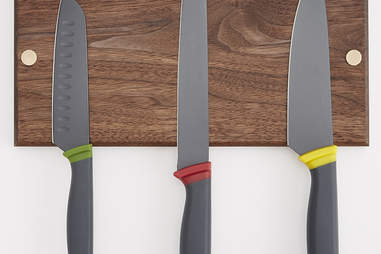 Save space and keep knives within easy reach thanks to ultra-strong magnets.
Put a stop to clanking bottles with this made-for-mix-and-match-6-packs carrier.
Quit digging through yesterday's pants pockets to find your keys. Magnetic key holders keep 'em where you left 'em.
Classic 6-Pack Carrier - $42
Meriwether's goods are handmade in a wood shop staffed by 10 people who look like Paul and Paulina Bunyan (we have no proof of this). For such a small shop, they manage to churn out hugely innovative stuff. For example, Danny calls magnets one of Meriwether's staple materials.
We purchased a huge bulk order of rare earth magnets [and] learned that they were so astonishingly strong that we could incorporate them in lots of interesting ways.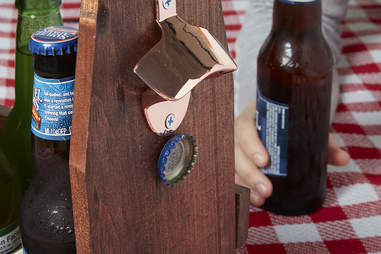 Classic 6-Pack Carrier - $42
From bottle cap catchers to knife holders, magnets minimize clutter and go a long way toward maximizing the utility of Meriwether's stuff.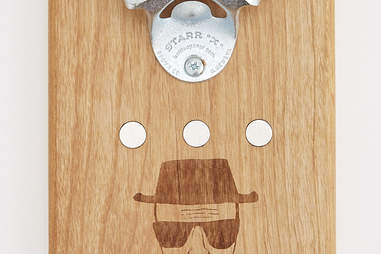 Sit back with Heisenberg and have a brew while you're... cooking.
Meriwether's crossed-axes logo will prove to your friends that you're a rugged woodsman.
For those who believe in Bigfoot, or just those who believe in drinking good beer. (Same thing.)
"We just make things we love"
The folks who make this gear may live in the woods, but they certainly don't live under a rock. Nature lovers need their Netflix, too, and Danny sees pop culture as a way to bring together people of different demographics.
Y'know what we think is another great way to bring together people of different demographics? Having awesome stuff in your apartment and taking care of your beers like a damn lumberjack gentleman.