Never Will Maitreyi Ramakrishnan Forget This Feeling
The star of Netflix's 'Never Have I Ever' talks her whirlwind career, her love for her character Devi, and what's next.
Photo by Cole Saladino for Thrillist
Photo by Cole Saladino for Thrillist
Maitreyi Ramakrishnan happily admits, with no hesitation, that she is "100% a nerd." In that respect, she couldn't be more different than her teenaged Indian-American character Devi Vishwakumar on Netflix's hit coming-of-age series Never Have I Ever. Devi began the show wanting nothing more than to elevate her social status, and in the recent Season 3, she has only just come around to embrace the nerdier sides of herself—but Ramakrishnan wears the label like a badge of honor.
Whenever the 20-year-old makes a trip to New York City, she especially likes to take the opportunity to indulge in her geekier obsessions. Even if the LA-based actress is in town for work, as she just was for the Season 3 premiere of Mindy Kaling and Lang Fisher's teen dramedy, she has to make a stop at Nintendo NY in Rockefeller Center. It's basically Heaven on Earth for the self-described gamer, "absolute anime nerd," and Nintendo fan, knowing she can go in and have a blast—playing nail-biting games of Super Smash Bros. on the Switch—and head home with a hefty merch haul. (This time, she went for a cute Kirby backpack, Animal Crossing plushies, a water bottle, and tees for her brother.)
"I grew up on Nintendo. That was my childhood. My dad brought a GameCube home one day, and my brother and I lost our minds," Ramakrishnan says. From that moment on, just about every family gathering at the Ramakrishnan household in Mississauga, Ontario erupted in heated games of Super Smash Bros., Mario Kart, and Star Fox: Assault between Maitreyi and her cousins. While gaming with her cousins when she was younger, Ramakrishnan was rarely among the winners circle. But these days, after years of grinding, she always comes out on top. After a Nintendo NY visit earlier this year, she even got a tattoo of Kirby, her favorite character and Super Smash Bros. main, nearby her Attack on Titan ink to commemorate her journey of how much she'd leveled up.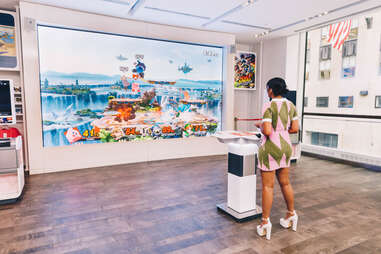 It's safe to say Ramakrishnan has recently leveled up in her career, too. She was an unknown actor before Never Have I Ever debuted in 2020, and has had a whirlwind experience since. Although Ramakrishnan is different, of course, from her breakout role as Devi, her feelings about her own growth right now, in many ways, reflect the progress her character makes by the end of Season 3. It's in the finale that the 16-year-old has the realization that she no longer wants to miss out on the present by fixating on the future, deciding to forgo the chance to attend a prestigious college prep program in Colorado that would make her a shoe-in for any Ivy. In many ways, the Netflix star is also trying her best to hold onto the special moments of her wild career, and the fact that she still feels like she's growing up.
"Jaren [Lewison], who plays Ben, always gets on my ass about not 'remembering the feeling,' as he likes to say," Ramakrishnan says. "I can't even say I would love to be someone that really lives in the moment, because I am someone that thinks 10 steps ahead, and then 15 more—but I'm trying to balance between both." While she can't help but worry about what's next, she did make sure that throughout filming the last season that "every single day was truly a day of gratitude and appreciating being on set."
For example, there were days filming when, if Ramakrishnan had even just 10 minutes of free time, she would sneak in her trailer, put on an inflatable, 8ft-tall Pikachu costume, and run around set. "Everyone was like, 'Why? No number one on a call sheet does this kind of crap!'" But it was all for "vibes," she says, and to make the cast and crew happy.
Season 3 of NHIE is very much about Devi learning to embrace self-love, which Ramakrishnan notes is a "journey that never stops" for most everybody, including herself. For the actress, that feeling coincides with at least somewhat trying to reel back from her forward-thinking mindset. "As soon as I start panicking and overthinking, like Oh my God, I'm never going to do anything like this again, I try to remind myself I had no idea that I was going to do this right out of high school," she reflects. "I thought I was going to go to university, see my friends, and go live it up at university parties. And this happened to me."
Never Have I Ever is her first job, after all—like, not just her first professional acting gig, but her first job ever. It's moments like when she's recognized as one of TIME's Most Influential People of the Year where it hits her. ("I was like, Wow, this is my time to start a cult, I guess!")
Ramakrishnan had big theater kid energy in high school. (For the record, she clarifies that she tried to keep it strictly to rehearsal.) She appeared in supporting roles, directed her friends' plays, and aced her grade 12 exam assignment to put on a play, which she wrote and directed herself. But after her first starring role, playing Velma Kelly in a production of Chicago, her confidence set in and confirmed that she was on the right path. "After one of the performances of Chicago, I was like, Damn, I did it all. That was the first time in my life where I felt proud of myself," she says. "I'm not someone who feels proud of themselves easily, but that was it—that was the moment where I was like, Huh, I actually do have talent."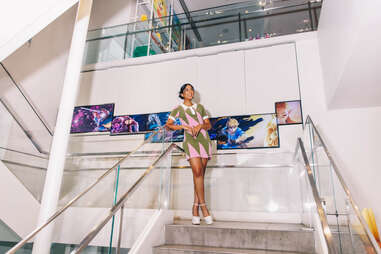 With Devi, Kaling and Fisher have created one of the most realistic teenage characters on TV in recent history with such a hilarious, messy, angry, heartfelt protagonist, and Ramakrishnan captures every part of her. She attributes the nuance of her performance, from Devi's grief to her complicated crushes, to landing the role at the "perfect time" in her life, at 17 from an open call self-tape, when she still recognized how high the stakes of high school can feel. You can see yourself or a friend in her—or viewers of a certain age might wish she was a character who existed when they were 16. Still, it "baffles" her that NHIE has become a comfort show for so many, much like The Office is to her. "If I ever see comments that are like, 'I'm watching it for my third time,' I'm just very honored and grateful," she says. "That's a huge, huge compliment that someone wants to go back and watch my face!"
With Season 4 wrapped and due out sometime next year, Ramakrishnan admits that she's already said goodbye to Devi. She emphasizes that Season 4 is by far "the best" installment, explaining that fans can expect Devi to "finally begin to unpack her grief," among other new challenges. With hesitancy, she also—with a reference to Drake and Josh, a show she has never seen but knows the memes of—reiterates that Lang Fisher is "a truther" in saying one team will end up the "winner." While she's looking forward to the release and knows there will be another slate of promo, she realized after the Season 3 premiere that she had already moved past the role that launched her career. "I'll never get to play her anymore—to me, that's the heart," she ruminates. That said, she also knows she'll "continue to talk about Devi for the entirety of [her] career," joking that "Robbie P. is still talking about Edward," and is more than happy to do so.
"Mindy and Lang have given me such a big gift with Devi of being able to play a character that has so much dimension and relatability," she says. "Why would I want to take a character that's anything less than that and do a disservice to who Devi is, to the writing that all the writers put into Devi, and the effort the crew did to make Never Have I Ever? I'm not going to lower my standards. I sure as hell haven't done that for my romantic life! So why would I do it for my career?" Most recently, she's dipped into voice acting on Netflix's My Little Pony franchise and the Pixar hit Turning Red, and next she'll become the latest starlet to give an iconic Jane Austen character a contemporary twist in Netflix's Pride and Prejudice-inspired movie The Netherfield Girls. So while she is about to graduate from Devi and Sherman Oaks and has to stop to "remember the feeling" every once in a while, it seems like she's ready to say "game on" to the next challenge of her career.