Liked 'Making a Murderer'? Stream These True-Crime Documentaries Next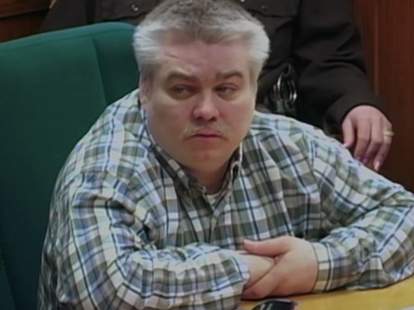 Much like last year's podcast phenomenon Serial, the Netflix documentary series Making a Murderer has sparked a national dialogue about our criminal-justice system and led to a renewed interest in the true-crime genre. If you're looking for the most fitting follow-ups to the Steven Avery saga, the films, series, and TV specials we've selected here all focus on cases involving wrongful convictions and questionable police work -- and some of them even led to new trials and subsequent exonerations. Warning: they'll give you a fresh set of queasy feelings about our nation's judicial system.
The Thin Blue Line (1988)
Long before the current wave of true-crime mania, Errol Morris took up the case of Randall Dale Adams, a man serving a life sentence for the 1976 murder of a Dallas cop. Thanks in part to Morris' convincing argument, laid out with interviews, reenactments, and noir-ish cinematography, Adams was exonerated just a year later. [Netflix]
Paradise Lost (1996)
Along with its 2000 sequel and 2011 conclusion, Paradise Lost is the gold-standard examination of the West Memphis Three, who were accused of the 1993 murders of three prepubescent boys. Filmed and released over almost 20 years, the movies impressively cover all aspects of the sordid case, including the grieving (and at times bloodthirsty) community, the accused teenagers fighting for their lives, and their long road to justice. [Amazon Prime; YouTube]
Murder on a Sunday Morning (2001)
Jean-Xavier de Lestrade won an Oscar for this film about the arrest and trial of a 15-year-old murder suspect in Jacksonville. Brenton Butler was charged based on one positive identification and was not just coerced but allegedly abused into a confession. The legal system doesn't fail him quite as miserably as some of the other people on this list, but it's still a fascinating look at how far a case can go on so little evidence. [Amazon Prime; YouTube]
The Staircase (2004)
Reddit would have had a field day with de Lestrade's miniseries about Michael Peterson, who was convicted of murdering his wife, Kathleen. Peterson always maintained she accidentally fell down the stairs, and in the years since Jean-Xavier de Lestrade's documentary dropped, people have gotten especially attached to the "owl theory," a seemingly insane yet plausible alternate view of the events presented in court. Now you know where those Teresa Halbach sex-cult truthers get it from. [Amazon Prime; Sundance TV]
The Trials of Darryl Hunt (2007)
In 1984, a black teenager was convicted by an all-white jury for the rape and murder of a young white woman, despite zero DNA evidence and the star witness' involvement with the KKK. This Sundance selection delves deep into race relations through interviews with the people who never stopped believing in Hunt -- as one maintains, "racism is more powerful than facts." [iTunes]
The Confessions (2010)
If Brendan Dassey's coerced confession made you angry, this Frontline documentary might put you on blood-pressure medication. The Confessions focuses on the Norfolk Four, a group of men who confessed to rape and murder under heavy threat from the police. The film cuts repeatedly between a tape recorder playing the confessions and the men in present day, explaining exactly how the story was fed to them. It's frustrating, surprising, and, like all the movies on this list, deeply disturbing. [PBS.org]
The Central Park Five (2012)
This Ken Burns documentary isn't just about the teenagers wrongfully convicted of raping and assaulting Trisha Meili, the so-called Central Park jogger, in 1990. It's also about media sensationalism and the troubling racial bias at the heart of the American legal system. Add it to your Netflix queue, pronto. [Netflix]
A Death in St. Augustine (2013)
The questions of police corruption that are presented throughout Making a Murderer are also raised in the Frontline documentary A Death in St. Augustine. The case at hand here is that of Michelle O'Connell, who died by apparent suicide on the night she broke up with her boyfriend, a deputy sheriff -- except many people believe he murdered her, and that investigators rushed to rule it a suicide to protect one of their own. Judge for yourself with this Frontline documentary, made in conjunction with The New York Times. [PBS.org]
The Jinx (2015)
Pretty much everyone on this list was wrongfully accused or at least questionably convicted. But Robert Durst looks damn guilty. Andrew Jarecki's six-part HBO series examines the murders of Susan Berman and Morris Black, the still-unsolved disappearance of Durst's first wife Kathleen, and the odd millionaire connected to them all. If you've wondered about the chilling bathroom scene the entire country was talking about last year, now's the time to catch up. [HBO (requires HBO GO/HBO NOW)]
Sign up here for our daily Thrillist email, and get your fix of the best in food/drink/fun.
Kristin Hunt is a frequent contributor to Thrillist and has had many nightmares about Robert Durst. Follow her to Beverley Hills at @kristin_hunt.