Everything That's Happened With the 'Making a Murderer' Case Since Hitting Netflix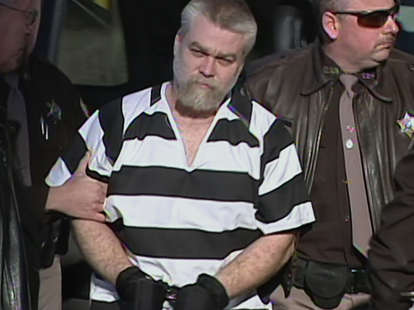 Netlifx
Netlifx
Like any good conspiracy, Making a Murderer mania continues to set the Internet aflame. In the past month, key players from the Netflix series have stepped forward with new evidence to either support or refute Steven Avery's innocence in the 2005 murder of Teresa Halbach. Here, we present the most recent developments: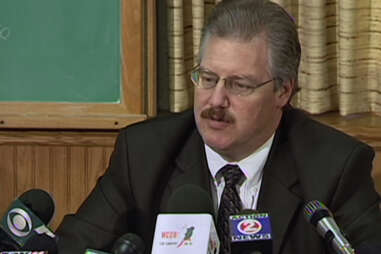 Guilty: Almost two weeks after Making a Murderer debuts on Netflix, prosecutor Ken Kratz outs the show for overlooking key pieces of evidence presented in the trial. While he was in prison on a wrongful rape conviction, Avery allegedly told other inmates that the best way to get rid of a body was to burn it, and that he had plans to build a "torture chamber" where he could brutalize and murder young women (he even drew up plans, according to Kratz). Avery also had a weird relationship with Halbach; when the reporter showed up to his residence on October 10, 2005, to photograph a car for the magazine AutoTrader, he reportedly greeted her in only a towel. Skeeved out, Halbach told her boss not to send her out there anymore. But Avery specifically requested her again on Halloween, the day she died. Avery gave her his sister's information so she wouldn't know he made the call.
Still, that's all gossip compared to Kratz's two smoking guns. The former district attorney says Making a Murderer completely omitted extra DNA evidence -- sweat from Avery found under the hood of Halbach's car -- and a match on a bullet containing Halbach's DNA to the gun that hung over Avery's bed.
Not guilty: One of Avery's two defense attorneys (and, according to the Internet, total dreamboats) is quick to dismiss Kratz's sweat DNA. Jerry Buting tells People, "There is no such thing as 'sweat DNA.' DNA is found in all nucleated cells, but there has never been a test to determine that a sample of DNA came specifically from perspiration." Other members of the law community confirm this.
Not guilty:Making a Murderer creators Laura Ricciardi and Moira Demos appear on Today, where they claim a former juror contacted them to confess the verdict in Steven's trial was compromised. Apparently, the jurors traded votes on different counts, believing if they delivered guilty on some and not guilty on others, it would send a message to the appeals courts that the conviction was weak and give Avery a shot at a new trial. The anonymous juror says they didn't deliver a clear "not guilty" verdict because they were "fearful for their own safety." If this is true, it would violate Avery's right to due process.
Guilty: Another anonymous (of course) juror completely refutes those allegations, telling OnMilwaukee that, "No one was afraid of anybody. We all worked together."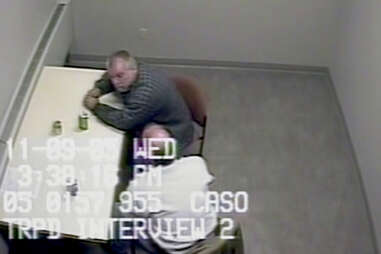 Not guilty: Speaking of jurors, OnMilwaukeealso reveals that one of them, Carl Wardman, remained an active volunteer for the Manitowoc Country sheriff department during the trial. What's more, his son Chris served as a jail supervisor for the county at that time. Documents confirm that Wardman disclosed this information to the court, but Avery accuses a "C.W." of swaying the jury a week later in his latest motion for a new trial.
Guilty: Avery's ex-fiancee Jodi Stachowski gives a damning interview to HLN. She says Avery was so abusive that she once ate two boxes of rat poison so she could "go to the hospital to get away from him and ask them to get the police to help me." She further claims that Avery directed all her interviews in the show, and that he is "not innocent."
Guilty: The biggest gotcha moment in the series comes when Buting and Dean Strang obtain Avery's old blood sample, taken when he was in jail for the false rape charge. The men discover that the seal on the packaging has been broken and someone has made a hole -- seemingly with a syringe -- in the vial's rubber stopper. They argue this points to police tampering, but the prosecution confirms another culprit: the nurse who took the sample. According to court documents, Marlene Kraintz "would testify that she was the one who put the hole in the vacutainer tube at issue," but she was never called because the prosecution thought the defense's claim was weak. She died in 2012, but puncturing the stoppers is apparently common practice.
Not guilty: Reddit makes a pretty compelling case that a satanic sex cult is behind it all.
Sign up here for our daily Thrillist email, and get your fix of the best in food/drink/fun.
Kristin Hunt is a freelance writer for Thrillist. She hopes the Internet's schoolgirl crush on Buting and Strang never dies. Follow her at @kristin_hunt.