Your 'Maniac' Questions Answered by the Creator of Netflix's Mind-Melting Show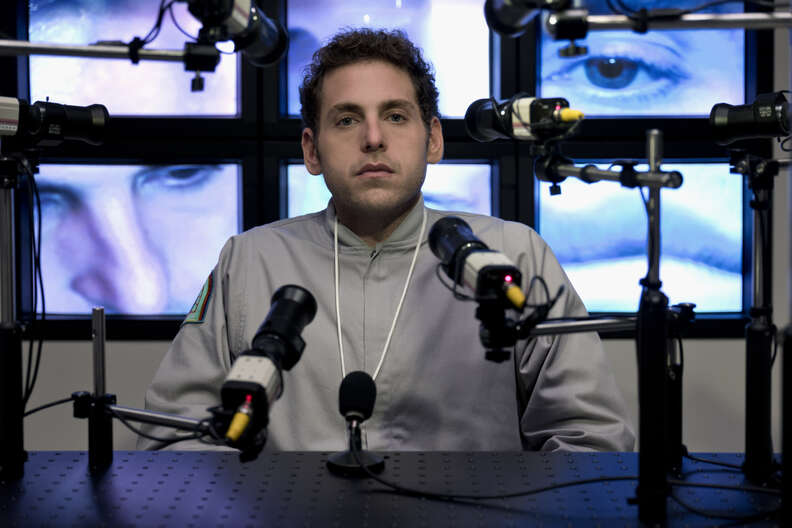 Netflix
Netflix
Maniac goes down as easy as a pill. The new Netflix series is a compact little mindfuck -- filled with little moments of wonder -- starring Jonah Hill and Emma Stone as two people in a pharmaceutical trial that forces them to address past traumas. It also has a depressed AI being played by Sally Field, a subplot involving a kidnapped lemur, and Justin Theroux in a wig. It's a consummately watchable show that sometimes obfuscates its core message about people in the throes of mental illness with its zany dreamworld antics.
Directed by True Detective's Cary Joji Fukunaga, Maniac takes place in a dystopian New York where if you don't have train fare, you can ride with an Ad Buddy, which is basically an advertisement in human form that spouts its selling points at you. Existing on the margins of this society are Annie Landsberg (Stone) and Owen Milgram (Hill). The former is a drug addict who will resort to blackmail to get her fix. The latter is the black sheep of a wealthy family who is diagnosed with schizophrenia and hallucinates a man identical to his brother (Billy Magnussen) who convinces him he is on a mission to save the world. Both Owen and Annie enter Neberdine Pharmaceutical Biotech's 73rd iteration of a test for a series of drugs that promise to deep-clean their consciousness.
To explain exactly what happens next would take far too long and be far too confusing. Most of Maniac is the kind of thing you just have to watch. Still, Annie and Owen slip into a series of psychoactive pill-induced dreams that grow increasingly intertwined. They drift in and out of their real personas in these hallucinations, which are both absurdist and grounded in their own pain. In one, they are dashing con artists at a 1940s cocktail party; in another, they meet at the UN after an alien creature has been killed. Meanwhile, things grow increasingly chaotic at the lab where the computer that runs the operation has become melancholy, necessitating the return of the project's unstable creator, Dr. James Mantleray (Theroux), because the AI was modeled after his own mother, a self-help guru (Field). Got it?
While Fukunaga, Stone, and Hill were attached to the show -- which is based on a Norwegian format -- before anything was actually written, The Leftovers' Patrick Somerville was brought on to flesh out this wild journey through the psyche. He answered some of our lingering questions after finishing the reality-bending series.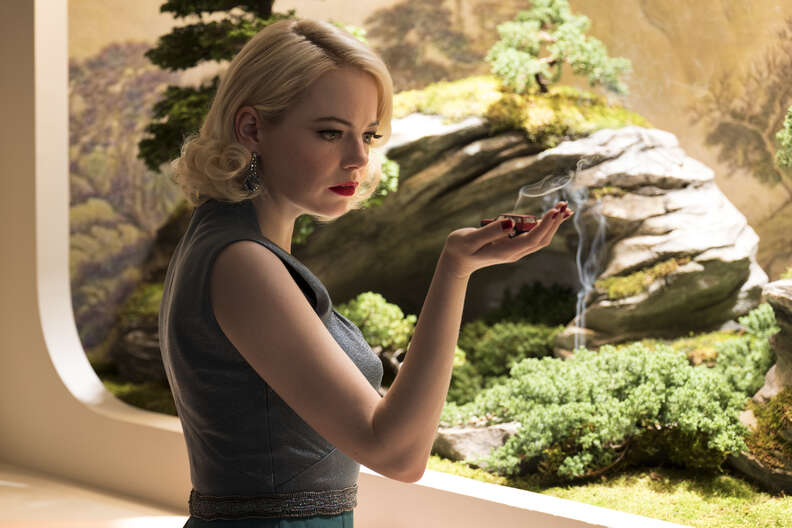 When does the show take place?
Maniac's world is more advanced than ours, but there's also the distinct feeling that this is what the future would look like to someone in, say, the 1990s. The fashion is essentially contemporary, yet the tech is often dinky, even when it seems sophisticated and societally useful. (Little robots patrol the streets picking up dog poop!) So what year is Maniac actually set in?
"To me, it's not our timeline," Somerville says. "It's our zeitgeist of 2018 and it's a different history of technology. It's a different kind of version of our reality. So 2018 zeitgeist, but a world where the microchip was never invented, maybe something like that." Somerville explains he and Fukunaga were looking for the "analog version" of trends that would be familiar to today's audiences. Take the Ad Buddies, for example, which are essentially the physical manifestations of Instagram sponsored content or web ads. This was all an attempt to throw viewers off their axis.
"We were both super excited about the idea that even the normal world in Maniac was askew and would make people who were watching kind of start questioning what's normal at all, whether or not it was a person with or without mental illness watching it," he says.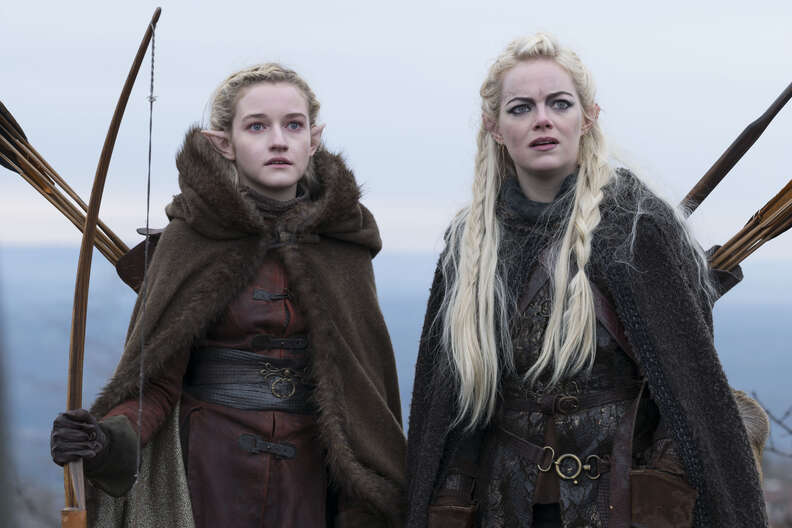 What are the different pills supposed to represent?
Neberdine's trial consists of three pills: A, B, and C. The A pill is the most straightforward. It's the one Annie is addicted to before the experimental trial, so we experience its effects through her eyes. When she goes under, Annie relives her most terrible memory: The death of her sister, Ellie (Julia Garner). The two share some joyous and silly moments on a road trip to Salt Lake City, where Ellie is moving. But they also get into a devastating argument. And then, they are hit by a truck. "I really, really loved the idea of a character who is revisiting their worst trauma intentionally," Somerville says. "What that is, and why would you do that and the paradox of that, I thought was just a really cool way to think about Annie early in the show."
The B pill is where things start to get more complicated. Annie and Owen's experiences cross. In their first dream -- if that's what we are going to call them -- they are a devoted Long Island couple, Bruce and Linda, with thick accents. She cajoles him into tracking down a lemur named Wendy owned by a deceased patient of hers. Next, they are con artists at a glamorous '40s seánce competing for a lost chapter of Don Quixote. According to Somerville: "I think that the B pill is meant to expose to people the ways in which they lie to themselves. I think to get honest looks at those kinds of things, people have to face ugly versions of themselves or face behaviors that they are capable of."
Finally, when they take the C pills, they are thrust into different universes again -- at least at first. Annie is a drunken elf shepherding a weakened princess, an embodiment of her sister, to a healing water in a Middle Earth-type environment; Owen is a gangster wrestling with loyalty to his family, and is forced to confront a version of Olivia (Grace Van Patten), the girl who once provoked a psychotic episode for him in the real world. They are then thrust into a spy thriller that ultimately jolts them back into their own consciousness. "The C pill is about confrontation, and really even more than confrontation, it's about getting to versions of acceptance and radical acceptance in some cases," Somerville explains. "Acceptance that you are not the same as other people but that's OK." The C pill allows Annie to ultimately confront her sister, apologize, and move on from that pain.
Is any of it rooted in real psychology?
Somerville's wife is a psychotherapist who was a consultant on the show, so even though there is certainly a level of fantasy to the pills, it's rooted in real treatment. "Even though it's ludicrous to imagine that a sequence of pills could do what Dr. Mantleray is trying to do, we still wanted the progression to reflect a series of steps that might be viable -- in terms of if you go to analysis, you go to therapy," Somerville notes. Though Maniac relies on comic absurdity, Somerville and Fukunaga didn't want to turn Owen's mental illness into a joke.
"We were both interested in telling a story that was actually representative of the experience of being diagnosed with schizophrenia and the challenges in everyday life that come after that," Somerville says. On the other hand, it's still a sci-fi show. And while Somerville didn't want to speculate as to what was physiologically happening to the subjects during the test, he did get at a central idea he and Fukunaga were curious to explore: "There's a strange thing that Cary and I are both interested in and love -- I have no idea if there's actual psychological research about this -- but that all of us have many people inside of us, and it sort of depends on the circumstances as to which one comes out and is running the show at any given time."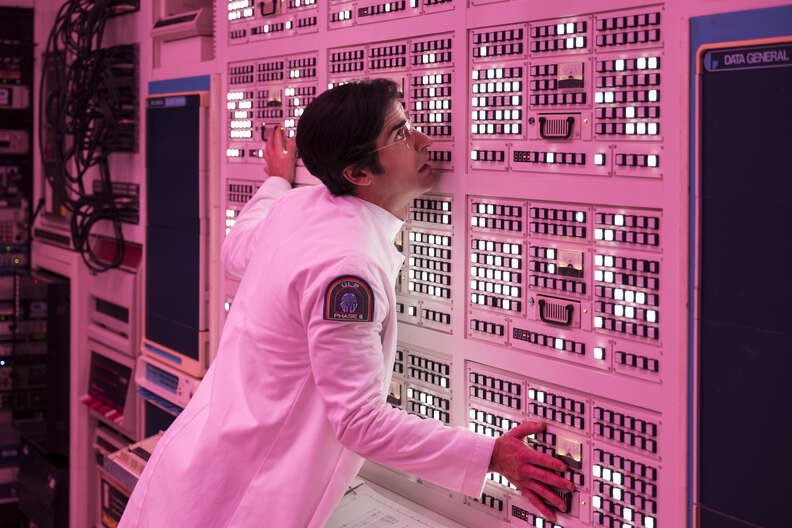 What's the deal with that depressed computer?
The robot, GRTA, becomes tragically sad after the death of Dr. Muramoto (Rome Kanda), with whom she had developed a romantic relationship. (Just go with it.) The only reason she is even capable of these emotions is because Sonoya Mizuno's brilliant Dr. Azumi Fujita added empathy to her profile, hoping it would help the study. Instead, it crippled Gertie. Somerville had been interested in these kinds of topics since college. He wrote a paper about how the only way AI would work is if the AI is capable of stupidity. "When it came down to it, a storyline in which not only the computer is sentient, but also the computer having a traumatic emotional event herself just kind of fit," he says. Field embodies both the voice of GRTA and the manifestation of her when she interacts with the subjects. She's also James' overbearing mother Greta, on whom GRTA was based.
Did the trial work?
Dr. James Mantleray's work is shut down at the end of the series. That's -- one assumes -- what happens when your sad computer nearly traps and kills your patients so they never wake up. But, as the participants leave, James, through tears, explains it was a great success and they are all healed. It's a curious conclusion. Near disaster was averted, but no one's coming out of it cheering.
"While the pills may not be the right idea, I think what happens in the show is that the trial forces a lot of people to spend time together and talk to each other about who they are and how they feel," he says. "Something about that works. So for the ending, we just wanted to tell a story of radical acceptance, about people accepting themselves and seeing that new friendships and new connections to other people can come out of that if you can get to that place and accept certain things about yourself."
It results in an ending that's sweeter than what you might expect. After everything they've been through on a different plane of consciousness, Annie and Owen's connection remains. He's at a treatment facility when she comes to bust him out, and, despite, his reservations, he goes with her. They make their escape laughing -- a rare moment we see them uninhibited. Even though, as Somerville notes, Owen has not been miraculously cured.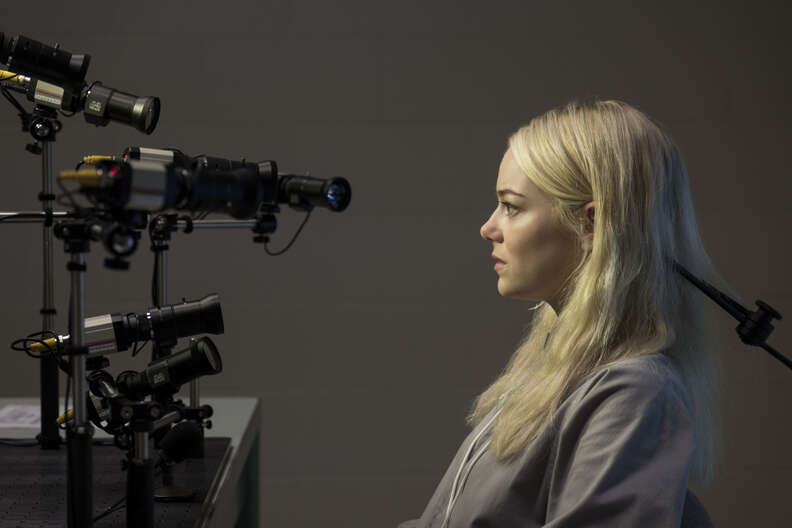 Will there be more Maniac?
Probably not -- at least for the present moment. (Though you never know in this day and age.) "It was always conceived as a limited series, so right now, I think the story comes to an end in Episode 10," Somerville says. "And I think that's great." Still, Somerville acknowledges the richness of the canvas he helped create. "The world has a lot to it. I think the world is really interesting," he adds. "I think more things could live there, but I haven't really gone down that road."
Why was there a lemur?
Credit where credit is due: Somerville says it was writer Nick Cuse that came up with the specific animal. But his ultimate response: "Why not a lemur?"
Sign up here for our daily Thrillist email and subscribe here for our YouTube channel to get your fix of the best in food/drink/fun.