Mark Wahlberg Is a Secret Comedy Genius, and Here's Why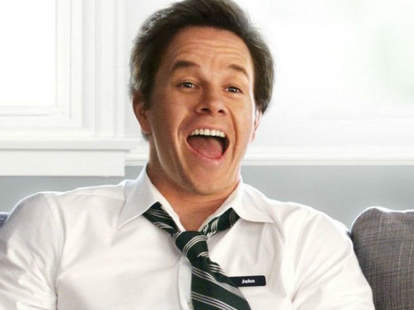 Star Wars: The Force Awakens is far and away this winter's reigning box-office Sith Lord, but the runner-up since Christmas isn't exactly Jar Jar. The Will Ferrell vehicle Daddy's Home has racked up more than $100 million already, a total that shames the SNL alum's moderately successful 2015 team-up with Kevin Hart, Get Hard, like so many white-dude cornrows. The secret to the new film's success? Mark Wahlberg, comedic genius.
I know, I know -- the name Mark Wahlberg conjures images of gleaming muscles, intense eyes, and a furrowed brow. The human action figures he's played in Lone Survivor, The Fighter, and Transformers: Age of Extinction are defined by their utter seriousness -- they grimace, they glare, they take their shirts off. No matter how much Wahlberg distances himself from his underwear-model past, he will always be a self-serious beefcake. But over the past 20 years, the king of The Wahlburgers has carved out a stealthily impressive career as a straight man. Here are 10 examples -- none of which involve the Ted series, haters! -- of his oh-so-serious comedic prowess.
New Line Cinema
Boogie Nights (1997)
It's telling that the movie that sent Wahlberg's career soaring is also his funniest, a PT Anderson-directed three-ring circus of one-liners, surreal fire-cracker filled set-pieces, and perfectly timed dong reaction shots. It also revealed the secret to Wahlberg's comedic appeal: unwavering commitment. Revealing the dream vision of your porn name in a hot tub? Commit. Laying down hot tracks in the studio with your boys? Commit. Busting out some ka-ra-te moves as your alter-ego Brock Landers? Come on -- this is the birth of a big, bright shining star. 
Warner Bros. Pictures
Three Kings (1999)
Mark Wahlberg has always looked at home in military fatigues -- see 2007's Shooter and 2013's Lone Survivor, as well as his first feature-film role was as a private in 1994's Renaissance Man -- but his funniest, most compelling turn as a grunt was as Sgt. Troy Barlow in David O. Russell's madcap Gulf War satire. While the movie is perhaps best known for its spine-splitting action, explosive Nerf footballs, and behind-the-scenes fist fights, it's the comedy that keeps the film from getting bogged down in politics and finger-wagging. And it's Wahlberg who delivers the film's darkly funny opening line: "Are we shooting people or what?"
I Heart Huckabees (2004)
Re-teaming with David O. Russell for this existential screwball comedy, Wahlberg sports a grad student chic beard-and-hair combo as Tommy Corn, an anti-petroleum firefighter with, um, shitty social skills. Even opposite comic heavyweights Dustin Hoffman and Lily Tomlin, Wahlberg manages to steal his scenes, via scolding lines like, "I'm not a hero. We'd all be heroes if we quit using petroleum though," and, "If Hitler were alive he'd tell you to not think about petroleum." Even if he'd later star in the petroleum-fetishizing Transformer film, for a brief, beautiful moment Wahlberg was a hero to all perpetually woke bros looking for a fight about the environment during family dinners.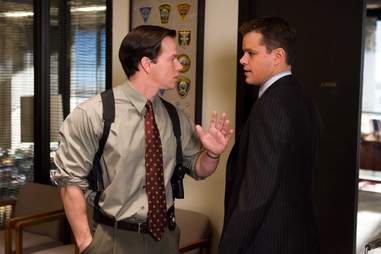 Warner Bros. Pictures
The Departed (2006)
In his only Oscar nominated performance, Wahlberg puts on a clinic in hilarious tough-guy put-downs. Working from a foul-mouthed script from fellow Bostonian William Monahan, his Staff Sgt. Sean Dignam nails every "fuck" with a motor-mouth intensity and and deadpan swagger. It's almost impossible to pick a favorite line from the movie, but his delivery of, "I'm the guy who does his job. You must be the other guy," should be hanging in a faux-David-Mamet-dialogue hall of fame.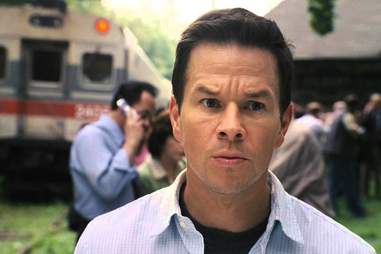 20th Century Fox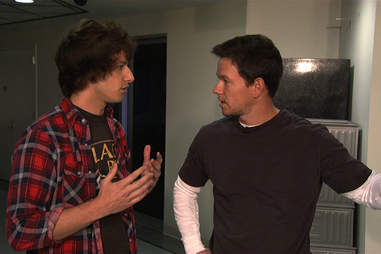 NBC
SNL cameo appearance (2008)
Despite his obvious rapport with former cast member Will Ferrell, Mark Wahlberg has sadly never hosted an episode of Saturday Night Live. He would probably kill! However, he did playfully acknowledge his lunk-headed public persona when he stopped by the show to intimidate Andy Samberg following the now classic "Mark Wahlberg Talks to Animals" sketch. But seriously: say "hi" to your mother for me.
Date Night (2010)
After a couple of deadly serious turns in an ill-fated Max Payne adaptation and Peter Jackson's messy The Lovely Bones, Wahlberg did what many struggling superstars have done before him: show up for a funny supporting role in a comedy. Like Tom Cruise in Tropic Thunder or Jason Statham in this year's Spy, it's the type of role that says, "Hey, guys, I'm still fun!" Thankfully Wahlberg's turn as frequently shirtless security expert Holbrooke Grant is actually pretty funny, enlivening a completely marginal sitcom of a film with his movie star charisma -- and, yes, his pecs.
Columbia Pictures
The Other Guys (2010)
Adam McKay's fourth feature film doesn't quite hit the manic absurdist highs of Anchorman, Talladega Nights, or Step Brothers, but, really, after so many classics in a row, what could? In retrospect, this movie feels like a thoughtful warm-up for the director's more straight-laced The Big Short -- check out the explainer-y end credit sequence about the bailout -- and an opportunity for both mega-stars to stretch a bit. Will Ferrell plays a buttoned-up desk jockey and Wahlberg gets to play a real loser of a cop, an interesting departure from his more swaggering tough-guy roles.
Paramount Pictures
Pain and Gain (2013)
Michael Bay's attempt to make a Coen brothers movie will probably never get the respect it deserves. For one thing, it's really gross. Even with charming turns from the Rock and Anthony Mackie, the movie walks a delicate line between satirizing hateful behavior and reveling in it. But don't let that distract you from the perfection of Wahlberg's performance. Never afraid to use his bulbous body for laughs, Wahlberg brings the shocking true story of bodybuilder turned con artist Daniel Lugo to surprisingly sensitive life. "I'm hot," he chants. "I'm big." Yes -- he's never been hotter, bigger, or funnier.
The Gambler (2014)
Here's the pitch: Mark Wahlberg as a failed novelist turned Camus-quoting English professor. That's like casting Jason Schwartzman in a Rambo remake or Michael Cera in a Predator reboot -- it just shouldn't work. But somehow it does! And this completely unnecessary remake of James Caan's 1974 original also works, mostly thanks to another quotable script from Departed scribe William Monahan, vivid supporting turns from John Goodman and Michael K. Williams, and the unwavering commitment of Marky Mark himself. Is there any role this lug can't turn into comic gold?
Sign up here for our daily Thrillist email, and get your fix of the best in food/drink/fun.
Dan Jackson is a staff writer at Thrillist Entertainment and he hopes the Boogie Nights soundtrack plays at his funeral. He's on Twitter: @danielvjackson.