'The Americans' Revealed Martha's Fate -- But What's Next?
This post contains spoilers for Season 5, Episode 3 of The Americans, "The Midges."
She's back.
After a healthy dose of speculation, and some tantalizing teases from producers Joe Weisberg and Joel Fields, the fate of The Americans' Martha Hanson (Alison Wright) was finally revealed in Tuesday night's third Season 5 episode, "The Midges." Fans will recall that Martha retreated to the U.S.S.R. last season after learning that her "husband" was actually an undercover KGB officer named Philip Jennings (Matthew Rhys), who used her to spy on the FBI's counterintelligence department, where she worked as a secretary. After the FBI caught wind of her duplicity, she was flown to Moscow for her own protection.
That's what the Centre told Philip, anyway. Fans were suspicious. In Season 1, for instance, Philip and his real wife Elizabeth (Keri Russell) were told that the wife of a fellow agent was sent to Moscow after she discovered her husband's true identity. In reality, their handlers killed her and framed her death as a lethal overdose. Might they do the same to Martha? After her last, breathless of episodes, anything felt possible with the ruthless KGB pulling the strings. But Martha wasn't killed, and the Centre made good on their promise to protect her.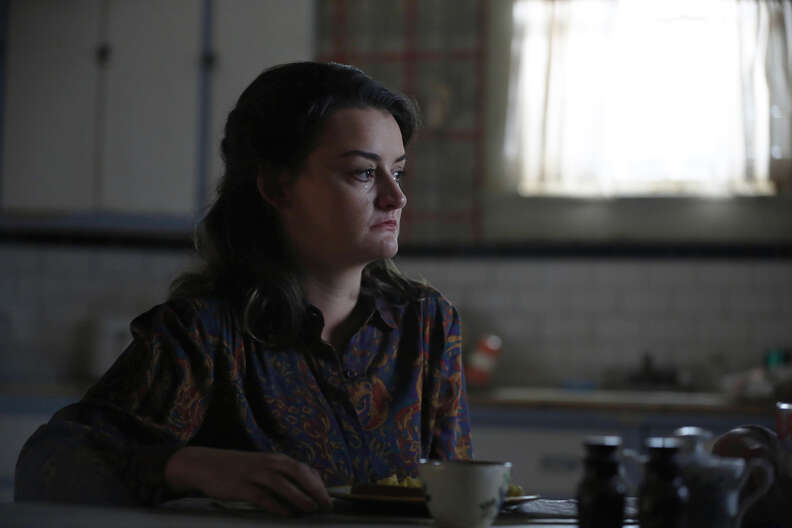 The Martha question, answered
In "The Midges," Martha appears in the aisles of a grocery store, covered in a headscarf, reading food labels in Russian. Oleg (Costa Ronin) is also there, on an OBKhSS mission to inspect the origins of the store's produce. (The Russians have reason to suspect that Americans might be poisoning their crops with a bioweapon.)
There's no show made of a possible link between Martha and Oleg. It doesn't appear that either one sees the other. Did we witness a coincidence? Possibly. Both characters live in Moscow now, and both have ties to the government. It's also possible that Martha's re-appearance is merely an Easter egg for fans eager to know her whereabouts. We don't know if she's back for the season, or if that was her final appearance. But if it was just a coincidence, it feels convenient in a way The Americans is rarely ever convenient. It feels like the start of something. And you have to wonder – does the show really need it at this point?
The Martha answer, questioned
Sure, it's a relief to know that Martha's doing OK, and her slow revelation is a fist-bump moment that comes when you least expect it -- about 15 minutes into the episode, a subversion that's typical of The Americans' we-don't-play-by-the-rules timing of big moments. If it truly is an Easter egg, then it's a well-delivered one – it's unspectacular, it doesn't really tell us anything, and it's subtle enough that you might miss it altogether.
But if Martha is an agent keeping an eye on Oleg, or a pawn, or anything else that ties her back to the central plot, then her sudden reappearance is a little less biting. Her departure last year, though heartbreaking, felt essential. For Philip, Martha's leave meant a wealth of therapeutic self-meditating. His guilty conscience was a hotbed for marital strife with Elizabeth, and the series – which is strongest when dissecting their relationship – felt better for letting her go.
The new Martha question
If Philip learns where Martha is, or if Oleg's trail somehow exposes her whereabouts to the CIA – who are pursuing him in Moscow, hoping to make him a double agent – it might over-complicate a show that's got enough on its plate: the Oleg thing, the Jennings new undercover life as a pilot and stewardess, their quest for information about possible agricultural terrorism, Philip's son coming to the States, Paige's complicated crush on Stan's son.
Martha is beloved for the qualities that make her real to us. She's dependable, she's loyal, and she's desperate to feel seen and loved. What happened to her, no matter how you cut it, was tragic. And seeing her in Moscow, looking fraught and a little confused, reminds us of the myriad ways the Jennings and the KGB ruin lives – they don't have to kill someone to destroy their identity. But a little taste of that tragedy is better than a whole serving platter. Wondering what Martha's up to has more thematic potency than opening old battle scars. That pale, faraway look on her face said enough about her circumstance. Now, it's time to move on.
Sign up here for our daily Thrillist email, and get your fix of the best in food/drink/fun.
Lindsey Romain is a writer and editor living in Chicago. She covers politics for Teen Vogue and has also appeared in Vulture, Birth.Movies.Death, and more. Follow her on Twitter @lindseyromain.