All the Release Dates for Marvel's Phase 4 Movies and TV Shows
Here are all of your social engagements for the next two years.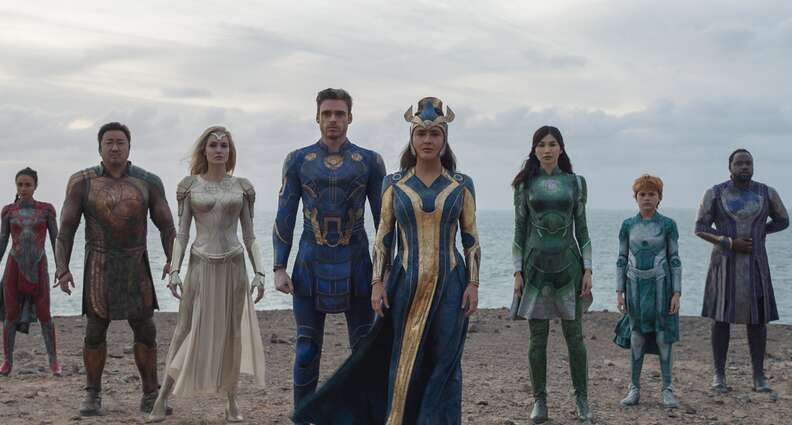 Marvel Studios
Marvel Studios
The last Marvel Cinematic Universe movie, Spider-Man: Far From Home, which officially wrapped up the sprawling, 11-film Phase 3 cycle that encompassed monster hits like Black Panther, Avengers: Infinity War, and Avengers: Endgame, was released in July 2019. But now, after a seemingly interminable two-year, pandemic-induced pause, MCU movies are back, baby, and there's no doubt that Hollywood is just as excited as we are about that.
After the chaos and conclusions of May 2019's Avengers: Endgame (Spider-Man: Far From Home is set shortly after the events in that massive crossover movie), the MCU was set to enter Phase 4 in March 2020 with the Black Widow stand-alone movie, which would have kicked off a string of MCU movies and shows. Pushed back (again and again), Black Widow, followed a few months later by Shang-Chi and the Legend of the Ten Rings, still began the impressive-looking movie portion of Phase 4, which will have the task of filling in narrative gaps left after the Infinity War saga, introduce a ton of new heroes, and luring audiences back in theaters. (The Disney+ series WandaVision, The Falcon and the Winter Soldier, and the Loki series, which all premiered before Black Widow, are all officially part of Phase 4, too, though it remains to be seen how they will tie in to the cinematic universe.)
To make up for lost time, Marvel has officially blocked off theatrical release dates for 10 MCU movies (as announced in May 2021 in this video), with a whopping seven films scheduled to hit theaters in the year that runs from July 9, 2021 (Black Widow) to July 8, 2022 (Black Panther: Wakanda Forever). Here's the official Marvel movie calendar for the next two years.
Eternals — Out November 5, 2021 in theaters
Director: Chloé Zhao
Cast: Gemma Chan, Angelina Jolie, Kumail Nanjiani, Richard Madden, Kit Harrington
After a mysterious tragedy following the events of Avengers: Endgame, the immortal beings known as Eternals, who have been responsible for altering turning points on Earth throughout history, must come together to defend themselves against their ancient enemies, the Deviants.
(Watch the trailer)
Hawkeye — Out November 24, 2021 on Disney+
Director: Rhys Thomas
Cast: Jeremy Renner, Hailee Steinfeld, Vera Farmiga
Based on Matt Fraction's hilarious and universally beloved run of Hawkeye comics, which introduced Hawkeye to the peppy, somewhat disastrous Kate Bishop, as well as dozens of bloodthirsty enemies and a golden retriever named Pizza Dog, the next Disney+ miniseries will follow the Avengers' favorite sharpshooter as he works to tie up all the loose ends in his life left after the Blip. And all during Christmas, no less!
(Watch the trailer)
Director: Jon Watts
Cast: Tom Holland, Zendaya, Benedict Cumberbatch, Alfred Molina, Jamie Foxx
After Peter Parker's secret identity is revealed to the entire world, Peter makes a deal with Doctor Strange to erase everyone's memories of who he is. But when Strange's spell goes awry, the two accidentally open a rift in spacetime, and a bunch of different universes threaten to crash into each other. This movie seems to be taking a few cues from Spider-Man: Into the Spider-Verse, mashing up all the different Spidey cinematic universes into one. Alfred Molina's Doc Ock (from Sam Raimi's Spider-Man 2), Jamie Foxx's Electro (from Marc Webb's The Amazing Spider-Man 2), and J.K. Simmons' J. Jonah Jameson (who made his official MCU debut right at the end of Spider-Man: Far From Home) are all returning to the series.
(Watch the trailer)
Ms. Marvel — Out late 2021 on Disney+
Directors: Adil El Arbi and Bilall Fallah, Meera Menon and Sharmeen Obaid-Chinoy
Cast: Iman Vellani, Aramis Knight, Saagar Shaikh, Matt Lintz
Kamala Khan is just a regular Pakistani-American teen living in Jersey City and writing superhero fan-fiction in her spare time, until the day she starts developing superpowers of her own. The miniseries, which is still scheduled for 2021 but may end up premiering in early 2022 to give the Hawkeye series time to wrap up, will introduce Ms. Marvel to the MCU, who will later appear in ensemble film The Marvels (see below).
Doctor Strange in the Multiverse of Madness — Out March 25, 2022 in theaters
Director: Sam Raimi
Cast: Benedict Cumberbatch, Benedict Wong, Elizabeth Olsen, Rachel McAdams
All we know about this one is that the end of WandaVision, which saw Wanda Maximoff finally take up the mantle of the Scarlet Witch, using Agatha Harkness' Darkhold to learn about chaos magic (and perhaps bring her family back to life), somehow leads directly into it. Will Wanda and Doctor Strange team up to save the Multiverse?
Thor: Love and Thunder — Out May 6, 2022 in theaters
Director: Taika Waititi
Cast: Chris Hemsworth, Natalie Portman, Tessa Thompson, Christian Bale, Chris Pratt, Karen Gillan
In the Marvel comics, Thor is a woman! Sometimes. A version of Jane Foster from another universe picks up Thor's hammer and transforms into the new Thor, which seems to be the plotline the upcoming Thor movie will follow, transforming Natalie Portman's Jane into the new Thor after she undergoes treatment for cancer. The Guardians of the Galaxy will also pop up in this one, with Thor: Ragnarok director Taika Waititi returning, as will Christian Bale as Gorr the God-Butcher and Russell Crowe making a cameo as the Marvel hero Zeus.
Black Panther: Wakanda Forever — Out July 8, 2022 in theaters
Director: Ryan Coogler
Cast: Lupita Nyong'o, Danai Gurira, Letitia Wright, Angela Bassett, Winston Duke
The Black Panther sequel finally has a title! We have no clue what this one will be about or how it will address the very sad absence of Chadwick Boseman, but we're thrilled nonetheless.
The Marvels — Out November 11, 2022 in theaters
Director: Nia DaCosta
Cast: Brie Larson, Iman Vellani, Teyonah Parris
The sequel to Captain Marvel, before now referred to only as Captain Marvel 2, finally has an official title, and will see Carol Danvers teaming up with Monica Rambeau (who got some accidental superpowers from Scarlet Witch's magic in WandaVision) and Kamala Khan, a.k.a. Ms. Marvel (whose Disney+ show is premiering later in 2021).
Moon Knight — Out in 2022 on Disney+
Creator: Jeremy Slater
Cast: Oscar Isaac, Ethan Hawke, May Calamawy
Oscar Isaac stars as Marc Spector, a former US Marine whose Dissociative Identity Disorder puts him in possession of many identities, one of which turns out to be the Egyptian moon goddess Khonshu. Ethan Hawke also stars in an undisclosed role, and for any indie horror fans out there, Justin Benson and Aaron Moorhead are directing two episodes.
She-Hulk — Out in 2022 on Disney+
Creator: Jessica Gao
Cast: Tatiana Maslany, Mark Ruffalo, Tim Roth, Jameela Jamil
Bruce Banner has a cousin (???), a lawyer specializing in cases involving superheroes, who just happens to also have the ability to turn into a giant green rage monster when she gets upset. Orphan Black's Tatiana Maslany stars as the titular character, and we are more than excited to see how a legal drama plays out in the MCU.
Secret Invasion — Out in 2022 on Disney+
Creator: Kyle Bradstreet
Cast: Samuel L. Jackson, Ben Mendelsohn
Remember the Skrulls? Well, they're back, and actually they've been here this whole time, disguising themselves as humans and infiltrating every branch of Earth's governments. It's up to Samuel L. Jackson's Nick Fury and Ben Mendelsohn's Talos, the Skrull character he played in Captain Marvel, to save what remains of the world.
The Guardians of the Galaxy Holiday Special — Out December 2022 on Disney+
Director: James Gunn
Cast: Chris Pratt, Karen Gillan, Dave Bautista, Pom Klementieff
James Gunn and the Guardians of the Galaxy crew are filming a holiday special smack-dab in the middle of production on Guardians Vol. 3, set to debut during next year's holiday season.
Ant-Man and the Wasp: Quantumania — Out February 17, 2023 in theaters
Director: Peyton Reed
Cast: Paul Rudd, Evangeline Lilly, Jonathan Majors
Forget the Multiverse—we're headed back into the Quantum Realm for the third Ant-Man movie, and also introducing Jonathan Majors as Kang the Conqueror into the MCU. Exciting!
Guardians of the Galaxy Vol. 3 — Out May 5, 2023 in theaters
Director: James Gunn
Cast: Chris Pratt, Karen Gillan, Dave Bautista, Vin Diesel
The only thing we know about this one rounding out James Gunn's Guardians movies is it will for sure have a killer soundtrack and that Vin Diesel gets to say, "WE are Groot."
Ironheart — Date TBA
Creator: Chinaka Hodge
Cast: Dominique Thorne
Black Panther: Wakanda Forever will introduce Riri Williams, a.k.a. Ironheart, into the MCU, since the Avengers can't go too long without a cool superhero in a metal suit to lead the way. She gets her own television series sometime after that movie debuts.
Armor Wars — Date TBA
Creator: Yassir Lester
Cast: Don Cheadle
Tony Stark's time in the MCU may be over, but his groundbreaking tech remains, and when a very important piece of machinery falls into the wrong hands at the start of this series, it's up to Stark's best buddy James Rhodes to get it back.
Untitled Wakanda series — Date TBA
Creator: Ryan Coogler
Cast: Danai Gurira
Director Ryan Coogler is developing a series set in the world of Wakanda, said to be an origin story for Danai Gurira's character Okoye, the leader of Wakanda's elite royal guard, the Dora Milaje.
Fantastic Four — Date TBA
Director: Jon Watts
Cast: ???
At the very end of the video linked above, a shiny blue number 4 appears right behind the Marvel Studios logo, officially to mark this as the studio's slate of films in Phase 4, but perhaps it's also teasing a future Fantastic Four movie. What better way to close out Phase 4 than with the MCU arrival of four extremely famous superheroes that became part of Disney's Marvel family with its 2017 acquisition of 21st Century Fox?
Emma Stefansky is a staff entertainment writer at Thrillist. Follow her on Twitter @stefabsky.