Shows and Movies to Stream If You Love Netflix's 'Jessica Jones'
Marvel's Jessica Jones already ranks high on our list of favorite Netflix original series. Starring Breaking Bad and Don't Trust the B---- in Apartment 23 actress Krysten Ritter as the hard-boiled title character, the serialized detective drama explores victimhood and revenge with comic-book splash, and the show's central mystery twists like a knife. For those who blew through Jessica Jones in one weekend, here are six recommendations to keep the thrills thrilling.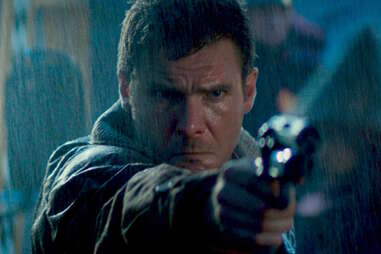 Dark City (1998)
Roger Ebert went so gaga for this nightmarish murder mystery back in the day that he begged to record a commentary track for the film's DVD release. Meanwhile, the rest of the world was too busy indulging in Titanic to care; the movie bombed so badly that producers sold its sets to be reused in The Matrix. With Jessica Jones serving up similar doses of sci-fi–spiced noir, it's time to take another look at Dark City, which stars Rufus Sewell, Kiefer Sutherland, and Jennifer Connelly as pulp archetypes who find themselves in a [redacted for awesome spoilers]. The weird gets weirder and weirder. (Rent on YouTube.)

Blade Runner (1982)
If you're looking for something classically tailored, brew some coffee and catch Ridley Scott's take on Philip K. Dick. Known for its hazy visuals and iconic designs, Blade Runner is both anachronistic and futuristic, a Humphrey Bogart picture born half a century late. What Harrison Ford's Deckard lacks in Jessica Jones' spunk, he makes up for with stone-cold dedication. The man takes robot punch after robot punch, constantly getting his ass whupped by the illegal "replicants" he's out to exterminate. The existential wonders only add to the excitement. (Rent on Amazon and YouTube.)

Kiss Kiss Bang Bang (2005)
Lethal Weapon writer Shane Black's post-modern noir stuffs laughs into the nooks and crannies of a murder mystery. Fusing noir tropes with Hollywood circus routines, Kiss Kiss follows a burglar (Robert Downey Jr.) after he ducks from a crime scene into a movie audition. To skirt the authorities, he has to keep up the act, all while under the watch of consulting cop (Val Kilmer). Lunacy with loaded weapons. (Rent on iTunes, Amazon, and YouTube.)
The Silence of the Lambs (1991)
This Oscar-winning film is closer in spirit to Jessica Jones' chilling investigation than its own prequel TV series, NBC's Hannibal. Jessica is like a capricious, carnal Clarice Starling, and the two characters are draped in a similar shade of gloom as they hunt down insidious enemies. Like the Netflix series, the methodical pacing of The Silence of the Lambs creeps us out as much as any human skin tanning. Cable TV had its way with Silence of the Lambs over the years, but chew on the commercial-free rated-R version in one sitting and you'll find yourself properly absorbed and terrified. (Stream on Netflix.)

Veronica Mars (2004-07)
If HBO or Netflix had developed Kristen Bell's high school-set detective series instead of UPN, it might have been the spitting image of Jessica Jones. Bell's Veronica is also a resourceful, sarcastic, and overzealous private investigator, and neither series starts in a cheerful place. Veronica is balancing her extracurricular leads with the blurry circumstances of her own rape -- heavy stuff, but Bell and creator Rob Thomas keep it zippy. And Krysten Ritter shows up in season two to link Veronica Mars even more closely to Jessica Jones. (Stream on Amazon Prime.)

The Fall (2013-present)
This arty BBC/RTE import, about a detective (Gillian Anderson) doggedly tracking down a serial killer (Fifty Shades of Grey's Jamie Dornan), is worth your time, too. The pair work the system at diametrically opposed ends of the moral spectrum and, without ever crossing into one another's line of vision, manage to form a relationship of sorts. The Fall cranks at the speed of a grandfather clock, but the acting's so good, you'll want to linger on each moment for as long as you can. (Stream on Netflix.)
Sign up here for our daily Thrillist email, and get your fix of the best in food/drink/fun.
Matt Patches is Thrillist's Entertainment Editor. He previously wrote for Grantland, Esquire.com, Vulture, The Hollywood Reporter, and The Guardian. Jessica Jones is his new favorite superhero. Find him on Twitter @misterpatches.