How 'Mary Queen of Scots' Made One of the More Surprising Sex Scenes of the Year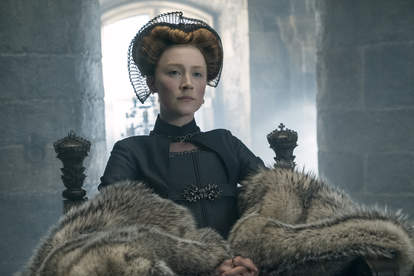 Mary Queen of Scots, the new historical drama starring Saoirse Ronan and Margot Robbie, is not from the bodice-ripping school of period piece. Directed by Josie Rourke and written by House of Cards creator Beau Willimon, it's a sober-minded, politically focused tale of two monarchs in opposition, for the most part. Mary Stuart (Ronan), recently widowed and returned from France, wants to solidify her power in her place of birth and assert her claim to the throne of England, currently occupied by the celibate Queen Elizabeth I (Robbie), who is focused solely on rule. But, in the middle of all of that buttoned-up politicking, there is an incredibly frank scene of Mary receiving oral sex from her soon-to-be betrothed, Lord Henry Darnley (Jack Lowden).
"I remember writing Tim Bevan, the producer, an email about that scene because, of course, there were a lot of discussions," Rourke says during a recent meet-up in New York. "After a lifetime of watching women go down on men on film, surely we can see a man go down on a woman."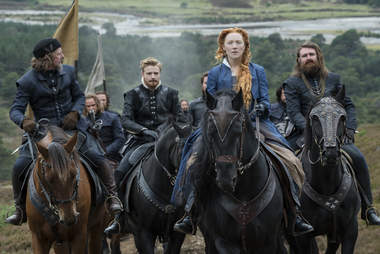 Focus Features
It's a moment that made some people in my screening of professional film critics giggle. Mary arranges for Henry to come to her bed chambers. (For what it's worth, he was known historically as the "great cock chick.") Mary insists they cannot have sex, knowing what a bastard child could portend for her goals. Henry suggests there is another way and proceeds to travel down her body. The camera stays on Mary's face as she orgasms.
For Rourke and Willimon, the scene -- along with another of Mary getting her period -- was a way to dig into how these women's daily lives were wrapped up in their loftier aims. "One thing we were talking about quite a bit is public versus private lives, and the way that these women were perceived, not only in a public setting, but also when we get access to see them in an intimate setting where they can take their masks off," Willimon explains. "Intimate moments gave us access to their humanity as these young women living their lives: Sex is part of life. Menstruation is part of life. And clearly in those scenes, we didn't want to reduce Mary to her body, but we also didn't want to make the mistake of just avoiding it."
Sex is also part of how Mary and Elizabeth are presented in opposition to one another. Mary seeks not only love, but to create an heir; Elizabeth shuns advances in order to be perceived more on par with the men in her orbit. The film was shot out of order, and Rourke remembers telling Robbie: "What's going to happen is, Mary's just going to have an orgasm and can you open your eyes like you're imagining that and you're stuck back at work?"
Aside from creating this conflict, it's also a way for Rourke to remind her audience that historical attitudes toward sex are not linear, and the Renaissance was by no means prudish. "You only have to dip into the poetry of John Donne or William Shakespeare to see how concerned men were with women's pleasure and women's bodies," says Rourke, who has directed many of Shakespeare's works on stage. "So actually, this sense of that as a relatively recent invention is incorrect." (The MPAA has, in the past, awarded NC-17 ratings to films where women receive oral sex.) If it's a shock for audiences, that's because it feels outside of the tropes we've come to expect from period pieces. (Aside from the likes of, say, Outlander.) "Up until this point, the genre sort of forgotten some essential truths about women's bodies," Rourke says.
Focus Features
All this relates to another plot point -- which, heads up, Rourke deems a "spoiler" during our chat. Mary's courtier, David Rizzio (Ismael Cruz Cordova), is found post-coitus with Darnley. The twist seems something out of Willimon's modern work, but he says that it's actually drawn from history. "There is correspondence from the time of people discussing the fact that Darnley and Rizzio probably had some sort of relationship," he notes. (Sources refer to the two sharing a bed, though what that exactly implies is up for debate.) Mary Queen of Scots is not the only film out this year to look at British regal history through a queer lens: The Favourite posits that Queen Anne (Olivia Colman) had affairs with her friend Lady Sarah Churchill (Rachel Weisz) and her maid Abigail Masham (Emma Stone). It's speculative fiction that also has a ring of truth. 
Knowing that they would put Rizzio and Darnley together, Willimon and Rourke then turned to the question of how Mary would react. "We thought it was more interesting if she's not upset about what he did sexually. It's more about, 'We have to be careful: I'm a monarch, this is the regent who I've married,'" he says. Mary's right to be worried: Rizzio is portrayed as a casualty in the plot against her, and is murdered with participation from Darnley. (The notion that she was having an affair with the musician is floated as well.)
But that's what it comes down to for the filmmakers: These people have bodies and desires like everyone else, but all their actions are linked to their status. In some ways, Mary Queen of Scots feels like you might expect a British history film you can take your PBS-loving parents to see. In reality, Rourke isn't afraid to make anyone blush.
Sign up here for our daily Thrillist email and subscribe here for our YouTube channel to get your fix of the best in food/drink/fun.