Aziz Ansari's Black-and-White 'Master of None' Episode Owes Everything to a Classic Movie
The first episode of Aziz Ansari's second season of Master of None finds the comedian's alter ego, Dev, learning the fine art of pasta making in the postcard town of Modena, Italy. Along the way, Dev stumbles into a blissful day with a smart, bubbly stranger named Sara (Children of Men's Clare-Hope Ashitey) when he offers to share his lunch reservation at the highly sought-after Hosteria Giusti. They hit it off, and in a tale tailor-made for the Missed Connections section, a thief steals his phone (and her number) after she's already left town.
What follows is a futile search for the crook in a small town where the local policeman is more interested in tucking into a home-cooked meal than in catching the perpetrator. It's also an unconventional 30 minutes of television. Shot in stark black-and-white, an unconventional choice that likely had fans futzing with their TV settings, "The Thief" is a binge-able homage to one of Italy's classic films. To fully appreciate the episode-long gag, you've got to know the source.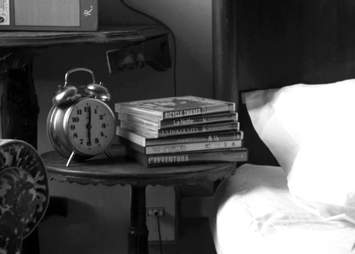 Netflix
Luckily, the secret recipe is shown early on, courtesy of a stack of Criterion Blu-rays on Dev's bedside table. There's 8 ½ (Federico Fellini's exploration of a charming narcissist looking back on the women in his life), La Dolce Vita (Fellini's splashy comedy about a tabloid journalist casually enjoying strangers in Rome), L'Avventura (Michelangelo Antonioni's mystery about a missing girl that forgets all about its mystery halfway through), and more.
At the very top sits Ladri di Biciclette (Bicycle Thieves), Vittorio De Sica's laugh-free tale of the working class Antonio's (Lamberto Maggiorani) stolen bike, which also provides the blueprint for Dev's phone hunt.
If you're curious why Ansari would devote an entire episode of Master of None to Bicycle Thieves, you need to see the movie ASAP. But strap yourself in for a far bleaker experience than Dev's lost digits. De Sica's masterpiece among masterpieces was made in 1948 to directly engage the post-WWII hardships of the Italian people. It's an unflinching microscope on the cycle of poverty that grinds down even good men into immorality.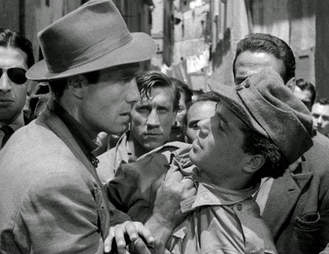 The Criterion Collection
The bike that gets stolen isn't a luxury; it's a necessity for Antonio to accept a job posting advertisements, secured only after the family pawns their prized possessions. Without it, they'll be destitute. And then it's gone.
Bicycle Thieves is cruel because the world is cruel. It's also gorgeously photographed and pours us directly into the hopeful, desperate village where Antonio isn't the only one struggling to make ends meet.
By riffing on the film, Ansari (who also wrote and directed the episode) puts Dev into a lovably frivolous context. There are far worse things in the world than losing a woman's phone number (say, abject, inescapable poverty that drags you back just when you think you have a chance of clawing your way out), but for Dev, it constitutes a personal crisis that forces him to rethink his relationship with Rachel (Noël Wells), the girl he left behind in New York. It's a little too simple to write it off merely as a first-world problem (even though it totally is).
The Criterion Collection; Netflix
Beyond the plot, "The Thief" also cribs the shot of Dev and his chubby adolescent sidekick Mario (Nicolo Ambrosio) sitting destitute together in the gutter, as well as the sequence where absolutely everyone in the plaza is overly infatuated with their cell phones, directly from iconic moments in Bicycle Thieves.
And, OK, so maybe Dev's situation isn't even half as bad as Antonio's, but maybe it's also not so easy to laugh off. Ansari treats the situation with appropriate silliness, but what if Dev and Sara were meant to be together? What if that was supposed to be the start of a loving, lifelong relationship? What if his fate was stolen along with his phone?
As usual, Master of None has layers. It also has more references to classic Italian cinema: The second episode has some light echoes of Antonioni's La Notte (The Night), and co-creator Alan Yang promised an homage to L'Eclisse (Eclipse) further into the season.
Not only is Master of None better than ever, it's also a great excuse to prep some cacio e pepe and revisit the Golden Age of Italian Cinema.
Bicycle Thieves is available to rent on Amazon and stream on FilmStruck.
Sign up here for our daily Thrillist email and subscribe here for our YouTube channel to get your fix of the best in food/drink/fun.
Scott Beggs is a 10-year veteran of film writing whose work appears at
Vanity Fair
, Nerdist, and IndieWire. Ask him for other ways to keep you up at night @scottmbeggs.