How 'Master of None' Found the Songs for Its Killer Season 2 Soundtrack
If you've ever spent hours crafting the perfect mixtape or carefully building a playlist for a friend, Zach Cowie has your dream job. The music aficionado and DJ -- he spins records with actor Elijah Wood as the duo Wooden Wisdom -- serves as the music supervisor for Netflix's Master Of None, helping co-creators Aziz Ansari and Alan Yang select all the obscure gems that soundtrack Dev's food-filled trek through New York City and, in the show's second season, Italy.
Having worked on the show's acclaimed first season, Cowie was more than ready to curate tracks for an even more ambitious batch of episodes. "The goal with my job is to find things that will connect pretty quickly," he explains over the phone. "You have to imagine that certain people will only see this once and they won't be Shazamming it or whatever. The song has to quickly move the story along, but I like to have things with a lot of layers under them if people choose to get into it."
With a vinyl version coming this summer from Mondo Records, there will be plenty of opportunities for fans to unpack the show's crate-digging aesthetic. To help you get started on finding all the musical history lessons burrowed deep in the show, we had Cowie talk us through seven of Season 2's best musical moments.
The moment: The Italian black-and-white episode "The Thief" (Ep. 1)
The songs: The scores include snippets of Senza Sapere Niente Di Lei; Grazie Zia; Metti, Una Sera a Cena; and Giù La Testa.
Cowie: "When Aziz hit me up [about Season 2] and said, 'We're going to Italy,' I already had a really nice collection, and just started passing them music. Him, Alan, and I share a playlist so they would let me know some of the themes, and I would just start loading up songs. We'd be riffing off each other or they're directing me towards something. It was Aziz's idea that with the black and white episode -- since it's such a love letter to Italian cinema -- we should do the whole soundtrack with Italian film scores. Almost all of that is Ennio Morricone scores from the late '60s and early '70s.
"The choice to use some of Morricone's lesser known stuff was very intentional, and it was a tip of our hat to him for being this master. We tried to uncover the ones that no one has heard in Tarantino movies. There's none of the spaghetti Western-style scores. It's all his kinda lounge, mod period, which is a little less known. We pulled out of four or five scores of his."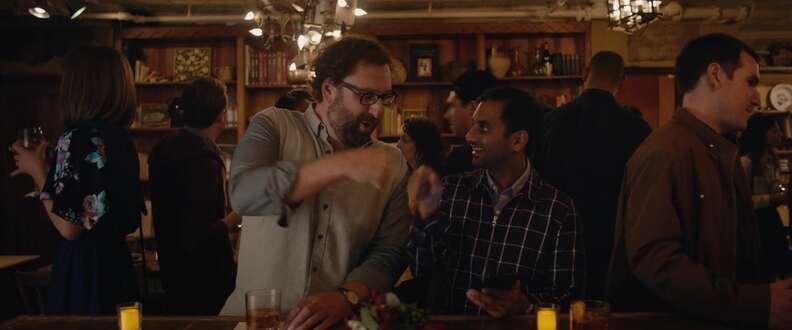 The moment: Opening credits for "First Date" (Ep. 4)
The song: "Computer Love" by Kraftwerk
Cowie: "The first song we picked for that one was 'I Need Somebody to Love Tonight' by Sylvester, which is a song that I wanted to use in Season 1, so it stuck around in our ideas folder. When I got the script for the 'First Date' episode it was already in there, so I was like, 'Right on, let's do this.'
"But we challenge each other, which is part of why I feel so lucky to be on this show. Because a lot of times in this job you have all these debates and you end up fighting over ideas, but on this show, we're fighting for the best idea -- not 'my idea' or 'your idea.' And it's so fun to let go of any ownership in collaboration and just find the best thing for that scene. Who cares who thought of it? That's really big for me. I love when [Aziz] thinks of something that's way better than what I thought of. It's like, 'Yes, we're using that.'
"That's where 'Computer Love' came from. We were just throwing all these ideas together about the digital translation of falling in love and Aziz was like, 'This is kinda on the nose but it kinda works.' And I was like, 'You're right. Let's do it.'
"And we're all obsessed with Kraftwerk, so it's always nice to send them some money."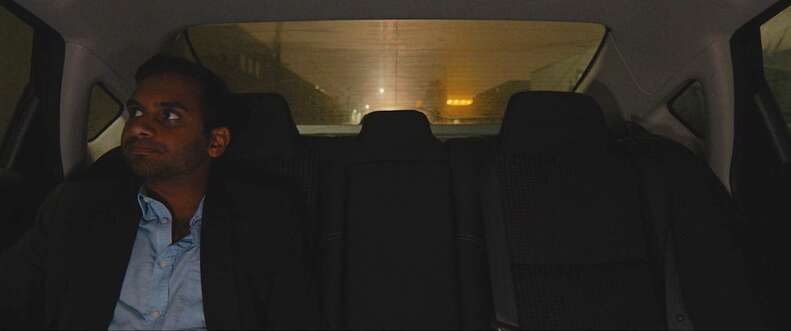 The moment: The end of "The Dinner Party" (Ep. 5)
The song: "Say Hello, Wave Goodbye" by Soft Cell
Cowie: "Sometimes you can write a scene to a song, and sometimes you have to match a song to a scene. That long shot [that ends 'The Dinner Party'] was a great example of the second thing. There was no way we could've known what to put on that until we saw it. That was one where the editor sent the dailies over and we were all throwing songs against it on our computers and trying to see what fit the best. ['Say Hello Wave Goodbye'] was Aziz, again. He beat me on that one. [laughs] Ask me about one I thought of!
"But that's really the beauty of this job: When you can put two things that have never been combined together to create a really weird new feeling. That was one of those examples where the second he showed it to me I was like, 'That's brilliant, we're doing it.'"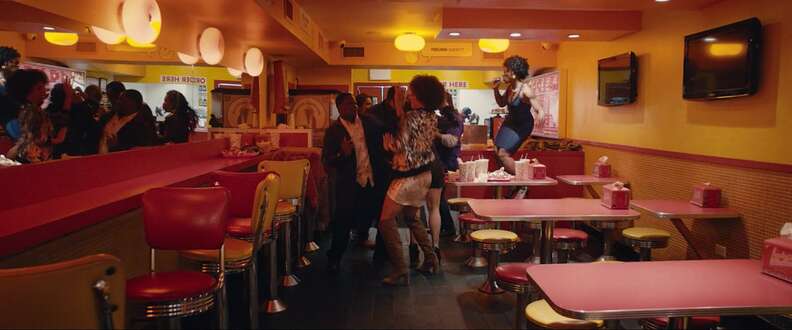 The moment: Closed-restaurant dance party in "New York, I Love You" (Ep. 6)
The song: "We Like to Party! (The Vengabus") by the Vengaboys
Cowie: "I have no problem in saying that this is a great collaborative thing between the three of us, but anything that's funny is them and not me. Like, I'm not putting 'Scat Man' in there. That's all Alan and Aziz. I call those those comedy cues and I can't beat those guys when they do them, so I don't even try. Give me the romantic stuff. They do the jokes.
"Those guys are so good at picking the funny stuff that I'm cracking up when I get the script. Like, 'Of course you picked this.' ['We Like to Party!'] was so easy to clear [legally]. This is one thing that gets easier across the board when you're on Season 2: A lot of people saw Season 1. So their manager was like, 'We love Master of None, let's do it.' The benefit of not having to pitch the show to people really helped. Last season we'd have to be like, 'Well, we've got this idea... '"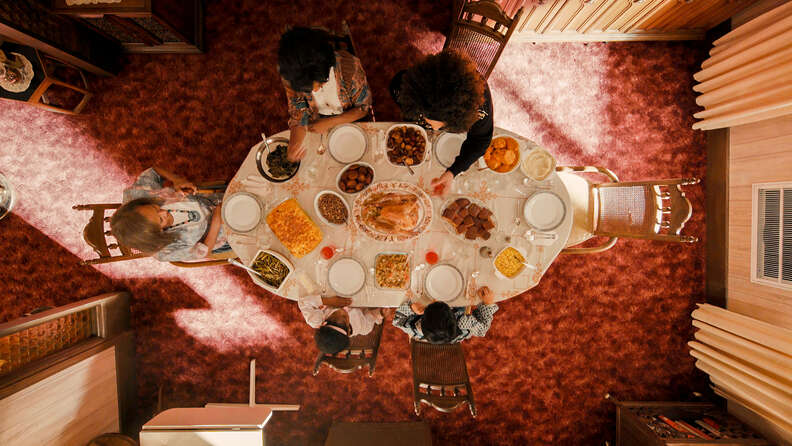 The moment: The '90s hip-hop throwback sound of "Thanksgiving" (Ep. 8)
The song: "Rebirth of Slick (Cool Like Dat)" by Digable Planets
Cowie: "I really do collect everything, but I owe my music knowledge to hip-hop and reverse engineering samples. That was one of the first things that got me going backwards with music. When that episode showed up I was like, 'Bring it.'
"The Digable Planets track ['Rebirth of Slick (Cool Like Dat)'] is one of my favorite songs from that era. Even more importantly, I'm obsessed with Shabazz Palaces. For new music, that's as good as it gets. I just really wanted to use something that [Shabazz Palaces member] Ish was on, and Digable Planets was his first group, so that's what solved that problem."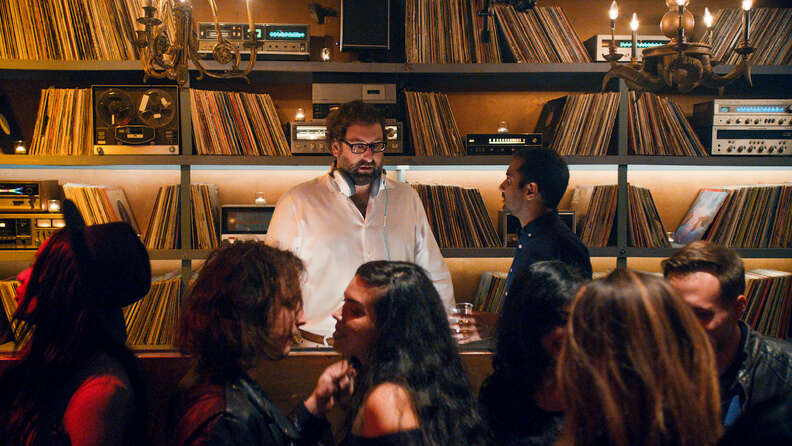 The moment: Arnold's big DJ set in "Amarsi Un Po" (Ep. 9)
The songs: "Mystery of Love" by Mr. Fingers; various deep New York club tracks from the late '70s and early '80s
Cowie: "That one was so fun for me. A big inspiration for what we think of as the 'New York sound' of Master of None are DJ's from New York in the past. Like David Mancuso through the '70s, '80s, and '90s -- he passed away recently -- but he always did these parties called the Loft. And then Larry Levan who was the house DJ at Paradise Garage through the late '70s and early '80s.
"Almost everything in that club scene is stuff you would've heard at one of those places. Just true, deep New York club tracks -- even though two of them are from Chicago -- they were played in those New York clubs. And that scene was so fun to shoot because we pre-cleared all the music so everybody who was there is actually dancing to those tracks.
"I actually just fact-checked an article a second ago where the journalist thought we were playing Kanye West's 'Fade' in there but we're actually playing Mr. Fingers' 'Mystery of Love,' which is sampled in Kanye's 'Fade.' Honestly, fact-checking that Kanye thing made me so happy because whoever wrote that didn't know that, and now they do. I like to put little lessons in everything. Even if one person reads this and then Googles David Mancuso, they're going to learn so much about New York dance music."
The moment: The end of "Amarsi Un Po" (Ep. 9)
The song: "Amarsi Un Po" by Lucio Battisti
Cowie: "A really big track for all of us was 'Amarsi Un Po' by Lucio Battisti, which we close the ninth episode with. Aziz also titled the episode after the song, and that's one of the first songs I sent him when he was like, 'We're going to Italy.' They send me scripts as they're being written, and that one was untitled for a while, and then one day it showed up and it was called 'Amarsi Un Po,' and I was like 'Oh my God.'
"We're the first people to ever license his music outside of Italy -- even though he was hugely successful in Italy in the '60s, '70s, and '80s. But his music was never really taken out [of the country]. It's a real honor for us to spread the word around."
Sign up here for our daily Thrillist email, and get your fix of the best in food/drink/fun.