23 Weird Things You Didn't Know About Matthew McConaughey
The McConaissance is officially over, but Matthew McConaughey endures. Sure, the 47-year-old actor hasn't had the strongest year at the box office -- the bleak drama Sea of Trees flopped flopped and his Civil War movie Free State of Jones failed to connect with audiences. But never bet against a Texan with a long track record of reinventing himself.
With his gonzo role in Gold arriving in theaters on Christmas Day, you can't completely discount the idea that we're about to enter into another dominant McConaughey period. You also never can know enough bizarre trivia and lesser-known-facts about the bronze god who turned the word "alright" into a laid-back mantra. So, pour yourself a glass of Wild Turkey bourbon, put on your favorite JK Livin-branded T-shirt, and let's dig in.
1. He's killed a lot of armadillos
Even legends have to start somewhere: McConaughey's first gig was raking sand traps at the Oak View Country Club in Longview, Texas. As he told GQ in the interview clip above, the job started at 3am and eventually involved shooting armadillos who were eating the greens. Watch out, armadillos: McConaughey is gunning for you.
2. His dad was drafted by the Green Bay Packers
Family is important to McConaughey -- he has three children with his wife, Camila Alves -- and he often gives loving shout-outs to his late father James "Big Jim" McConaughey. In one interview, young Matthew even refers to his papa as "a coon-ass from Louisiana," but the elder McConaughey was more than just an oft-shirtless patriarch: he was also a gifted football player. While Matthew played a college coach in We Are Marshall, his father actually spent time on the gridiron for University of Kentucky and University of Houston before getting drafted in the 27th round by the Green Bay Packers.
3. His dad died while "making love" to his mother
McConaughey's father and mother had a tumultuous relationship -- they got divorced twice and married three times -- but "Big Jim" McConaughey went out in a moment of passion. "My dad died of heart failure making love to my mother," his proud son said in one interview. "That's how he said he was going to go. He predicted it 20 years before it happened."
4. He has a brother named Rooster who has a show on CNBC
"Big Jim" isn't the only character in the McConaughey clan. Matthew's brother Rooster is a genuine Texas entrepreneur and has his own CNBC show called West Texas Investors Club. Strangely enough, it is not about funding a sequel to Reign of Fire. That's the kind of investment we should all be making. (Extra-fun fact: Rooster has a son named Miller Lyte McConaughey.)
5. He chews tobacco
In case you thought the rough-and-tumble image was all an act: In multiple interviews and profiles, like this GQinterview from 2014, there are references to McConaughey packing a lip of chewing tobacco.
6. He's a Redskins fan because he loves hamburgers
Despite being a Texas native, McConaughey is a fan of the Washington Redskins, and his reasons for why are a little… peculiar. "Two things," the actor explained to GQ. "First: 4 years old, watching Westerns, I always rooted for the Indians. Second, my favorite food was hamburgers. The Redskins had a linebacker named Chris Hanburger." The power of burgers!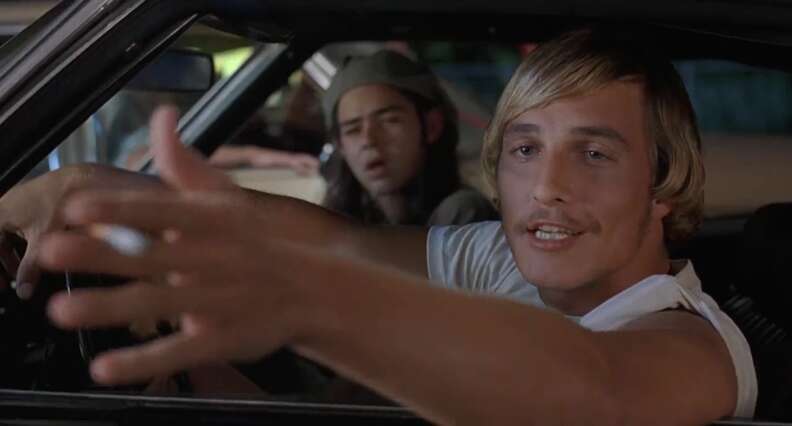 7. He was discovered in a bar… and then got kicked out!
McConaughey getting discovered in a bar is an essential part of his actorly origin story, but there's one detail that gets left out: He got kicked out of the bar. According to a 1996 Texas Monthlyprofile, the young UT student was at hotel bar and met casting director Don Phillips, and the pair had such a loud, lively conversation about "film and golf" that the hotel's management gave them a "forceful farewell."
8. He made $325 a day on Dazed and Confused
While McConaughey is routinely listed in lists of the highest-paid actors in Hollywood, he wasn't always pulling down huge multimillion-dollar paydays. When he got his breakout role in director Richard Linklater's high school stoner classic Dazed and Confused, he was only paid $325 a day. That may not sound like a lot, but remember: you can buy a lot of beers with $325.
9. He was in Texas Chainsaw Massacre: The Next Generation with Renee Zellweger
Before he became a Hollywood leading man with his starring role in the John Grisham legal thriller A Time to Kill, McConaughey put in time as a supporting player in independent films and genre fare like the horror sequel Texas Chainsaw Massacre: The Next Generation with fellow future mega-star Renee Zellweger. But it doesn't seem like McConaughey was super-proud of his contribution to the Leatherface canon: According to an Austin Chronicleinterview with one of the film's producers, McConaughey's agency CAA put pressure on the studio not to release the film theatrically. Turns out, it didn't have much to worry about: It grossed less than $200,000 when it was finally released in 1997.
10. There's one book that helped him in his career
What if I told you there's a secret book that could make you into the next McConaughey? Well, there is: It's called The Greatest Salesman in the World and in this '90s profile of the actor he credits the book with changing his life. Order a copy for yourself and prepare to star in a series of successful rom-coms.
11. He once offered a bounty for a flip-flop
After dating stars like Sandra Bullock and Penelope Cruz, McConaughey became a gossip column staple, but nothing beats this 2008 appearance in the New York Daily News about his drinking and dancing in Nicaragua. The best part? He lost a flip-flop during all the fun and told the paper that he was offering up a reward for it. So, if you have Matthew McConaughey's flip-flop from eight years ago, please return it.
12. He was in a John Mellencamp music video
McConaughey is a noted fan of John Mellencamp -- the singer even performed at McConaughey's wedding in 2012 -- but the pair collaborated even before those nuptials. In 1996, McConaughey showed up for a cameo in the clip for Mellencamp's single "Key West Intermezzo (I Saw You First)." Since then he's also reprised his Wooderson role in a video for Butch Walker and the Black Widows; plus, who could forget his early pre-Dazed and Confused role in Trisha Yearwood's "Walkaway Joe"?
13. He wanted to make a Billy Carter film with Richard Linklater
McConaughey hasn't shown any political aspirations so far in his career -- he seems to enjoy the actor's life -- but at one point he was discussing making a film about President Jimmy Carter's beer-drinking brother Billy with frequent collaborator Richard Linklater. Turns out, the idea was too good to be true: In a 2012 interview, Linklater told the Chicago Tribune the movie won't happen because "it's not the kind of film Hollywood likes to make now." Pour a Billy Beer out for that lost classic.
14. He had a Sonic ice maker in his house
McConaughey likes the finer things: carefully made whiskey, expensive cigars, and the finest ice from Sonic that money can buy. In a 2008 Texas Monthlyprofile (oddly enough tied to the release of the movie Surfer, Dude), the actor shows off the flaky ice he gets from the fast-food chain's Manitowoc QF-400 ice maker. "I looked for years for the freezer that would make Sonic ice in your very own home, and that's the only one that'll pull it off," he says in the article. "Best damn ice in the world!"
15. He's his own best friend
In his famous Oscar acceptance speech, the actor told the world that his hero was "me in 10 years." But, according to these notes on a speech he gave at the University of Houston, he's also his own best friend. Is there nothing this man cannot do for himself?
16. He once gave Barbara Walters a foot massage
While there does not appear to be video footage of it on YouTube, in 2006 McConaughey concluded an interview with Barbara Walters by giving her a foot massage. When later asked about the incident in an interview with Elle, the toe-loving actor joked that things might have become more intimate if he wasn't single. "I would've had to tell those cameras to cut," he said.
17. He still loves bongo drums
If you know anything about McConaughey, it's probably that he was arrested in 1999 after cops were called to his Austin home following a noise complaint and discovered the actor playing bongo drums naked. Did he give up the drums after this embarrassing run-in with the law? Hell no. "Of course I still play the congas naked," he told GQ in 2013. "I just close the windows."
18. He played bongo drums on stage with The Cult
McConaughey is a fan of British rock band The Cult and even joined the group at SXSW one year to jam on his favorite instrument with them. It turns out nudity is not required for bongo drum playing -- but it is recommended.
19. Guy Fieri cooked the food at his wedding afterparty
The idea of bleached-blond celebrity chef Guy Fieri cooking up a meal of "crawfish, brisket and fried okra" for the afterparty at Matthew McConaughey's star-studded wedding is almost too perfect. You can just picture it, right? Woody Harrelson is still there, McConaughey has his bongos out, and there's Fieri, grabbing his pots and pans from the trunk of his car like, "Yo, I got this, dudes."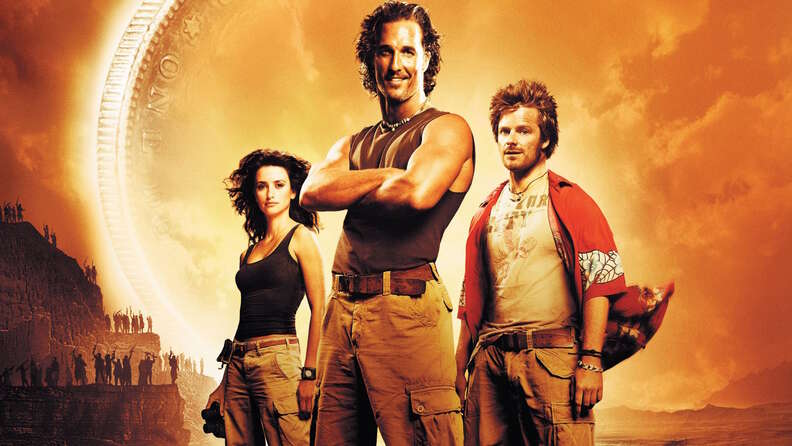 20. He loves Airstreams
Though many people associate McConaughey with his heavily mocked Lincoln ads, Airstream is the company that the actor has shown the most loyalty to over the years. For Esquire's 2011 profile, writer Tom Chiarella spent a night in one of the trailers McConaughey keeps in his backyard so people can have a place to crash when he throws parties. What types of things did Chiarella find in the Airstream? "Two field passes to the Fiesta Bowl" and "a backstage pass to a Willie Nelson concert." Sounds about right.
21. He wrote a road-trip blog for MTV
Actor, spokesman, and… blogger? To promote his action flop Sahara, McConaughey traveled across the country in his Airstream and kept a travel blog for MTV's website. Unfortunately, the actual text seems to have been lost to the sands of internet-time -- but it's probably better this way: In 20 years someone can "rediscover" them and publish his blogs as an On the Road-like book.
22. He has his own secret YouTube account
McConaughey is pretty much an open book -- he's very frank in interviews and doesn't seem to have a lot of secrets. So, why was he keeping a secret YouTube account that very few people ever watched until a Reddit user stumbled upon it earlier this year? What other web platforms are you hiding content on, McConaughey? Where's your Snapchat? How can we find your LiveJournal? How many Reign of Fire fan Tumblrs do you secretly admin?
23. He really, really loves the Olympics
Given his love of sports, it's not surprising that McConaughey enjoys the Olympics. But, man, this year we learned the former triathlete really, really, really loves the Olympics. If only there were an event that combined bongos, foot massages, and Airstreams -- McConaughey would have a gold medal by now. Sadly, he'll have to settle with his Oscar and millions of dollars.
Sign up here for our daily Thrillist email, and get your fix of the best in food/drink/fun.
Dan Jackson is a staff writer at Thrillist Entertainment, and he couldn't fit the trailer for
Tiptoes
in here but you should really check it out. He's on Twitter @danielvjackson.