Matthew McConaughey Dieted Burgers and Beer to Fat Up for New Movie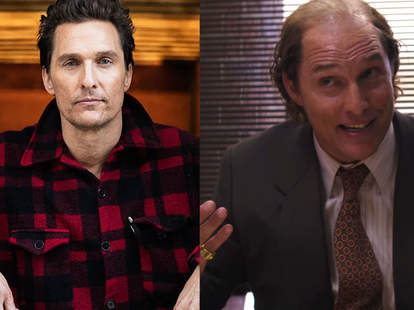 Wild Turkey/TWC-Dimension
In the new movie Gold, Matthew McConaughey plays Kenny Wells, a miner who strikes it rich after drilling into a mountain in Indonesia that no sensible tycoon would touch. To become the scrappy businessman -- fully become him -- McConaughey radically transformed himself to get a physique that screamed "down on his luck." For two hours, audiences can see the former Sexiest Man of the Year bald, grimy, and with one hell of a gut.
According to an interview with Ellen DeGeneres, that process involved fearless gorging. "That's cheeseburgers and beer for eight months," he says, "whenever I wanted them."
As you might expect, the anti-diet was a blast, and turned McConaughey into the most lovable version of himself. "My nickname in the house was Captain Fun. My wife misses all 217 pounds of me, and the kids do, too, because any night was pizza night."
Of course, since shooting the movie, McConaughey's lost the weight and returned to Hollywood normalcy. Forget the mansions and red carpet events: this is the true allure of movie stardom.
Sign up here for our daily Thrillist email, and get your fix of the best in food/drink/fun.