Netflix Just Removed an Episode of a Kids' Show Because There Was a Penis in It
If decades of wildly successful, generation-defining animated Disney movies have taught the world anything, it's that you can't get away with slyly inserting male genitalia into otherwise cheery children's films. Or, more accurately, you can get away with it, but people will notice. 
Netflix learned this lesson the hard way thanks to the show Maya the Bee, an animated show about a talking bee named Maya. The Mirror reports that a mother in the United Kingdom took to (where else) Facebook to express outrage at what she claims was a drawing of a penis in the background of Episode 35 of the 2013 show, which was available on the streaming giant. Sure enough, that's a dick, as SlashFilm points out: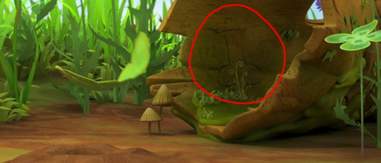 Studio 100 Animation
The timing of the scandalous image's discovery is somewhat ironic, considering that Netflix just dropped American Vandal, a spoof of true-crime hits like Making a Murderer and The Keepers, except instead of a murder, a teenager is accused of vandalizing teachers' cars with penis drawings. Is some kind of next-level marketing gimmick at play?  
It would seem not: Netflix acted quickly and pulled the penis-portraying episode, so it's no longer available on the platform. Thrillist reached out to Netflix for additional details on the removal, but the company did not immediately respond with comment.
Maya the happy-go-lucky bee was created by a German writer named Waldemar Bonsels. Bonsels wrote the original book in 1912, the only notable work he produced before his 1952 death in Ambach, Germany. If you're thinking, "Hmm, German guy who lived through two World Wars... I wonder if he was a Nazi?" the answer is yes, he was a Nazi who called Jews a "deadly enemy." Of course, to bring things devastatingly full circle, Bonsels shared an anti-Semitic worldview with none other than Walt Disney himself. 
Just goes to show that you can erase a drawing of a dick, but you can't erase the weight of history's judgment.
Sign up here for our daily Thrillist email and subscribe here for our YouTube channel to get your fix of the best in food/drink/fun.
Wes Rendar is a writer who has never once drawn a phallic object.