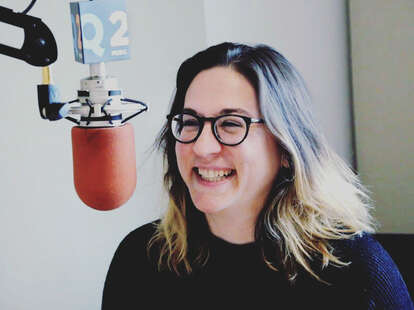 WQXR/Evan Lockhart/Thrillist
Classical Music Isn't Dead, and This Violist-Turned-Podcaster Is Here to Prove It
One might say that Nadia Sirota, violist and host of WQXR's Meet the Composer podcast, was radicalized at college. A bit extreme as far as metaphors go, but hear me out. She attended Juilliard for both her bachelor's and master's of music, a place overwhelmed by both the talents and opinions of its students.
"When you put a bunch of people who are really good at something together, it becomes really tempting to talk about what you hate," Sirota says. "I did it, everyone did it. In late adolescence, you think that if you can prove that you hate a bunch of the right thing, people will think you're smart. It got to a point where I found it to be so incredibly awful. It's chickenshit, because what's dangerous and scary is to say, 'This is something that I love. Somebody else might hate it, but I'm going to go out on a limb and say that I love it, and what I love about it.' That's exciting."
Not just exciting, but successful as an approach to spreading the gospel of classical music: Meet the Composer, which is now in its third season, has listeners in more than 70 countries and gets more downloads than most new classical albums. It won a Peabody Award last year, cited for its "educational, entertaining, immersive audio experience." While it's hard to clearly define the broader cultural impact of a podcast like this, it has certainly brought classical music to listeners.
Most of that success is thanks to Sirota, whose enthusiasm is as catching as it is dramatic, a lifelong passion for classical music compacted into an elevator pitch. For her, there's no time for anything less direct. "I've decided to totally give up on journalism and just move straight into propaganda," she explains. Her goal, held true to everything that she does, is "to get classical music out to a larger audience."
"The point of it is to show that these people are fucking awesome."
That's getting harder and harder with each passing year. Gone are the days when Leonard Bernstein was in everyone's living room, and orchestras were held close to the heart of American culture. While this can frustrate fans, composers, and musicians alike, Sirota knows how it happened. Concerts in traditional venues can be alienating, particularly if the audience is left adrift with no information in a sea of unfamiliar performance ritual.
Popular culture has also moved away from the music itself, which Sirota partially attributes to mid-century modernism. "A lot of audiences got kind of alienated from contemporary music. What was coming out was really complex stuff, not really aimed at anyone." This phenomenon is central to a third season episode called "New Music Fight Club," in which Sirota brings the audience back to the knockdown, drag-out battle between the modernist and minimalist composers of the 1970s.
But that moment has passed, and Meet the Composer's mission is to demystify both the music itself and the context in which it is written and performed. New music doesn't necessarily require either the seriousness of a minister or the academic rigor of a historian. Contemporary music is, after all, contemporary. You don't have to start with Bach or Beethoven to follow the video-game logic of Andrew Norman's Play or to feel the whisper of Thorsvaldsdottir's In the Light of Air.
Sirota is very clear on this point: "The living form of an art is always going to be the thing that can be the most attractive. You're listening to somebody your age who more or less grew up watching the same movies as you did."
That said, it seems a bit weird to attach the label "classical music" to every artist featured by Meet the Composer. Sure, Nico Muhly has written operas, but he has also collaborated with everyone from Bjork to Usher. Caroline Shaw, who won the Pulitzer Prize for Music in 2013, was a producer on Kanye West's The Life of Pablo. Sirota's own ensemble, yMusic, has toured with Ben Folds and Bon Iver. Then there are electronic producers like Matmos and Kaitlyn Aurelia Smith, definitely composers, but not exactly of classical music.
Moreover, a lot of contemporary music written for performance in a classical context is a far cry from Mozart, Beethoven, and the "classical period" as most people understand it. And so the composers of this more recent form are often grouped under the term "new music," freed from historical baggage by the virtues of meaningless branding.
Meet the Composer, for its part, stays out of these weeds and sticks to the sounds themselves. For Sirota, music is an ineffable magic, a thrill built from bizarre sensations. "Music is weird and nonverbal," she explains. "I can play you an interval and it will make you feel something... The compression of the air in a certain way makes us feel stuff. That's very, very odd."
Sirota explores these compressions with her guests, driving at the sounds that make each composer's work unique. She asks Kaija Saariaho about French Spectral music, Anna Thorvaldsdottir about the Icelandic language, and Caroline Shaw about Tuvan throat singing. Morton Subotnick is enlisted to explain the origins of electronic music, while John Luther Adams talks about the ancient and natural soundscapes of Alaska.
But the show isn't only about sound. Sirota and producer Alex Overington weave composers' words together with their music, constructing thematic arcs and pausing on moments of artistic revelation. The result is subtle, transformative stuff, nonfiction art akin to an Errol Morris film without images.
What makes Meet the Composer's success more remarkable is that Sirota and Overington had never worked in radio before this project. Their instincts are those of musician and composer, their inspiration the determination to grow new music fans. And while Overington "absolutely feels that [the show] is his artistic outlet," she has reservations.
"I didn't even realize I was writing these shows until midway through the second season when I printed out the script to do voiceovers and it was 16 pages long," Sirota confesses. Her perspective, after all, is not that of a writer but that of a musician. And it's her skill with the viola that informs at least some of her instincts as a podcaster:
"I spend so much time thinking about whether to vibrate on a note, whether to crescendo through the note or stay neutral. It's my job to make that phrase land to a listener because a person wrote that phrase, and I think that person's brilliant. All of that training and all of that thinking can really apply to this other circumstance, to editing."
This devotion to the unique character of their subjects' work is all over the podcast. The episode with Shaw begins with a sonic recreation of the Hudson River, the pier where she found out she had won the Pulitzer Prize; slowly constructs a celebration of Shaw's ear, "hearing" the world from a balcony of a church choir to the simple grace of a dance classroom; then culminates with the wide-ranging vocal styles of Roomful of Teeth, whose skills range from Bulgarian belting to yodeling. This total aural portrait takes Shaw's brilliant work out of the isolation of recorded media and places it into the full context of her creative life. You can hear it in the work she has done since the podcast as well, including her collaborations with Kanye West.
Perhaps the most intricate audio in the whole series comes in the episode on Meredith Monk, whose work defies the physical and intellectual restrictions of classical music. She and collaborator Theo Bleckmann describe a hocket, in which two vocalists trade notes back and forth with almost impossible speed. Sirota and Overington mimic the musical structure with the interview audio, ricocheting between the two voices. Suddenly the podcast is inhabiting the same artistic space as its subject.
Not every episode features such technically showy sound editing, but they do all make an effort to present a sonic portrait of the mind of the composer. Sirota mines the brains of her subjects for memories of sound, and then melds the evidence into the show. Marcos Balter's adult compositions are joined by a recording of his childhood music class. Influences as diverse as Frank Zappa and century-old Irish Sean-nós songs are woven into the soundtrack. Even Norman's high-school Christian rock band makes an appearance.
The depth and breadth of a composer's influences are always celebrated, which might surprise some classical music devotees. "There's this idea," Sirota explains, "that you need to reinvent the wheel with every single piece of classical music. That if I can hear you are influenced by Philip Glass or by Ravel or something, maybe you suck."
But, to quote Balter, hiding one's influences can be "egotistical and stupid." He is especially eager to divulge both his musical inspirations and those that come from other artistic spheres, like the paintings of Cy Twombly or the mysterious pages of the Codex Seraphinianus. Meet the Composer frequently traces cross-disciplinary pollination, from Shaw's garden-inspired string quartets to Norman's "music about buildings."
A new episode with Paul Simon cracks this concept open even further. As Sirota puts it, he's "somebody who's felt really comfortable sharing his influences. He was influenced by folk, so he made a folk album. He met some South African dudes, so he worked with them. He figured out that Harry Partch instruments are really cool, so he worked with them. I think he has a really cool attitude towards it."
The more you listen, the more "classical music" feels like an ancient and inadequate description. These composers tend to reach beyond the score for both inspiration and execution. Monk's pieces are inseparable from dance, Thorvaldsdottir plays with lighting, and Saariaho manipulates the physical dimensions of the performance space.
And, of course, the podcast itself is a collaboration. "It's a really unexpected blend of me and Alex and our other producers," Sirota admits. "The best thing about collaboration is when translation of things yields unexpected results. Like when I ask somebody to do something and they respond to my words in a way that I didn't expect. That's my favorite way to make art, or anything."
Which is a pleasant enough reminder that Meet the Composer is only one project in Sirota's busy life. The next major release on her calendar as a violist is Tessellatum, a 38-minute piece by Dennehy for four violas and 11 violas da gamba. Sirota and viola da gamba player Liam Byrne have recorded all the parts. It's a collaboration not only between performer and composer, but between the performers and themselves. Moreover, the piece will be paired with animation by Steven Mertens. It's both an album and a film, or a visual album, or something that we don't have a word for yet.
That's the crux of it. Like everything featured on Meet the Composer, Tessellatum is a project meant to be perceived on its own merit. "New music," as we might call compositions for classical instrumentation (or not), written by composers with classical training (or not), may not really mean anything in particular. But it is, resoundingly, music. And, to quote Sirota one last time, it's "fucking awesome."
Sign up here for our daily Thrillist email and subscribe here for our YouTube channel to get your fix of the best in food/drink/fun.
Daniel Walber is a freelance critic living in Brooklyn. His writing has appeared at Nonfics, The Film Experience, The Brooklyn Rail, IndieWire, and Dok.Revue. Follow him on Twitter @dswalber.