'Hacks' Star Meg Stalter Explains Kim Kardashian's 2022 Met Gala Look
The comedian has a lot of thoughts about Kim wearing Marilyn Monroe's dress on this year's Gilded Glamour-themed red carpet.
Design by Maitane Romagosa for Thrillist
On HBO Max's Hacks, Meg Stalter's character Kayla doesn't know much about the entertainment industry. Even though she's an assistant at her father's talent agency, which manages big clients like the veteran comic played by Jean Smart, it's clear that she doesn't care much about the gig. In fact, she'd rather not work at all.
Stalter, on the other hand, is a bit of a pop-culture fiend. In addition to her Hacks role, the comedian is known for her stand-up and her hilarious internet impressions that touch on everything from Che Diaz on And Just Like That… and Christy Carlson Romano's YouTube channel to actresses "being quirky" on red carpets—and the clips couldn't be more accurate.
While Stalter frequently gives spot-on takes about what's trending, one of her biggest fascinations is the way that so many people are intoxicated by stardom. "​​Everyone is so obsessed with fame, which seems scary and bad," she says. "It doesn't mean anything to me, but I'm obsessed with other people's obsession with it." Because of that, she's intrigued by the way so many of us collectively follow one of the biggest nights in celebrity fashion: the Met Gala. "Everyone has an opinion on the Met Gala looks—people in Ohio are making TikToks about the Met Gala looks," Stalter exclaims.
Since her pop-culture knowledge and interest in the way people dissect the annual Met fundraiser runs deep, Thrillist had Stalter explain the event to us, specifically one of the most-discussed looks of the night. As a big fan of Kim Kardashian, too—someone she thinks is secretly very funny—Stalter had a lot of thoughts on how the reality star repurposed the 1962 Jean Louis dress that Marilyn Monroe notoriously wore to sing "Happy Birthday" to President John F. Kennedy.
The Met Gala
In the most basic of terms, the Met Gala is an annual event where famous people dress in extravagant ensembles and gather at the Metropolitan Museum of Art in Manhattan to raise money for its Costume Institute. Fans can follow the red-carpet arrivals on social media and E!, but the cameras quit flashing once everybody steps inside, save for a few Instagram posts from the celebs themselves. Because the poors (aka the fans who will never get to go) don't see what goes on at the actual event, it's sort of unclear what really happens—which is where Stalter's obsession with the event really lies.
I wanted to talk about the Met Gala because I feel like I shouldn't be afraid to say that we don't know what it is, what really goes on. What goes on in the Met Gala? I feel like I've talked to people that have gone there and I can't get an answer of what actually happens. Like, I know what it is, but what really is it or what goes on once they're inside?
To be honest, what I wish happened was everyone in the room had to sing a really earnest song or something, like a one-minute song. Every celebrity, every designer just sings one little song. Kim Kardashian, I think, would phone it in with "Happy Birthday," but then in the middle, she would make it funny. She wouldn't want to go for it at first, but she would laugh and everybody would be laughing. I know that's not what happens, though. It's probably a bunch of speeches or something.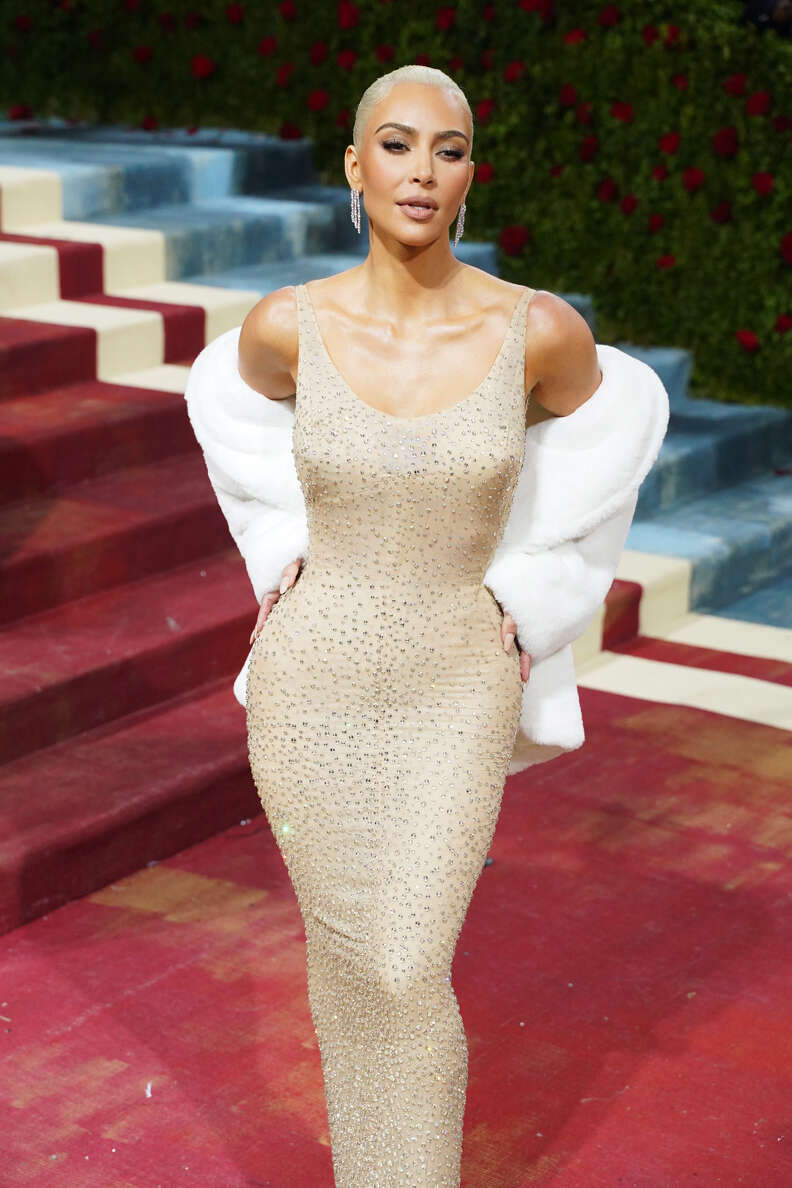 Kim Kardashian's choice to wear Marilyn Monroe's dress
For the 2022 Met Gala, themed "Gilded Glamour," Kardashian arrived in a dress—sketched by Bob Mackie and made by the late French costumer Jean Louis—that belonged to Marilyn Monroe. The actress wore it only once, in 1962, when she performed "Happy Birthday to You" at John F. Kennedy's birthday party. For a number of reasons, it ended up being one of the most talked-about looks of the gala.
People were really emotionally affected by [Kim's] decision to wear the Marilyn Monroe dress, and offended that Kim would compare herself to Marilyn Monroe. But if you think about it, the treatment they both have gotten [has been similar]. I'm not saying Kim Kardashian is this century's Marilyn Monroe—but I do understand where it's like, "God, we treated her horribly. We're treating Kim horrible." It's like the hate never stops for women!
I think that no one should have that much money—it should be illegal for sure [laughs]—but I'm also like, she came up with a cool idea! People just hate her for it. Even though Kim has gotten so much hate for her looks, people are always talking about her every Met Gala. Last year was the all-black silhouette look. As much as people hated on it, you're all talking about it, and that's her point.
How Kim acquired Marilyn's dress
One reason Kardashian wearing the Monroe gown was so newsworthy was because of how fragile the dress is. It's now worth nearly $5 million and needed to be extracted from a museum. Stalter happens to be just as obsessed with the museum it came from, a tourist spot that also gave Kardashian a (possibly fake) lock of Monroe's hair.
[The dress] was in Ripley's Believe It or Not! museum, which I love the Ripley's Believe It or Not! Museum! [laughs] We used to vacation in Gatlinburg, Tennessee, every year and they have, like, Bible-music dinner theater and strips of different weird aquariums and museums like that, but I would always beg to go to Ripley's every year, even though we'd just gone the last year. It takes 20 minutes to get through. I feel like I've seen [the Marilyn Monroe dress] before in the case!
I don't know what [Kim needed to do to get it]. It's crazy that Marilyn was the last to wear it and that it's been in a museum. It probably feels wild to wear that. The material feels probably worn. I can't believe it didn't fall to pieces!
[If they gave Marilyn's hair to me,] I would say, "You shouldn't give it to me. I'm going to lose it. Someone else should hold onto this. I don't think I should be responsible." I don't know what I would do with it. I don't think I'd do anything. I'd lose it for sure.
The Gilded Glamour theme
The Met has a theme every year and invites attendees to dress accordingly. This year's was "Gilded Glamour," calling back to the luxurious style of the early-20th-century Gilded Age. Kardashian's look was, arguably, not at all on-theme, considering it was a sparkly, formfitting gown from the early '60s. Kardashian apparently had the idea to wear the gown around the 2021 Met Gala, which had the theme "In America: A Lexicon of Fashion," but why she didn't wear it last year is unclear.
The one thing [about Kim's look is that it wasn't on-theme]. Why did she think that fit the theme? That is the problem. I would say that I think that the theme is like Bridgerton. It's bustles, skirts, corsets. It's big, big, curly hair. It's like Little Bo-Peep! A lot of people seem like they did it like Old Hollywood, and that wasn't really the theme either.
It's strange, but then again, everyone's obsessed with what everyone's wearing, but isn't it the designer's design? The [celebrities] get like, "I can't believe she wore that! Oh, you're not hitting the theme," but isn't it the designers who picked what they wear?
The Pete Davidson of it all
Rumors started swirling that Kardashian and Davidson were an item last fall when they were spotted in his hometown of Staten Island, and it was confirmed shortly after. While their relationship has been all over the news, considering he's her first known partner following her divorce from Kanye West, the couple didn't actually make their red-carpet debut until the Met Gala.
Some people still think it's a publicity relationship. I want to think that it's real because I am romantic, and he seems fun. She's so funny, it feels like! She did such a good job on SNL, and the family from the show seems like they're silly and have a sense of humor. I feel like [Kim and Pete] seem like they'd be a fun match, kind of opposites. I think that it was fun [that they made their red-carpet debut at the Met].
People are always like, "Oh, I don't get it" with Pete. Well, he's hot and he's funny and he seems nice. What do you mean you don't get it? They're like, "Oh, he dates the most beautiful woman in the world." It's like, "Yeah, but he's also hot and funny and seems nice." For someone who has a hard time connecting to straight men [laughs], I feel like I would like him! He seems funny and chill and down-to-earth, and god, that's the best you can ask for in this town! A guy that's down-to-earth? It seems like he is! I ship it.
The controversy
Kardashian's choice to wear the dress didn't come without blowback. Some were generally frustrated that the fashion mogul/reality star wore the late Hollywood legend's garment, and some took issue with the fact that she told Vogue she lost a lot of weight in a short period of time—16 pounds in three weeks—in order to fit into the piece.
If there's any problem with any of this, it would be [Kim's weight loss to fit into the dress]. Why are we putting pressure on ourselves to fit into clothing when you can get something else to wear?
[The other controversy that] I saw was like, "Well, Marilyn was the last to wear it," and now the magic of Marilyn not wearing it is gone. But to be honest, I think it was a cool idea. I don't think it fit the theme. I don't think she had to lose weight; I don't think we should ever make ourselves lose weight to get into clothes—that part's really hard—but we can't tell people what to do with their bodies.
It's hard when people feel disconnected because they have such a different life than other people. It's hard to be like, "Yeah, you guys probably shouldn't have this much money." But also, the way we treat women and the hate they've gotten, people act like, "Oh my god, we would never treat someone the way that they treated Marilyn Monroe," but then you treat women that way now, too, and you don't even see it. I think that they're silly! Kim had a cool, interesting idea that didn't fit the theme, but that I liked that she did that. I also understand the people that were offended, but I think Marilyn Monroe wouldn't mind that she wore it.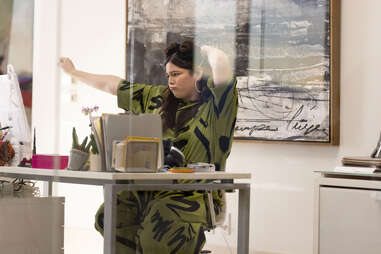 What Meg Stalter would wear to the Met Gala
Despite not getting invited to the Met, Stalter has thought about what she would wear. Here's hoping Vogue and Anna Wintour, who coordinate the event, get her on the guest list next year.
I've never been invited to the Met. If I was invited, I would beg the designer to do some sort of big joke. I think it'd be funny to come in an American flag bikini with a big hat [laughs]. It would also be funny if I made my costume myself—like it's out of tissue paper and I kept lying about the designer who made it, making up names like, "Oh, this is from Maraschino Cherry in Paris. She worked so hard on this big dress!"
I love this stuff and watching it, but it is fun to make fun of. Even if I was invited, I'd find a way to make fun, too, because don't we make fun of the things that we are and what we love? It's so nice to have a sense of humor about yourself. I can't imagine being at a place like that and not laughing a little bit over taking it all so seriously.
This interview has been edited and condensed for clarity.