RIO 2016! It's a showcase for the triumph of the human spirit, opportunity for the world's top athletes to have all the sex, and a possible looming health disaster of epic proportions. High jump over here for all of Thrillist's coverage of the games, and the games beyond the games.
The Olympics are a time for athletic champions from around the world to congregate, compete, and remind us what pure physicality looks like. They're also a time for famous people to do stuff. Because we can't look away, here are the Hollywood competitors who found the courage to weasel their way into Olympics coverage and go for the gold. (The gold is our attention.)
Recommended Video
'Last Week Tonight' Writer Josh Gondelman Takes Shots, Talks About Working For John Oliver
In 10th place... Eddie Redmayne
The Oscar winner and star of the upcoming Harry Potter spinoff Fantastic Beasts and Where to Find Them attended the Rio Olympics with his wife Hannah Bagshawe and... did a passable job enjoying himself. Very lean execution of excitement. Fine post-race smooching form. For a guy on the sideline, totally respectable.
In ninth place... Kim Kardashian West
The above canned message to the Rio Olympians wouldn't pass the Trials, but Kardashian West deserves props for muscling into a conversation that's completely outside her sphere. The world flocked to Google after Michael Phelps appeared on the starting block with purple rings covering his body. "Cupping therapy" became an instant trend, and dammit, KimKardashianWest.com wanted a piece of the action. In record time, Kardashian West was under the suction cup to fix some neck pain and recording each step of the process. The results? We may never know -- it's been steady mirror selfies since. But it's her dedication to #life that counts.
In eighth place... Elizabeth Banks
Katie Ledecky medaled in all five of her events, including golds in her 200m, 400m, and 800m individual freestyle races. Elizabeth Banks is a Hunger Games co-star, the director of Pitch Perfect 2, the upcoming villainess in the Power Rangers reboot, and one of the hardest-working women in show business. Together, they're a publicist's dream. 
In seventh place... Adriana Lima
When the Brazilian supermodel wasn't Instagramming from Olympic sporting events, Instragramming in front of Rio landmarks, or Instagramming selfies with ripped athletes, she was lounging (and Instagramming) in the fanciest Airbnb in town. Grandeur doesn't make her 2016's winner, but this is clearly how one does the Olympics in style (and on Instagram). Above we see her practicing the Brazilian supermodel version of downhill skiing.
In sixth place... Samuel L. Jackson
Jackson was all over Twitter during the swimming events last week, delivering the one-two punch of observation and exclamation points that we could absolutely hear coming out of his mouth. We're not 100% certain what "Glamour Event Glamour by The Glamour Squad!!! Go USA!!!" even means, but knowing Jackson sat at home typing it out on his iPhone brings us joy. If it wasn't for stiff competition, and eventually petering out in the second half of the race (after the swimming races, Jackson hung up his Olympics hat), he could have gone all the way.
In fifth place... Katy Perry
The singer's single "Rise" launched NBC's Rio 2016 coverage and a hype-machine that will continue blaring until a new album surfaces later this year. In true Olympian fashion, Perry not only scored with the song, but obliterated some competition in the process. An easily interpreted blind item suggests that "Rise" beat out a track by Taylor Swift for the high-profile opportunity. There goes any chance of Team USA's gymnasts joining The Squad.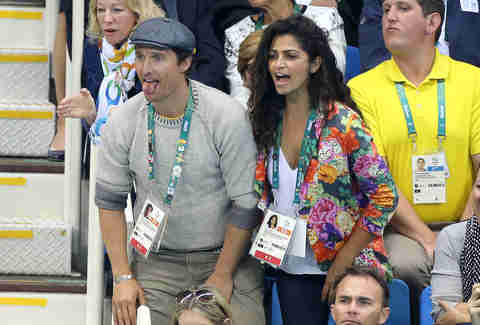 In fourth place... Matthew McConaughey
The True Detective star and his Brazilian wife Camila Alves flew down to Rio for the Olympics and had the time of their lives. ​​​​​"I was there for one week and it feels like I saw enough to be there for a month," McConaughey told ET. "My wife and I jammed in as much as we could. From the beach, Copa Cabana, back to the Olympic Village, and back again 10 times." We know this isn't Ryan Lochte malarkey because cameras were around to capture McConaughey's every move. Who needs an LSD vision of a mascot when you have an A-list actor acting like a human vuvuzela?
In third place... Gisele Bündchen
The Rio Olympics were Gisele's for the taking. The Brazil native parted the Opening Ceremony like Moses at the Red Sea. No, the bossa nova jazz standard "The Girl from Ipanema" was not written for Gisele. She just wears it well. "It was amazing to see her out there and do that. It was the best part of the Olympics for me," her non-Olympian husband Tom Brady told the New York Post. He's definitely telling the truth this time.
In second place... Zac Efron
The actor and newly anointed internet saint slipped into this competition in July, when he tweeted supportive emojis at gymnast Simone Biles during the Olympic Trials. "OH MY GOSH I THINK I AM GOING TO PASS OUT OH MY GOSH CRYING! THANK YOU," replied Biles, reminding us that Olympians are 19-year-olds, too. The two would trade tweets in the weeks to come, with Efron eventually ditching a TV shoot in Japan to visit Biles in Rio -- the ultimate Hollywood sacrifice. Their Twitter moment was sweet and adorable and we could all do better in life if we acted a little more like Zac Efron. OK? There, we said it. 
In first place... Leslie Jones
2016 will not witness a better underdog story than the last three weeks in the Saturday Night Live star's life. After a wave of disgruntled Ghostbusters fans drove Jones off Twitter, the comedian returned in full force to cover the living shit out of the Olympics. Jones' passionate, expletive-filled video commentary wowed her followers and impressed the bosses at NBC. Ryan Seacrest wasn't cutting it. The suits needed Jones. We all did. By the end of week one, she was down in Rio to summon the universal spirit inside our collective heart. "THIS IS GOOD ASS FUCKING GAME, MAN," Jones said of the Brazilian volleyball players. "THESE LADIES ARE PLAYING BLOOD SWEAT AND SAND LIKE A MOTHERFUCKER." So did you, Leslie Jones. So did you.
Sign up here for our daily Thrillist email, and get your fix of the best in food/drink/fun.