'Mamma Mia! Here We Go Again' Killed Off a Main Character, But It's for the Best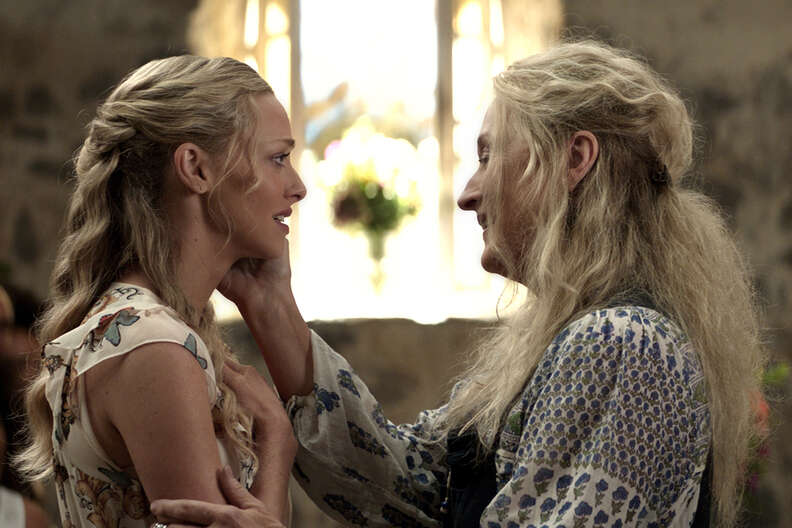 Universal Pictures
Universal Pictures
Mamma Mia! -- the 2008 movie based on the Broadway production -- didn't exactly necessitate a sequel. Sure, it was a big hit, and Hollywood isn't one to leave repeat money on the table. But the story that made up the jukebox musical was pretty thin to begin with, and the first film covered most of ABBA's hits. What's left for a substantial follow-up?
Well, I'm happy to report that Mamma Mia! Here We Go Again is utterly delightful, a little deranged, and an actual improvement on its predecessor. How on Earth did this happen? Well, the creative team killed off Meryl Streep.
I know. Blasphemous. But true.
You could have guessed as much from the trailer, but I'm here to confirm it. Despite the fact that Streep appears prominently in the marketing materials, shortly after the movie opens we discover that her irrepressibly energetic, overall-loving Donna Sheridan has passed away. Donna's romantic exploits were at the center of the original film, in which her daughter Sophie (Amanda Seyfried) attempts to hunt down her parentage to the beat of Swedish pop on the eve of her marriage.
You see, during one wild European summer, Donna had sex with three different men in a short time frame, leaving open the question of just which hunk is the dad. In the original flick, Sophie goes ahead and invites all of those dudes to her wedding and in the end nothing is resolved, except for the fact that Donna gets back together with Sam (Pierce Brosnan, trying his best when it comes to the whole singing thing).
Now, Donna is dead, and Sophie has refurbished the hotel on the tiny Greek island her mom so dearly loved. Everyone is very sad that Donna is gone -- including Sam who's still hanging around, and Donna's pals Tanya (Christine Baranski) and Rosie (Julie Walters), a.k.a. the Dynamos. There are some tears shed, but life goes on.
That's because writer-director Ol Parker keeps things lively even with mourning in the background. He's well-primed to do so: Parker is best known for writing the Best Exotic Marigold Hotel movies, both of which let mortality hang over their heartwarming antics. Here, he also gets an assist on the story from Richard Curtis, the rom-com genius behind Notting Hill and Love Actually, who is as adept at making people sob as he is at making them swoon.
So action cuts back and forth between the past and the present as Downton Abbey's Lily James assumes Donna's adventurous persona for extended flashbacks, turning the affair into a hybridized prequel. As Sophie preps the opening festivities -- and frets over her relationship with her fiancee Sky (Dominic Cooper), who has a big job offer off the island -- young Donna is meeting hot men and starting mischief. The moments in the past don't offer any further explanation as to who Sophie's dad is -- or why Donna wasn't using any protection in the late '70s, for that matter -- but they are nonetheless cheery, romantic, and not at all slut-shame-y.
A particular winner is the "Waterloo" sequence staged in a French restaurant where Harry (Hugh Skinner taking on Colin Firth's youthful counterpart) convinces Donna to spend the night with him. (And, in turn, take his virginity.) There's a chorus of dancing waiters in Napoleonic garb! Later, Donna frees a horse. This detail is neither here nor there, but I think it's worth mentioning.
Indeed, the initial Mamma Mia! did use up a bunch of ABBA's more recognizable tunes in its narrative, which means you'll find a lot of the group's deeper cuts here, like the truly bizarre "When I Kissed The Teacher." There are some reprises of classics, however, because what would this enterprise be without the title song and "Dancing Queen," after all?
Back in the 21st Century, Andy Garcia -- a heartthrob earlier this year in Book Club -- smolders as the prophetic and mysterious Fernando Cienfuegos, and Cher arrives in the last act to, well, be Cher in all her regal fabulousness. Does it matter that she's inexplicably playing Donna's mother? Nope. During the screening I attended, she got entrance applause. She deserved it.
It feels weird to say, but you don't even miss Streep. In Mamma Mia! it was hard to shake that she was playing dress up, taking a break from getting nominated for Oscars, and everyone else was just along for the ride. By removing her from the equation, the goofiness feels more genuine.
But -- spoiler alert -- she's not entirely gone. The greatest actress of her generation is also basically the real life version of Kristen Wiig's "don't make me sing" Saturday Night Live character. She will take every opportunity she has to belt out a number, and she did film new material, even with Donna shuffling off this mortal coil. It all takes Mamma Mia! Here We Go Again into giddy, surreal territory for its big finale, which is this franchise's sweet spot. Even just a dollop of Streep goes a long way.
Sign up here for our daily Thrillist email and subscribe here for our YouTube channel to get your fix of the best in food/drink/fun.