Netflix's Controversial 'Messiah' Imagines the Second Coming of a Guy Who Might Be Jesus
What if Jesus Christ returned to Earth today? Would he unite the masses, or cause mass chaos the world over? It's a loaded question, to be sure. We can all probably speculate over the ways in which a modern-day messiah would be treated in an age of social media, fake news, and cancel culture galore, but why bother when Netflix is doing it for us?
Messiah is the series we're referring to. The project hails from series creator Michael Petroni (The Book Thief) and producing power couple Mark Burnett and Roma Downey (The Bible, AD: The Bible Continues). The Netflix thriller, which is already racking up a fair share of controversy -- which is what happens, we guess, when you mix Judaism, Islam and Christianity together, and throw in a brown-skinned Messiah, or antichrist, for good measure -- centers on CIA agent Eva Geller (Michelle Monaghan), who finds herself in the middle of a growing mystery surrounding a possible religious figure connected to some unexplained events in the Middle East.
The public gives him a name: Al-Masih (Mehdi Dehbi), which translates to "Messiah" in Arabic. Is he the actual son of God, or a terrorist intent on unleashing anarchy across the globe? That's the plotline guiding the audience through each of the 10 episodes that drop on Netflix New Year's Day. Instead of providing any real factual evidence that identifies him as either the Messiah or an epic con man, the story unfolds in multiple thought-provoking layers to explore humanity's intrinsic need for connection, and the extreme polarization that can come from isolation.
"What I really find interesting about this story is that all the characters are searching for something," Monaghan told Thrillist during a private Netflix event promoting the series. "Eva's searching for the truth; some people are searching for actual, physical freedom, you know? What he does, as I see it, is he acts as a mirror to your psyche. Everybody's looking outwardly at him to be the savior of swords when in reality he's throwing everything back at you."
She's not wrong. Throughout the first season, we're introduced to a number of characters, all products of their own form of isolation; all of them, in need of connection. On the surface, Eva may come off as an overly dedicated government officer, but a glimpse into her backstory gives us a clearer understanding of what's driving her: the lingering grief over her dead husband, and the multiple miscarriages she's had since he passed.
Eva has a think.

| Ursula Coyote/Netflix
Deep pain usually has a direct link to how anyone sees the world. Eva's response to this stimulus is to dive deep into her work -- which ends up taking her to Israel. But instead of tracking down Al-Masih, she comes face-to-face with an Israeli intelligence officer named Avrim (Tomer Sisley) who is also after the mystery man, but for different reasons.
In the opening episode, Al-Masih leads a group of Syrian refugees through the desert to the Israel/Palestine border. Of course, this is viewed as an act of provocation and Israel sends Avrim to track down the group's leader, who gets taken into custody.
You could view Avrim as Israel's Jack Bauer, and you wouldn't be wrong. He interrogates suspects in undisclosed locations, using bits of jagged detritus to extract the intel he seeks. He's tortured by these actions, including the vengeful murder of a young boy, who he put down simply due to the fact that the kid's father was a terrorist who attacked Avrim's childhood village, killing both his mother and brother.
This is his tragic backstory and he deals with it daily through copious amounts of alcohol and violence. But when Avrim meets Al-Masih, he's faced with an eerily calm man who seems to have all the answers. And when his confident prisoner inexplicably escapes custody, this peculiar Messiah figure becomes Avrim's "white whale," as well.
Eva and Avrim are linked through their skepticism and self-imposed isolated lives. They both continue to wear their wedding rings even though their domestic lives have perished. While the investigation into Al-Masih's real identity continues episode-by-episode, Messiah blossoms into a series that's engaging enough. Heck, sometimes it feels like a slow-burn Homeland… where Jesus is a methodical insurgent.
Avrim also has a think.

| Hiba Judeh/Netflix
Sandwiched between these two skeptics is a Texas preacher named Felix Iguero (John Ortiz). When a tornado threatens his small town, Felix and his family witness what they believe to be Al-Masih facing down the destructive storm, undeterred. Once it passes, Felix's church is the only building left standing, leading the man to re-embrace his faith in God and pledge his undying support to Al-Masih.
It's in this American plotline where the religious mob mentality really meshes with social media. Multiple videos of the mystery man go viral, leading to further news coverage, catapulting Felix into the spotlight. There's a stereotype surrounding the Evangelical community and the wealth and privilege that can come with running a successful megachurch. When the Texas preacher gains this sort of instant celebrity, he's put in a moral pickle where he has to choose between faith and money -- which is depicted pretty well in his troubled relationship with his father-in-law, superstar minister Edmund DeGuilles (Beau Bridges).
All of these storylines find each member of the show's ensemble cast going through a journey of sorts, and this is where Messiah shines. The narratives are interwoven pretty seamlessly, whether it's Felix's family leading their holy caravan across the country to Washington DC or the tragic unfolding of the Palestinian friendship of refugees Jibril (Sayyid El Alami) and Samir (Farès Landoulsi) -- one chooses the path of harmony, while the other follows a strict, and bloody, mode of conduct. 
Monaghan and Sisley work well opposite each other, bringing some brooding sexual chemistry to the show. The inclusion of the program's global cast gives us loads of dialogue spoken in Hebrew, Arabic, and English. According to Monaghan, the production traveled to places like Jordan and Iman, instead of relying on green screens on a Hollywood backlot. And while we did mention terrorist-hunter Jack Bauer above, the Netflix series does a great job of presenting a relatable Middle Eastern way of life.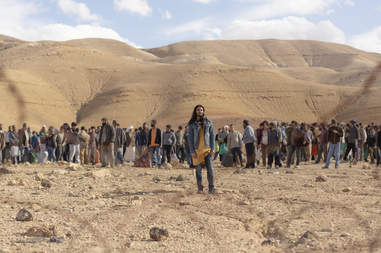 Hiba Judeh/Netflix
But, of course, when religion and isolation are thrown together, extremism is eventually born. The show doesn't shy away from that. The positive and negative implications -- and inevitable reactions, whether awestruck or violent -- that can come with the introduction of a possible second coming of Jesus to the mix is profound and predictable.
Al-Masih and his holy caravan eventually make it to the nation's capital. It's here where the show falters a bit, introducing Dermot Mulroney as the President of the United States. His inclusion in the story seems rushed, and maybe not even necessary, as all of his scenes feel like they could've been knocked out in a day.
There's a moment where Al-Masih gets a bag put over his head and is kidnapped, only to find himself in a secret location with the president, you know, so they can have an off-the-record chat. A plot point like this probably would have worked on the small screen a decade ago. Now, however, it feels a bit ham-fisted. That's maybe what's to be expected when a TV show brings the whole "what if Jesus Christ came back" scenario to today's fickle audiences.
Spoiler warning for the paragraphs below.
The season's final moments present Al-Masih as a sham, revealing his true Iranian identity to the world. An orphaned boy, taken in my his con-man, magician uncle, this new information shocks the world. Felix's newfound purpose comes crumbling down around him and his family; Eva's investigation stops dead in its tracks, leading her to face her own dreary existence. But on the other side of the world, Al-Masih is presented in a holy, sun-lit, Jesus Christ-y filter. It's here where, after a secret deal made with The White House and the Israeli government, the plane carrying Avrim and his Messiah prisoner crashed. According to a random boy who found his body, the Israeli Intelligence officer was dead, only to be resurrected by Al-Masih.
That brings us right back to the start: Is this man the second coming of Jesus, a criminal, or is he something else altogether? For the love of all things holy, if the show gets another season, there better be an answer or two waiting for us on the other side.
Need help finding something to watch? Sign up here for our weekly Streamail newsletter to get streaming recommendations delivered straight to your inbox.