Michael Jordan Laughing in 'The Last Dance' Is a New Meme
A perfect companion to 'Crying Jordan.'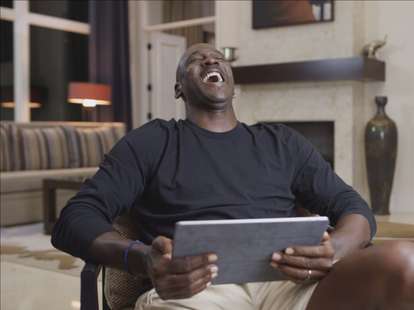 Twitter/@jasonmheihr
Twitter/@jasonmheihr
Michael Jordan is the greatest basketball player of all time, a fierce competitor, and a very memeable man. You've probably seen the meme of Jordan crying, a screenshot taken from his 2009 Basketball Hall of Fame induction speech. Now, there's a new companion meme: Michael Jordan laughing.
Let's be real, we expected some good Jordan reaction shots to come out of The Last Dance, ESPN's 10-part epic documentary series about Jordan and the Chicago Bulls' road to a sixth championship during the '97-'98 season. And indeed, the footage director Jim Hehir captured was better than we could have ever imagined.
There are plenty of great MJ moments throughout the series, but the best to date, with two episodes of the documentary still yet to air, comes when Hehir hands Jordan an iPad featuring a clip of Gary Payton talking about going head-to-head with Jordan during the 1996 finals between the Bulls and the Seattle Supersonics. The Bulls had swept the first three games of the series, but then Payton started guarding Jordan and the Sonics took two games back. Recounting the matchup, Payton tells Hehir how he refused to back down to Jordan like so many others did, and instead tried to tire him out. But then Hehir cuts away from Payton's interview to show Jordan watching that same footage. Jordan looks at the device in disbelief, and then busts out laughing. And thus, a meme was born.
The best part of the clip might not even be Jordan's laugh, but his complete deadpan response after handing the iPad back to Hehir. "The Glove," he says, using Payton's nickname. "I had no problem with The Glove. I had no problem with Gary Payton. I had a lot of other things on my mind." Those "other things" are a reference to the tragic murder of his father in 1993.
Showing Jordan other people's commentary while on camera was part of Hehir's (arguably brilliant) strategy to get honest answers out of the guarded superstar. "I expected him to defer to a poker face. And to maybe say, off-camera, 'Hey, you know, I wanted to laugh out loud when I saw Gary Payton saying that,'" Hehir told Vanity Fair when talking about the Payton moment. "But for him to be so candid and so unguarded and so honest in those moments — I mean, if you listen in the mix, you can hear the camera crew laughing, because part of it is just the humor of watching him respond the way he responds. And part of it is the pure joy of seeing that this is going to be documentary gold." In context, it's also a brilliant coda to an episode that emphasizes how Jordan's singular focus on winning led him to antagonize both opponents and his own teammates. Out of context, it makes for another excellent meme.
It's also not the only meme to come out of the series so far. The iPad led to another viral moment when Jordan looked skeptically at Isaiah Thomas' comments, and then there's Dennis Rodman explaining his defensive strategy in a manner that could be applied to myriad funny things.
Still, right now it's MJ's head-tossing laugh that's getting us through the beginning of this week.
Need help finding something to watch? Sign up here for our weekly Streamail newsletter to get streaming recommendations delivered straight to your inbox.