Liz Phair and Tyler Perry: Michael R. Jackson Explains the Inspiration for 'A Strange Loop'
The Pulitzer Prize-winning creator of the Tony-nominated musical talks with Thrillist about his influences.
Design by Chineme Elobuike for Thrillist
Design by Chineme Elobuike for Thrillist
The 2020 Pulitzer Prize-winning Broadway musical A Strange Loop—now nominated for 11 Tonys, including Best Musical—makes many of its influences clear over the course of its exhilarating 90 minutes on stage. Written by Michael R. Jackson, which he started as a monologue shortly after finishing his undergraduate degree at NYU's Tisch School of the Arts, it's the story of a Broadway usher, not unlike Jackson once was, named Usher who is in the process of writing his own musical called, of course, A Strange Loop, which aims to be a "Big Black Queer Ass American Broadway Show."
A Strange Loop is a meta miracle. Usher is barraged by a chorus of his Thoughts, who badger him about the writing process, as well as his body and sexual experiences. Over the course of the production, the actors playing the Thoughts transform into Usher's parents and figures, ranging from James Baldwin to Whitney Houston. But if there's one person referenced more than any other, it's Liz Phair, patron saint of '90s rock girls, who is Usher's "inner white girl." Thrillist hopped on Zoom with Jackson to discuss Phair and the other influences that drove A Strange Loop, including Tyler Perry and Jem and the Holograms.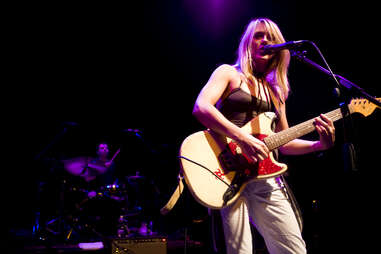 Liz Phair
Rocker Liz Phair is central to A Strange Loop. When asked, in the show, where the title comes from, Usher explains that it comes from a theory by Douglas Hofstader and it's the name of a Liz Phair song he loves. Initially, Jackson wanted to use her music in the piece, and later wrote songs where his music matches up against hers.
When I began working on the piece, it was just a monologue that I wrote right after I graduated from undergrad, and I think that was the time when I really had discovered Liz Phair through her self-titled album. I walked into Tower Records, may he rest in peace, and that album had just come out, and I bought it. I was like, "Oh, this doesn't sound like what I've always heard about this person." But I liked it enough that I listened to it, even though it got trashed by everybody.
I said, "Well, let me go look at the other albums." Then I went and bought Exile in Guyville, and I was like, "This album is incredible. I can't believe that the same person has both of these things that I like in very different ways." I became very obsessed with her. I bought Whip-Smart, Whitechocolatespaceegg, I went on eBay and found Girly-Sound, and I just was so into her songwriting style, and the humor. She really has a way with words. There's a poetry to it that's just so striking and beautiful, in addition to just doing what I call character work. The characters of herself or whomever in her songs were just so interesting and intricate.
I would just walk around New York because I was miserable, and her songs were a good friend to have for misery. When I started writing the monologue, part of it was kind of trying to emulate her, that stream-of-consciousness style and speaking baldly with no filter. In the original monologue, there's a line right at the end of it where [the character I called Darryl] was talking to himself and he says, "Come on, Darryl. Just think about someday all the time. Think about Liz Phair and what her journey was like out of the underground indie rock scene in Chicago into so much fame and other bullshit that she eventually had to quote-unquote sell out." That monologue was very inspired by her and my idea of her at the time, and her music and everything.
But then there's also Tori Amos, who's like my origin, inner white girl. With somebody who, similarly but even in a sort of rawer way, just would lay everything bare. She hates the word confessional, but yeah. Given that she has comes from a religious background, in some ways that feels appropriate. Just going to the altar and letting it all out.
In Trousers by William Finn
William Finn may be a deep cut for those who aren't musical theater aficionados, but it makes sense that Jackson would gravitate toward his idiosyncratic work. In Trousers is the first in a trilogy of musicals that would later yield the Broadway production Falsettos.
In Trousers by Bill Finn, who was also my teacher at NYU. I loved that show—well, I never saw the show, but the original cast album, I just loved it. Bill was so honest and funny and off-kilter about how he would talk about his thinly veiled personal experience through [the protagonist] Marvin. I really related to that. I think he saw a kind of kindred spirit in me as a student, and he really encouraged me to let my freak flag fly and to just go out on a limb and do what I was doing in terms of writing from personal experience.
Company and A Chorus Line
A Strange Loop feels like nothing ever seen on Broadway before, and it owes to other shows that were similarly groundbreaking when they premiered.
After doing the one-man show version at Ars Nova, I came away from that very firmly like, "I don't want to be in this musical. This is not a cabaret act. I want it to be a proper musical, albeit a probably unconventional one." That was probably going to be in the vein of what used to be called a concept musical like Company or A Chorus Line or something like that. I figured [the characters] kind of existed in that kind of format—these beings were just good and crazy people, married friends or people auditioning, you know? They were just an all-purpose ensemble that really helped the main character understand his journey.
Then once we got close to Playwright's Horizons, something that I do as part of my process with everything is that I read my scripts over and over and over and over again to see if something jumps out at me. I'm trying to get my subconscious to see something that I missed or that I hadn't been thinking about. And in doing that, I suddenly was like, "The opening number's not right." It was fine as what it had been, but I was like, "It's not doing what it really, really needs to do." I did a 99% lyrical rewrite of it. It also became important because that was part of like, what is this event? And what is Usher trying to create in his mind, and what is that? The thing he's trying to create in his mind is also a thing that has to do with his life, and the lines between art and real life are very blurry. That was all born in that rewrite.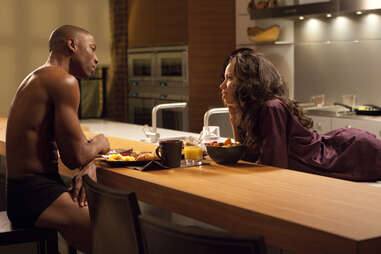 Temptation: Confessions of a Marriage Counselor
Tyler Perry's name is uttered a lot throughout A Strange Loop. Usher's agent calls him suggesting he write a gospel play for the multi-hyphenate entrepreneur, much to the delight of Usher's mother. One song in the show is even titled "Tyler Perry Writes Real Life." Jackson would see all of Perry's films, but it was Temptation: Confessions of a Marriage Counselor that really provoked some of the elements of A Strange Loop.
In my own life, my agent at the time had approached me about submitting to write for one of [Tyler Perry's] TV shows. And I was like, absolutely not. It had nothing to do with me being snooty and above it all, but I literally, just on a straight-up writing level, I did not understand how one writes in his voice or in the world of what he did. I just did not get it. I mean, there were things about it that reminded me of growing up in Black churches and stuff, and seeing Black history programs and Easter programs and Christmas programs and stuff. But I still didn't know how to write like that, in my mind. So I turned that down.
Then this became this storyline in A Strange Loop about Usher's agent suggesting that he ghostwrites a Tyler Perry-style gospel play and he pooh-poohs it, but his mother and father really wanted him to do that. That existed on a very satirical level for a while. Then in 2013, I went and saw Confessions of a Marriage Counselor, the film with Jurnee Smollett, Kim Kardashian, Vanessa Williams, Brandy, and others. Basically, these two women, Brandy and Jurnee Smollett, get HIV from this billionaire devil man. I was so upset about the way that he wrote that because it was very clearly God's punishment for them not obeying whatever. In the theater, this woman in front of me goes, "Yep, that's what she gets." The whole thing just really fucked me up. I was so mad about it because it reminded me of things that I'd heard growing up and in churches, and from hearing other gay men's stories. Thinking about Black folks in general, and how HIV/AIDS has had such a devastating impact on us, and watching this movie where there's this really irresponsible, poorly written message about HIV/AIDS—I was just like, "I have to address this in some way."
Right after that, I found out that a very close friend of mine, who I'd gone to grad school with, was HIV positive and that it had progressed to AIDS because he had spent like 10 years not attending to his health. He also had a lot of that ideology inside of him from his childhood. It was a complex mix of things.
All of that was stewing inside of this thing. I also knew at a certain point in the story that, once I planted the seed that people were asking Usher to write this gospel play, that he was going to have to deliver on it. But I think I thought it was just going to be just a satirical thing, but then suddenly it hit home even deeper with my friend because he passed away and he was supposed to work on the show as an orchestrator. The loop got loopier, and I had to address that. And that all came from this initial funny little Tyler Perry thing.
The Lion King and Jem and the Holograms
Usher is working as an usher for a Disney musical that is very clearly The Lion King, like Jackson once did, when A Strange Loop begins. Jackson refers to that musical in other ways throughout the show, including naming Usher's family members after Lion King characters, a way to keep a distance from his real life.
I ushered at Lion King for many years. I was always standing in the back of the theater, watching the patrons watch the show. I think if you would've asked me five years ago, do I like The Lion King? I'd have said, "No, I hate it." But I don't think I hated it, I just hated working there. I didn't want to be an usher. I wanted to be a writer.
That being said, there are things about the show that bug me, but there are also things that I think are good. Then, there's me watching the audience respond to the entertainment value of it, and I think I have absorbed over time the idea that the entertainment value of shows is actually quite important. When it came time to write the opening number, I was like, "Even though I'm doing something totally different, the assignment is still to entertain the audience and try to dazzle them."
When I was writing the characters of Usher's parents, it made sense to me, given how they talk about his sexuality and his career and all this stuff, they would essentially be cartoon characters. Even if the cartoon characters sometimes seemed real because I believe that even cartoons have integrity, you know? Even in the final family scene, it's a very serious scene, but it's like a very special episode of a cartoon.
There was this one episode of Jem and the Holograms I remember because I watched it not that long ago—I saw it as a kid, but then I bought the box set during the pandemic—where a random Starlight girl that's not a regular gets addicted to drugs, to pills or something. And Jerrica sends her to a rehab. It was so hilarious because the people who would do the voices for the kids were adults, but they would put on these kid voices. There's this one scene where they're all going around the circle saying, "My name's so and so, and I'm an alcoholic." And one of them goes,"I don't really have a problem. I'm just here." And another one goes, "Why don't you cut the crap? You're addicted to drugs." It's so funny because it's clearly an adult voicing the character.