'Midnight Mass' Is Creator Mike Flanagan's Most Vulnerable Work, 11 Years in the Making
Netflix's highly anticipated horror series also happens to be Mike Flanagan's way of exorcising his own demons.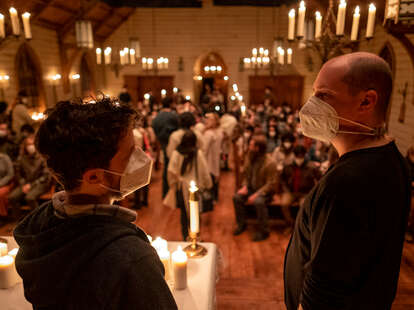 Michael Fimognari and Mike Flanagan shooting 'Midnight Mass.'

| Netflix
Michael Fimognari and Mike Flanagan shooting 'Midnight Mass.'

| Netflix
"It is certainly the most personal of the projects for me, as it deals with a lot of what I think about faith and religion and what it means to be alive in the world," says Mike Flanagan, the writer, director, creator, and executive producer of Netflix's highly anticipated horror series Midnight Mass. The series, follows Riley (Zach Gilford), a disgraced young man returning home to the disenfranchised island community of Crocket Island as he tries to pick up the pieces only to be confronted by a mysterious preacher named Father Paul (Hamish Linklater), who galvanizes the town after miraculous events begin to transpire.
Some recognizable faces from Flanagan's previous work bring their best here: Kate Siegel, Henry Thomas, Rahul Kohli, Samantha Sloyan, Annabeth Gish, Robert Longstreet, and Michael Trucco, to name a handful. These are just a smattering of the talent featured in the ensemble who, through their deep character and story work, really helps to bring the story world to life.
The series sets out to explore topics like faith, zealotry, addiction, and recovery. As with The Haunting of Hill House, Doctor Sleep, and Bly Manor, Flanagan continues to ask what he calls "the big important questions."
"Why are we here?" he asked in a roundtable attended by Thrillist. "What's the point of being alive? What happens when we die? Where do the people we love go when they're gone?" We've seen him ask these questions in all of his work, in some form or another. But Midnight Mass unsheathes the sword, so to speak, and plunges deep into a vulnerability for the writer-director we've never seen before. Part of the reason for that is his acknowledgment of his struggles with alcohol addiction and his three-year-long sobriety.
"I think it was born of a deep anxiety I had before I had admitted that I had a drinking problem and found sobriety," Flanagan admitted, pointing out he'd been working on Midnight Mass since 2010 before his self-funded indie hit Absentia hit the festival circuit and before his first big studio outing Oculus went into production. "I see cries of that throughout a lot of my past work, but this is the oldest. And it's so embedded into it."
His journey to recovery helped to fill out this story world, even more, adding an unexpected sense of specificity to his own life and a cathartic journey that allowed Mike to put some long-gestating personal demons to bed. As personal as the experience making Midnight Mass was for Flanagan (whose childhood was firmly rooted in the Catholic Church), it'll surely be a religious experience for viewers—even if the religion you practice is the not-practicing kind.
Midnight Mass is more than just a writer coming to terms with his issues with Catholicism and alcohol addiction, it's a deep-seated interrogation about the inner workings of present-day society, the mechanics of ideology, the corruption that can grow right under the surface, and the evils that men and women may do under the influence of certain concepts they believe to be true.
"It's the full Flanagan," longtime producing partner Trevor Macy said. And when you consider the fact that he'd been working on the story since 2010, it sort of makes sense. All the other projects on Flanagan's growing list of prestige horror titles tend to ask these important existential questions. This is the first. Welcome to the source.
Overall, Midnight Mass is a biblical horror story that's deeply rooted in Catholicism. Flanagan has been vocal about his childhood work as an altar boy, and the conflicted relationship he now has with religion. That said, he's extremely knowledgeable about faith, can quote the Bible front-to-back, and acknowledges the clear connection between the Good Book's "blood-soaked text" and the horror genre.
"I think what has actually happened is that a lot of horror literature has just liberally borrowed from a number of scriptures in ancient mythologies," he said. "This isn't unique to the Christian Bible at all. In fact, a lot of the older religions, the further back in history you go, the bloodier it is and the more horrific. I think it's because the reason we need horror, and the reason we're all attracted to religion, at various times in our lives, comes from the same issue, which is our fear of the natural world."
When horror and religion cross paths, public outrage is not that far behind. It's just the nature of how things tend to work. And Flanagan is completely prepared for the backlash. Midnight Mass is not an attack on the Catholic Church or any other religion for that matter. And that's an important detail to highlight. In fact, according to the show creator, Midnight Mass is a celebration of it.
"We were very careful to make sure that this show has an open invitation to people of any belief system," Flanagan continued. "And that it celebrates our capacity for belief and our capacity for faith. If anything, it warns us against the kind of people and the kind of forces that would take advantage of us."