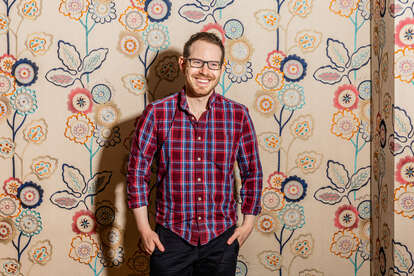 Drew Swantak/Thrillist
Drew Swantak/Thrillist
Ari Aster, Director of This Summer's Nightmarish 'Midsommar,' Swears He's Not a Sadist
Ari Aster is uncomfortable. It's two days after his latest film Midsommar, out on July 3, screened for critics, but only a day after he put the final touches on his upsetting, weirdly funny spin on folk horror. Aster agreed to a photoshoot with Thrillist, but he's not at ease in front of the camera at all. He seems utterly miserable, and says as much. For a moment, it feels like payback.
Over the course of two feature films, the 32-year-old Aster has redefined what it means to make audiences squirm in their seats. About 30 minutes into Hereditary, a young woman, in a state of anaphylactic shock, is decapitated when she sticks her head out the window of a swerving car to gasp for air. Even sooner into Midsommar, Aster reveals the terrible fate that befalls the parents and sister of his heroine Dani (Florence Pugh), crafting an image that will probably never leave my mind.
As we sit on couches after the shoot, more relaxed, in New York's Crosby Street Hotel, Aster promises that it's not a sadistic impulse -- his term. "I guess what drives me to do that, film after film and script after script -- there are a lot of other scripts that go kind of in that direction -- is probably as simple as I'm a neurotic guy, and I have a lot of fears, and I'm hypochondriacal. If anything, it's I can unburden myself of something by inflicting it on these imaginary people. I found that a lot of my most present fears become secondary, or they lose power, at the end of these movies. That's a dangerous thing that I'm learning, because it just encourages me to do it more often." He continues: "It's not me taking pleasure in torturing people. But, you know, life is suffering. And I want to honor the pain of the people in my films."
I push the matter further and he admits that the writing process isn't entirely grim or anxiety ridden. "There's a mischievous side of me that enjoys like, you know, fashioning worst-case scenarios," he says.
It's here where I should mention that Aster -- despite his tendency to go to the most disturbing places possible -- is soft-spoken and personable. The story of his ascension as a filmmaker was codified during the press tour for Hereditary last year; reporters were eager to get to the root of the man who made what had just been hailed as one of the scariest movies of all time. A New York City native, he graduated from the College of Santa Fe before getting his MFA at the American Film Institute Conservatory, which counts David Lynch and Terrence Malick as alumni. It's there he made The Strange Thing About The Johnsons, a controversial short about a son sexually abusing his father that would become his fucked-up calling card.
He wrote Midsommar about four years ago, long before Hereditary would become a Sundance sensation and the biggest worldwide box office hit ever for its distributor A24. He was going through a breakup when production company B-Reel approached him with a general folk horror concept about a group of Americans going to Sweden. The idea didn't appeal to him until he found a way to merge it with his own experience, he explained at a Q&A following the debut showing at the Alamo Drafthouse. "I think I probably have the tendency to slide into codependency on my own," he tells me.
At the start of Midsommar, Christian (Jack Reynor) is on the verge of breaking up with Dani after four years of dating when she gets the aforementioned horrific news about her family. Despite their stalled inertia, they stay together out of obligation. Months later, she's taken aback when Christian's friends reveal their solidified plans to head to rural Sweden for the summer to visit the homeland of their pal Pelle (Vilhelm Blomgren) for the summer solstice festivities, when the sun is up for most of the day. Christian reluctantly invites Dani for their flight taking off two weeks later, and they're off to a land of minimal darkness but lasting terrors. While there are intricately choreographed pagan rituals and many gruesome deaths, Midsommar is most incisive as a head-spinning recreation of the experience of a slow and painful breakup.
Aster says he identifies with Dani -- he was the Dani in his relationship -- but knows he has the capacity to be Christian. "Especially if you're in a long-term relationship, it's very hard to get out," he says. "Even if both parties can see very clearly, 'We are not made for each other, we're only hurting each other.' And the more you do that, that's where people become bad guys, right? And I'm not talking about, like, objective bad guys. I'm talking about bad guys in the eyes of the other person. It's that saying: 'If you're going to kill it, kill it with a sword,' right? It's almost impossible to kill it with a sword, especially when the bond is really strong. Even if it's soured to the point of just being ugly and unhealthy. It's your life." Dani doesn't have access to a sword, but she does have fire.
The day after Hereditary opened in the U.S. last June, Aster was in Hungary starting to build an entire village from scratch. It was, predictably, a stressful situation. "There was no break whatsoever between Hereditary and Midsommar. I was thrust into a very, very intense, uncomfortable pre-production situation," he says.
By all accounts, Midsommar was a difficult shoot given the logistics and the material. Aster had to replace his first assistant director within the first week of filming. They were shooting in 100-degree heat, and dealing with language barriers between the English-, Swedish-, and Hungarian-speaking crew members. The film is choreographed so as there is action happening in nearly every corner of every frame. "When you consider how intricate and specific the execution of this film has to be, given its really refined cinematography, the blocking of all these actors and supporting artists, every element of it is just monumental," actor Jack Reynor says. "With that, it was just really tough to shoot." On top of that, it's emotionally taxing work. Reynor's Christian suffers a sustained sequence of physical and mental humiliation. He tells me he had to be incredibly vigilant about his own mental health. "We weren't going out drinking after work," he says.
From a performance standpoint, both Reynor and Will Poulter, who plays Christian's dense friend Mark, say that Aster was a hands-off director, trusting the actors to figure out the emotional profiles of their characters, but describe him almost as a puzzle master fitting together all the moving parts. "He's an auteur and he's got so much to manage," Reynor says. "He was endeavoring to execute such an intricate and monumental thing." Poulter adds: "His sense of detail is amazing, and I just really get off on the opportunity to work with someone who cares that much about every aspect."
Even though Aster went into Midsommar's production having been anointed the next big thing in filmmaking, he says he didn't have much time to think about that kind of pressure. "The making of the film was totally disorienting, because we were just racing through it," he says. "Our days were much shorter than they ever were on Hereditary because we were chasing the sun." It's only recently has he begun thinking about Midsommar in the context of his own career, especially because he says he wasn't really thinking about horror while making it. He said something similar on the press circuit for Hereditary, but acknowledges that he does think of that as an exercise in that genre. Midsommar, not so much, and he knows this might rattle some fans. "For me, this has always been a fairy tale, but I was also aware that this would be pushed as a horror film -- it would have to be," he says. "Only recently did I become aware of like, oh boy, yeah, this film is going up against certain expectations. Like, Hereditary was this scary; is Midsommar going to be scarier?"
For what it's worth, Midsommar doesn't have jump scares in the same way Hereditary does, and it's way funnier in the sense that there are both actual jokes and situations so absurd you are almost forced to laugh. Aster wouldn't go so far as to call it an "overt comedy," though he does want to make those kinds of movies as well. (Reynor says that he and Aster bonded over their shared love of British director Chris Morris, known for his pitch-black humor.)
Still, it's hard to imagine Aster ever really lightening up. Near the beginning of our interview, I ask him about the "euphoric response" to Hereditary. He wants me to repeat the question. "I heard 'euphoric' and I thought you were asking if I was euphoric," he says. "I don't think I've ever been euphoric."