Jack Reynor Really Did Get Naked for That Absolutely Bonkers 'Midsommar' Sex Scene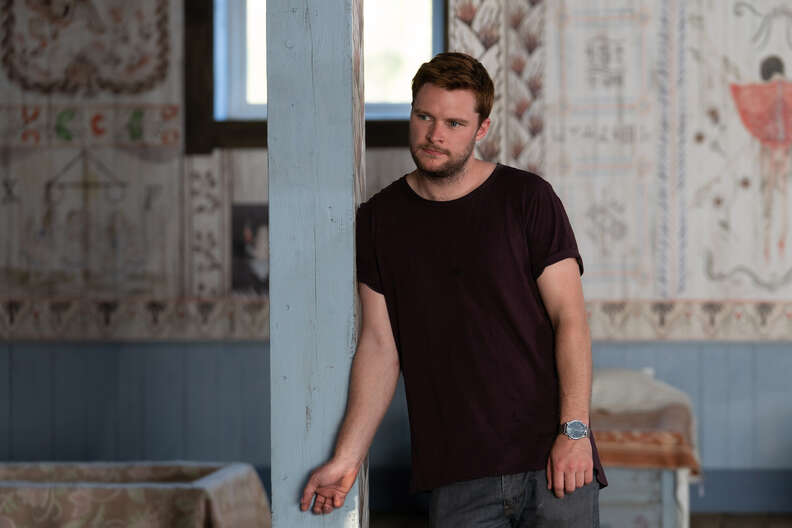 This post contains spoilers for one of most insane, pivotal scenes from Midsommar.
The last 40 minutes of Midsommar are brutal for Jack Reynor's character Christian. Among the things that happen to him: He's drugged, stripped naked, drawn into a mating ritual wherein a woman pushes on his butt while he's having sex, rendered silent and immobile, sewn into a full bear carcass, and chosen to be burned alive by his (ex-)girlfriend.
"I shot it for about two weeks," Reynor tells Thrillist one afternoon in New York City. "Every day, going to work and shooting something that is incredibly humiliating and upsetting personally and thinking about yourself in the context of it and trying to put yourself in the position of it... you know what I mean? It was hardcore. Really hardcore."
While Florence Pugh's Dani is the center of Midsommar, Reynor's Christian, her boyfriend of four years, is right alongside her, a clueless, deadbeat foil. Ari Aster's film charts the brutal dissolution of their already fraying relationship. Yes, many people have had labored uncouplings from long-term relationships; few have had to do it while also dealing with murderous ritualistic ceremonies in rural Sweden. But Christian's fate is not exactly a clear moral triumph. He's a shitty boyfriend to Dani, who has suffered extreme personal trauma, spinning everything that happens to her as an injustice against him. He's a dick, without a doubt, but does that mean he should be sacrificed in a violent cultish rite?
After a New York screening last month, Reynor asked audience members to raise their hands whether they think his character deserved to die. And while I did raise my hand -- mainly to play along with the joke -- talking with him a few days later, it becomes clear just how murky the whole situation is. "He's not emotionally self-aware enough and he's insensitive and he's not a good boyfriend, but he's a prick too," Reynor says. "But also at the end, it's serious: This guy gets burned alive. This is immolation. It's an interesting conversation with an audience."
What further complicates viewers' perceptions of Christian is just how funny the truly bizarre sex scene is. Christian has been aggressively pursued by Maja, one of the young women in Hårga, the Swedish village where all this weirdness is taking place. She even bakes her own pubic hair into a pie as part of a love spell, and carves a love rune to put under Christian's bed while he's sleeping. He's been told they have perfectly aligned astrological charts by the village elders, who have pre-approved their union. By the time Christian is guided into a room to have sex with her, he's tripping on a psychedelic herb infusion and deeply confused. Maja lies on a bed of flowers surrounded by naked older women who chant and rub their breasts as he thrusts. The bewildered look on his face is one of true bafflement at the situation he's found himself in: cheating on his girlfriend in a loud sex ceremony where half the village is involved.
"The sex scene for me was something that I looked at on the page and was like, 'Okay, this is something I have to do because I'm probably not going to get an opportunity to do something like this again in my career,'" Reynor says, explaining that he sees it as a flip on the years of sexual humiliation women have been subject to in the history of film, specifically in horror. His go-to analogy has been Wes Craven's 1972 exploitative revenge film The Last House on the Left wherein he argues "none of the male actors suffer the same kind of humiliation the female actors do."
That's one of the reasons he wanted to appear fully nude. In fact, he was the one who suggested it. "There are so many scenes of sexual violence toward women in films that feature full-frontal nudity that they have to deal with," he says. "I felt that this was an opportunity for that to be turned on its head. I thought it was important for the audience to see this character coming out as vulnerable and as humiliated as possible."
Which isn't to say that it wasn't difficult to film. It was so taxing that he took it upon himself to make sure he wasn't letting the circumstances of Christian's suffering get into his head. "It was going to the gym every day, running 5Ks after getting off that set, cooking for myself every day, reading books, doing stuff to get away from the project, and sleeping at least 8 hours every night," he says.
At one point in the conversation I remark that it's all "heavy stuff, but --" and he finishes my sentence: "But it's also funny. It's fucked up."
Sign up here for our daily Thrillist email and subscribe here for our YouTube channel to get your fix of the best in food/drink/fun.