8 Actors Who Endured Real-Life Military Training for Movie Roles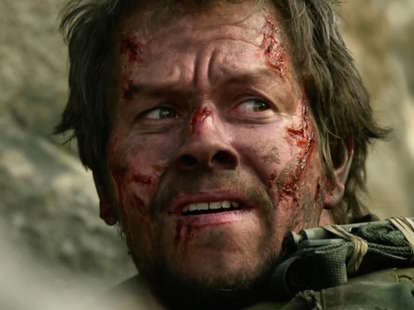 <strong>Lone Survivor |</strong>&nbsp;Universal Pictures
There are some things you can't truly understand unless you've lived them. Like military service; as many attest, active duty -- and even the training programs that prepare soldiers -- lead to some of the toughest situations any person could endure.
Still, this hasn't stopped ambitious Hollywood actors from bringing stories of the armed services to the screen. Oscar winners and action stars alike have gone through rigorous physical, tactical, and psychological training in order to better understand military life. Here are a few who made it through boot camp:
Chris Pratt and the cast of Zero Dark Thirty
If you dig through the cobwebs of your long-term memory, you'll recall a time before Chris Pratt was everywhere. Zero Dark Thirty marked the dawn of the reliable funnyman's transformation into superstar -- if only in its revelation that Pratt could sport a kickin' bod. "I was doing 500 push-ups a day, working out at the gym, [and] running five miles a day," he told People magazine of his training to portray a Navy SEAL in Zero Dark Thirty.
Yet this ad-hoc regimen didn't compare with what Pratt considered the toughest part of his training: "Swimming in the cold water for a long time," which he did under the supervision of Coronado Naval Base trainers. "I went through their O Course," he said, singling out the swimming obstacle as what truly "helps to boil down the toughest mofos on the planet."
Mark Wahlberg, Emile Hirsch, and the cast of Lone Survivor
Though Mark Wahlberg famously flew off the handle over actors comparing their efforts to those of the real-world armed forces, he still deserves credit for running through the ringer to prep for this visceral war movie. As seen in the above video, a big part of Wahlberg and his co-stars' prep involved arms training for operating weapons.
Emile Hirsch, who also starred in the film, detailed the extent to which the cast became acclimated with heavy artillery: "When we all first got there to the training with the SEALs, we were on the SWAT range in Albuquerque and first started working with the M4 rifle. The way that the SEALs had had it organized was that we were training with live fire rounds with these M4 rifles." Hirsch claims they blew through thousands of rounds a day during training. "Mark Semos, one of the SEALs who instructed us, said, 'These weapons systems don't just kill. They destroy things.' […] They don't use that word lightly."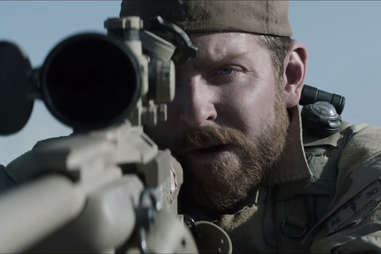 Bradley Cooper and the cast of American Sniper
The Academy Award-nominated Cooper couldn't just train for his American Sniper role, he had to match the unparalleled tenacity of Chris Kyle, the deadliest sniper in Navy SEAL history. As Cooper explained to The Hollywood Reporter, "The weekends were spent learning how to use [...] weapons." Rick Wallace, who trained the real Chris Kyle, and Kevin Lacz, a member of SEAL Team 3 with Chris, became "invaluable" assets to Cooper's education. According to American Sniper writer Jason Hall, the actor hustled to match his subject's abilities. "The second day, in the morning, [Bradley] went out there and was consistently hitting 800-yard targets the size of a teacup."
Cooper went a step further by shooting down living targets. Lacz told The Daily Mail that Cooper's first shot at a stuntman affected the actor deeply. "Bradley was looking down the scope, pulled the trigger and saw the body fall," Lacz said. "Afterwards he just said 'wow.' He understood then the power of the sniper and what they can do."
Demi Moore and the cast of G. I. Jane
Stories from Demi Moore's time on the set of G. I. Jane are just as rattling as what we see in the film, which confronts sexism and harassment in the American armed forces. This was actually a point of pride for the members of production, according to the film's press notes. "We took a very aggressive stance in the training program," said military technical advisor Harry Humphries. "We tried to show the harassment of the Special Forces training and the skills, including weapons handling, that are taught in that training. We encapsulated a 17-week course into two weeks, so those actors were harassed to hell."
The boot camp program took place at Camp Blanding, a National Guard establishment in Florida. Included in the regimen, per the website's reports, were 400-yard swims -- 30 of said yards completed underwater -- as well as hundreds of sit-ups, push-ups, and squat-ups. All this on top of actor Morris Chestnut's affirmation that the cast was "running 30 miles in 100-degree weather."
Moore is at the center of these conversations, not only by virtue of being G. I. Jane's star, but for submitting herself to every regiment. The actress even eschewed a stunt double for her character's completion of a genuine Navy SEAL obstacle course, across which she'd find herself getting "beaten up and kicked around and almost drown[ing]," said producer Roger Birnbaum.
Brad Pitt, Shia LaBeouf, and the cast of Fury
Taking a short-term stab at military training is one thing; actually joining the armed forces is another. Not satisfied to simply embark on a simulation of military life, Shia LaBeouf went so far as to enlist after being cast in the World War II film Fury. "The day after I got the job, I joined the US National Guard," he told the British magazine Dazed. "[I] tattooed my surrender and became a chaplain's assistant to Captain Yates for the 41st Infantry. I spent a month living on a forward operating base. Then I linked up with my cast and went to Fort Irwin."
California's Fort Irwin National Training Center is where LaBeouf and his co-stars, including Brad Pitt, underwent a shockingly realistic six-day boot camp, led by British Army veteran David Rae. "We gave them a scenario that was Germans out there with their tank," Rae told Gizmodo. "And we sent fire rounds and maneuvers, that necessitated a response and certain actions that were set before them. And we let them loose and for 45 minutes they drove around and they were actually driving the tank, gunning the tank, commanding the tank."
Jeremy Renner and the cast of The Hurt Locker
Fort Irwin also hosted the Best Picture-winning The Hurt Locker, which chronicled the exploits of the Navy's Explosive Ordnance Disposal unit -- in other words, bomb defusers. For Jeremy Renner, the preparation involved hardening his personality."
You have to have a mental toughness," Renner told the NPR program Fresh Air. "They don't allow you to go any further unless you can do this bomb suit training, because it puts such a mental strain on your spirit. It dumbs you down about 25 to 30 IQ points. You start to hallucinate in the heat inside the suit after 20-30 minutes. So you try not to stay in it too dang long. So the preparation for that -- it's either you have it, or you do not."
Sign up here for our daily Thrillist email, and get your fix of the best in food/drink/fun.
Michael Arbeiter's only military experience is having seen every episode of M*A*S*H (and AfterMASH!). Find him on Twitter: @MichaelArbeiter.