How the Scene-Stealing Grandmother-Grandson Duo in 'Minari' Built Their Hilarious Bond
Alan Kim and Yuh-Jung Youn talk about cultivating their nontraditional relationship.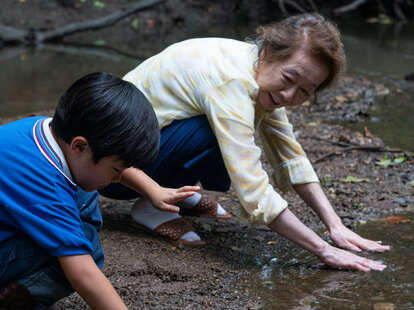 At the heart of Lee Isaac Chung's grand film Minari is a very funny grandmother-grandson relationship. David, played by Alan Kim, is a stubborn 6 year old with a bed-wetting problem who is forced to share a room with his grandmother Soonja, portrayed by lauded Korean star Yuh-Jung Youn. Soonja is unlike the American ideal of a granny David expects: She's profane and teasing. She loves to watch wrestling and wear men's shirts. She doesn't make cookies, but she has brought him a medicine from Korea which will supposedly help with his heart condition. He would prefer to drink Mountain Dew. (She would as well.)
I had a chance to Zoom with this wonderful pair: Kim, who is making his acting debut, and Youn, who is starring in her first American film after an illustrious career in her home country. I asked them about working together and their most hilarious scene, the one where David gives his grandmother a cup of his pee to drink instead of that hyper-caffeinated soft drink.
Their first impressions of each other
Yuh-Jung Youn, a seasoned actress, was apprehensive about Alan Kim's lack of experience, but he quickly proved her wrong.
Yuh-Jung Youn: I thought, What am I going to do with this little boy? That was stupid, my worry. When we got on set, he memorized perfectly every single line. I realized Isaac is very smart and wise. We didn't have any problem at all. Steven Yeun teased him [saying], "Wow, he's James Dean."
Alan Kim: Well, I first said, "Hello." She was really nice. I had to act as if I hated her. I was like, Hm, what would I do if I hated my grandma or something? What would David do if he hated his grandma?
Youn and Kim were shocked to learn that the Mountain Dew/pee-swapping incident was based on something their director really did.
Kim: I was like, did Isaac really give his grandma pee? I felt kind of guilty if that happened in real life. I was like: Why would I do that?
Youn: Isaac is a very, very sincere and genuine person, very quiet, and very wise. I can give him any applause or compliment. And I said to him, "Did you really do that to your grandmother?" And he said, "Yes." And I said, "[Gasp], my goodness you are so mean." I was shocked. Looking at Isaac, he would never do that thing to grandmother. So you never trust people.
Kim: My favorite scene to film was when I gave pee to grandma. It's so funny and silly.
On singing the "Minari" song
The title of the film comes from the minari plant, an aquatic herb that Grandma plants by a creek. She and David turn it into a song: "Minari, wonderful, wonderful."
Youn: I'm very out of tune. We discussed a lot about dialogue. I said to Isaac, "She could say, maybe 'wonderful, wonderful, wonderful,' or something like that." Because she's staying in America in that period of time. So why don't say that, trying to explain about the minari to David? It's not a song, it's just my tune.
Kim: I guess the song was very enjoyable, even though the song was kind of sad. It was really good. It kind of had like sad music in it, I think. But it was really enjoyable.
On the symbolism and taste of the minari plant
Youn: Usually in Korea, when you are young, kids don't like the smell. It's not smelly, but when you get old, we like that smell. I'm an old lady. I never thought about it. It's a kind of vegetable from Korea. That's all I knew. But after I made this film I made a lot about minari, and why Isaac named this movie Minari. Grandma planted it for them for eating, but one year after they plant seeds, it's not growing, Isaac said. Next year it starts growing, and never dies.
Kim: I guess it was fine.
On eating dinner as a cast
After finishing on set, the whole cast would eat together almost every day.
Youn: That's the beautiful part of the movie. That's why we became a family, I think. When we got our first award, I told In-Ah [Lee, who introduced Youn and Chung and would cook for the production], "We deserve it because we had an excellent ensemble because we ate together. We became a family, we deserve it."
Kim: I went to the dinners and I was a very slow eater, a very, very, a turtle-eating slow eater. So Steven was like, "C'mon let's do an eating contest. First one to finish is the winner." Just so I can eat faster. But he always won.
Need help finding something to watch? Sign up here for our weekly Streamail newsletter to get streaming recommendations delivered straight to your inbox.