'Minari' Is a Must-Watch American Epic
The A24 movie, starring Steven Yeun, is now available on VOD.
"Childlike wonder" is a phrase that often gets tossed about when talking about movies. It's a shorthand term for the Spielberg Face, the semi-invented notion that kids are untainted by the jadedness that plagues their elders and are therefore able to view the world in a more mystically pure way. Lee Isaac Chung centers a child's perspective in his emotional epic Minari, about a Korean family who moves to Arkansas, but the effect goes so far beyond something like "childlike wonder." In his semi-autobiographical, 1980s-set tale, Chung uses his stand-in, 6-year-old David (played by the incredibly adorable Alan Kim), as a way to unearth the contradictions and conundrums of assimilation. David's viewpoint infuses everything that follows and makes Minari not just a very special movie, but a very funny one as well. "Childlike wonder" is too simple a description of what it's like to see through David's eyes, and Minari doesn't trade in simplicity.
Ever since premiering at last year's Sundance Film Festival, the A24 release has been highly anticipated, and deservedly so. Now it is finally available to view widely via VOD rental after a long phase of shorter runs in theaters both digital and otherwise. Chung's story opens with the Yi family approaching their new home. To father Jacob (Steven Yeun) this is the manifestation of his goals. He's acquired a giant plot of land for his brood on which he intends to start a farm growing Korean vegetables that aren't easily accessible in the midwest. For Jacob's wife Monica (Yeri Han) their new lodgings only confirm her suspicions that this enterprise is doomed: Less a house than a trailer, it's a symbol of how her marriage is flailing.
On one hand, Minari is the story of a partnership in peril. Yeun plays Jacob's optimism and persistence with a sense of foolhardiness. This arid land holds the promise of an American dream; the cost is the isolation Monica feels. To abate that loneliness, Monica's mother Soonja (Yuh-Jung Youn)—mostly referred to on screen as Grandma—arrives from Korea baring a bag full of spices, anchovies, and a remedy that could potential cure David of his heart defect. While older child Anne (Noel Cho) is spared from lodging with Grandma, David now has a new roommate.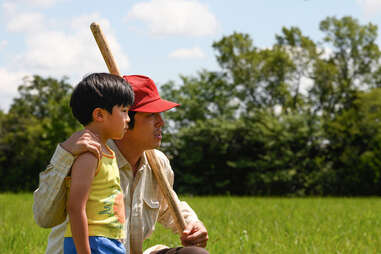 David is his father's son, and his grandmother foreign in every way to him. Unlike the notions of the sweet grannies he has been fed, Soonja would rather play cards and watch wrestling. She wears men's clothes, and taunts him when he wets the bed. She "smells like Korea." He, frustrated by her unusualness, decides to offer her a cup filled with his own pee instead of a Mountain Dew one day.
Both Kim and Youn give hilarious performances as this odd couple trying to sniff one another out. Youn, a renowned actress in Korean making her American debut, is gruff and wily, showering David with her own coarse brand of affection, which he eventually reluctantly accepts. Their bond is solidified by singing together as she scatters minari seeds by a creek. "Minari, wonderful, wonderful," they chant together. Chung has named his film after these bitter weeds, used in Korean cooking, which grow rampantly in the right climate. David isn't aware of this, but he's wrestling with his own notions of assimilation, he's just too young to recognize it.
Chung and his cinematographer Lachlan Milne photograph the landscape beautifully, and you see how both Jacob and David can be entranced by its vastness, even for all the trouble it causes. David traipses around in cowboy boots, his own western playing out in his head. Yeun is winning deserved accolades as Jacob, whose steadfast belief that his fledgling business grows almost pathological. But David sees the promise of this land through his dad's eyes, as he's trying to accept this interloper in the form of his grandmother.
Minari is laden with the iconography of rural America, but Chung's vision unlike any that came before it. It's a culture defined by Christianity, but Chung ventures to show all the different variants of that: Monica's longing to go to a Korean church; the indulgent buffet piles after the Sunday services in town; the Yi's farmhand (Will Patton) who speaks in tongues and is considered an outsider. It's indicative of the daring leaps Chung takes, crafting an immigrant story that is deeply personal and moving, yet unafraid of complications.
At 6, David is a sponge taking in everything and developing his own opinions through a combination of stubbornness and influence. He's the perfect vessel to tell this extraordinarily specific story: a kid at a crossroads as a family reckons with its identity and tries to stay together.
Need help finding something to watch? Sign up here for our weekly Streamail newsletter to get streaming recommendations delivered straight to your inbox.