Netflix's Serial-Killer Show 'Mindhunter' Might Not Ever Come Back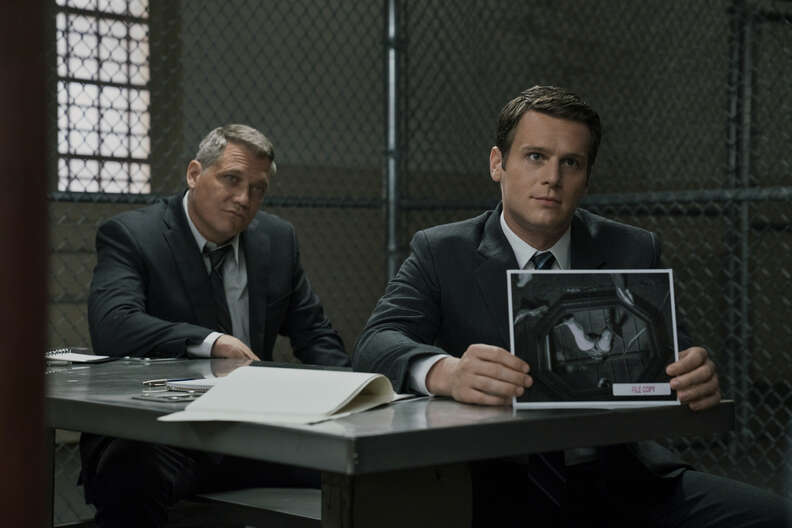 Wait -- what? Mindhunter, our favorite Netflix original series to date, may have hunted its last mind? Say it ain't so. The David Fincher-produced Netflix crime drama, which meticulously tracked the formation of the FBI's Behavioral Science Unit across the late '70s and early '80s, premiered back in 2017 to great promotional and critical fanfare, but the reception to the (excellent!) second season last year felt a bit muted in comparison. And now we learn that the show won't be getting a third season anytime soon.
Yesterday, TVLine reported that the show is on "indefinite hold," with Netflix citing David Fincher's busy schedule as the primary reason that actors Jonathan Groff, Holt McCallany, and Anna Torv have been released from their contracts. This will allow them to pursue other projects, none of which are named Mindhunter. What gives?
"David is focused on directing his first Netflix film Mank and on producing the second season of Love, Death and Robots," a Netflix representative told TVLine. "He may revisit Mindhunter again in the future, but in the meantime felt it wasn't fair to the actors to hold them from seeking other work while he was exploring new work of his own."
For fans of the dark, thoughtful series, which followed agents Holden Ford (Groff) and Bill Tench (McCallany) as they interviewed serial killers across the country, this is not great news. After a gripping first season, the show got even better in its second season, particularly in the episodes centered around the real-life Atlanta child murders case. Though it might not have attracted the awards attention or the social media chatter of other streaming hits, Mindhunter remains one of the best shows Netflix ever made.
The series isn't technically cancelled, so it could still come back. And Netflix clearly wants to stay in business with Fincher, who helped establish the company as a creative force by directing the first two episodes of House of Cards back in 2013, and who has directed 7 of Mindhunter's 19 episodes to date. Mank, a passion project about screenwriter Herman J. Mankiewicz writing Citizen Kane, will likely be one of Netflix's big fall prestige film releases this year like The Irishman and Marriage Story were last year. He could finish working on that and Love, Death and Robots and then want to dive right back into the world of Mindhunter -- after all, the show did take a two-year break between its first two seasons.
Still, it's hard not to worry that this might be another example of Netflix deciding to end an expensive-looking series after a few seasons in favor of launching new, attention-grabbing shows that can attract new subscribers. (Last year, Netflix cancelled cult favorite The OA.) For now, we'll be left in suspense, a feeling that Mindhunter viewers should know well by this point.